Patagonia Tours & Trips 2020
27 trips to Patagonia tours from 67 tour companies. 2,578 reviews. 4.8/5 avg rating.
Filter to find perfect
DEPARTURE DATES
Travel Style Travel Style

Relaxed

A lot of free time, with very few inclusions. Ideal for independent and/or low-key travelers and cruisers.


Full on

For those looking to maximize their sight seeing time. You thrive on a packed day's schedule from 8 am to 6pm, with some (but limited) free time. Most activities and meals included.


Mixed

You will have solid amounts of both free time and structured time with some activities and meals included.

Trip Type Trip Type

Group Tour

Groups are between 25-60 people, typically ~30-40. Usually there will be many opportunities to split off and enjoy meals and excursions in smaller groups. This is the most economical way to travel, saving up to 40% versus booking the same itinerary yourself.


Small Group Tour

Small groups are usually defined as between 10 and 24 travelers, often less. If you're the kind of person who enjoys more intimate experiences and personal service this is a good choice. All else being equal you will pay a premium for this style vs a larger group tour.


River Cruise

These vessels are smaller than most ocean cruisers, limiting which amenties are available. Passenger counts can vary. One of the biggest advantages of a river cruise is the ability to dock at smaller ports and local villages.


Small Ship Cruise

Small ship cruises usually have a max passenger count of 500. The primary purpose of these trips is to spend time off the vessel in local ports (e.g. Mediterranean) or experiencing nature (e.g Galapagos or Antarctica). Cabins can vary from budget to luxury.


Private Guided

Private tours give you the undivided attention of a guide, and often involve special access to sites and unique experiences not available to larger groups. This is a great option for families, couples, and small friend groups. Expect to pay a bit more for the extra service.


Self Guided / Independent Tour

A travel company plans your itinerary and arranges all the logistics including lodging, local activities, and transportantion. You have the flexibility of a solo trip while still getting the convience and time savings of expert planning. Get 90% of the benefits of a tour, without a guide.


Vacation / Holiday Package

Similar to a self guided tour, this usually involves a home base, such as a hotel or resort, with packaged activities and day tours as a part of the stay.


Large Ship Cruise

This is the "floating city" experience, with multiple ways to enjoy your vacation aboard the ship as much as on land. Ships are multiple floors, provide several activities, culinary, and shopping options. They often make fewer stops and have less time available for shore excursions.

Itinerary Focus
Lodging Level Lodging Level

Camping

Typically involves most nights sleeping in tents (sometimes permanent tented sites) or in rustic cabins and lodges.


Basic - 2 star

You'll stay in no-frills, but clean and comfortable, hotels or guesthouses. A 'Basic' trip might also involve a few nights of camping.


Value - 3 star

Mid-range budget with accommodations ranging from comfortable lodges, guesthouses, and homestays to three star hotels.


Premium - 4 star

3 to 4 star western hotel equivalents. While not all lodging will be 'luxury' they will be quite comfortable by western standards.


Luxury - 5 star

The highest level of comfort and service. All accomodations are in four or five star hotels, boutique lodges or high-end homestays.

Price
Duration Dropdown
Countries Visited
Physical Level Physical Level

Very Easy

Minimal walking - motor vehicles available for all major parts of trip.


Easy

Normal generally flat walking in urban or suburban environments.


Moderate

Walking or physical activity half to most of day - no carrying equipment.


Strenuous

All or most of day hiking or biking, hills included.


Extreme

Very challenging all day hiking and backpacking carrying significant equipment.

Travel Theme
Rivers & Seas Visitied
Attractions & Cities Visited
Activities & Interests
Supplier (Company)
Flight & Transport Inclusions
Continents Visited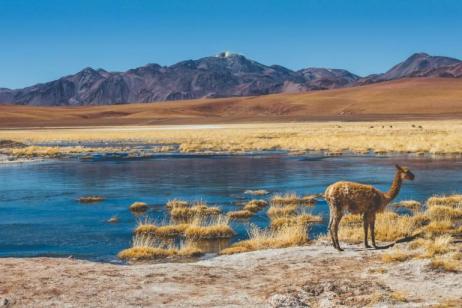 Popular
Lodging Level :
Mid-range budget with accommodations ranging from comfortable lodges, guesthouses, and homestays to three star hotels.
Value (3*)
Highlights
Santiago: Later, enjoy lunch with wine near El Mercado Central.
Puerto Natales: Famous for spiced meat and seafood dishes, tonight's dinner will have you savouring typical Patagonian dishes.
Santiago: In the evening meet your Travel Director and fellow guests at the hotel and enjoy a private Welcome Dinner.
Casablanca: After lunch, visit the Kingston Family Vineyard for a private tasting in the Casablanca Valley. Recognised as one of the best wineries in Chile, its produce has been featured on the wine lists of top restaurants including Aureole in New York.
Atacama: Enjoy dinner before heading for your second evening of stargazing in the desert.
Torres del Paine:Torres del Paine: After a day exploring, join your Travel Director and new friends as you toast to your travels at a Celebration Dinner with wine.
Dining Summary: 13 Breakfasts (B), 4 Lunches (L), 2 Lunches with wine (LW), and 5 Dinners with wine (DW).
Torres del Paine: This afternoon, join a Patagonian Ranch Cultural Experience and learn about the baqueano (cowboy) way of life. During your time with these local cowboys — the descendants of horsemen who came to work ranches in this remote region more than a century ago, you will learn about their special clothing, saddles and other horse tack. You'll also be shown how to properly saddle a horse, nail a horseshoe and of course how to ride. Enjoy a Yerba mate tea with them while chatting about Patagonian culture.
Torres del Paine: Completely immerse yourself in its beauty on a trekking adventure, the best way to explore the UNESCO Reserve.
Valparaiso: Begin your day with a visit to Valparaiso. Explore the UNESCO protected site with a Local Expert.
Moon Valley: From there you'll be driven to the Moon Valley for a guided visit. A nod to its name, this moon-like area is made up of dunes, caves and caverns. Learn more about its history and the land formations from a Local Expert.
Andes Highlands: Afterwards, go for a guided stargazing experience up in the Andes Highlands (weather permitting).
Atacama: In the morning, take a guided visit to the Atacama Geysers, the largest in the Southern Hemisphere. Located in the Andes Mountains you'll be 14,170 ft (4320 metres) above sea level.
Atacama Explore the geology of the region with Local Experts and see huge sand dunes, natural amphitheatres, volcanoes and cloudless skies.
Santiago: On arrival, take a tour of the city with a Local Expert. Discover its Neoclassical landmarks including the 18th century Metropolitan Cathedral.
Torres del Paine: Take a scenic drive to Torres del Paine National Park. There will be plenty of scenic photo stops along the way. The park is situated in Chile's Patagonia region and is famous for its glaciers, grasslands, imposing mountains and the three granite towers it is named after. It is part of UNESCO's Biosphere Reserve System and is known for its rare wildlife.
Visits:
Casablanca, Easter Island, Patagonia, Santiago, Torres del Paine National Park, Chile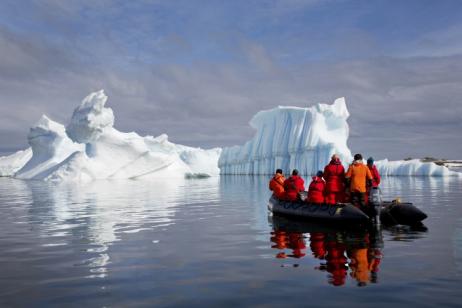 Group Tour
This trip visits a destination that is significantly affected by climate change
Travel Style :
For those looking to maximize their sight seeing time. You thrive on a packed day's schedule from 8 am to 6pm, with some (but limited) free time. Most activities and meals included.
Full on
Physical Level :
Some walking over short or flat distances. Some trips may include cycling options. Some are wheelchair friendly (check for individual trips). Some cruises.
Easy
Lodging Level :
The highest level of comfort and service. All accomodations are in four or five star hotels, boutique lodges or high-end homestays.
Luxury (5*)
Highlights
Set foot on the Seventh Continent with this perfect introductory voyage for first-time visitors to Antarctica

Conquer the infamous Drake Passage

Venture aboard our specially designed, ice-strengthened and all-suites ship, the Sea Spirit

Learn about the environment and wildlife from onboard lecturers and specialists

Witness the abundant wildlife: penguins, seals, whales and more!

Explore the highlights of the Antarctic Peninsula

Adventure options include kayaking, camping and snowshoeing

Daily Zodiac cruises and shore landings reveal Antarctica's beauty
Visits:
Galapagos, Patagonia, Ushuaia, Argentina
1- 2 of 2 Trips Shown
X
Unlock Member Savings
In order to see Travelstride Select deals you must sign in. We've negotiated with many of the world's best travel companies to save you money! Get the best experiences, save up to $700 per person, and be a hero to your travel companions!
We respect your privacy and take great care to protect your information. By joining you agree to our Privacy Policy and Terms of Use.
With FREE membership you:
Save up to $700 per person!*
Access private deals and offers
See personalized trip recommendations
Save favorite trips
See member program details
Top Patagonia Experiences
Exploring the stunning landscapes and lakes of Chile's Torres del Paine National Park
Viewing huge chunks of Argentina's Perito Moreno glacier calving into Lake Argentino
Visiting the huge Magellanic penguin colony and watching for whales and other marine life on Argentina's Peninsula Valdés
Riding horseback across the Argentine steppes in the tradition of gauchos
Cruising the southern coast of Chile to view snow-capped mountains, ice-blue fjords, and the lights of little villages situated miles from nowhere
Touring Tierra del Fuego ("Land of Fire") and Ushuaia, Argentina, the world's southernmost city and embarkation point for Antarctica
Having afternoon tea in Argentine towns where the predominate culture is Welsh
Cruising the Straits of Magellan and the Beagle Channel in the wake of Ferdinand Magellan and Charles Darwin
Landing on isolated Cape Horn, the southernmost tip of South America (weather and waves permitting)
view more
All Patagonia tours, river cruises, expedition cruises, and adventure trips. Find the best guided trips and expert planned vacation and holiday packages. Average rating of 4.8 for all Patagonia trips.
27 trips from 67 tour companies with 2,578 reviews
More Patagonia Guided Tours