29539
Top Brochure of Andean Crossing(Without Inca Trail Trek,Start Lima, End Santiago de Chile)
Please note the tour price reflected on the brochure is subject to change. Due to seasonality, and taxes prices of the tour are subject to change without due notice. Please consult with the operator directly for the recent price.
No longer available. See new versions below.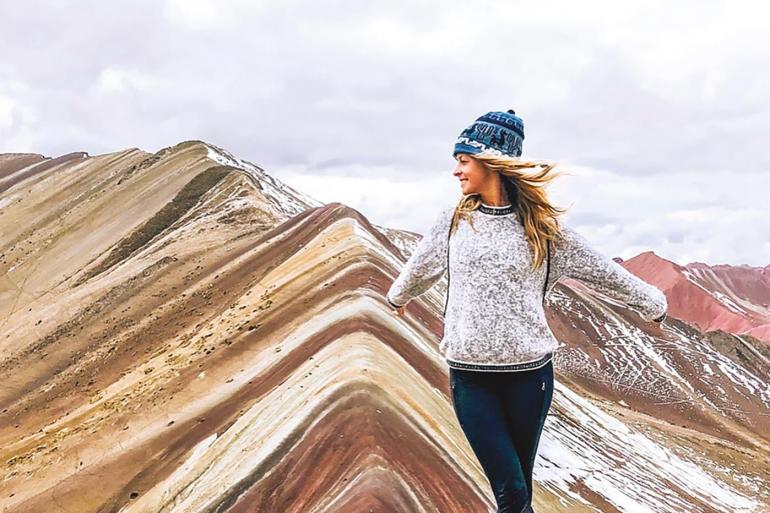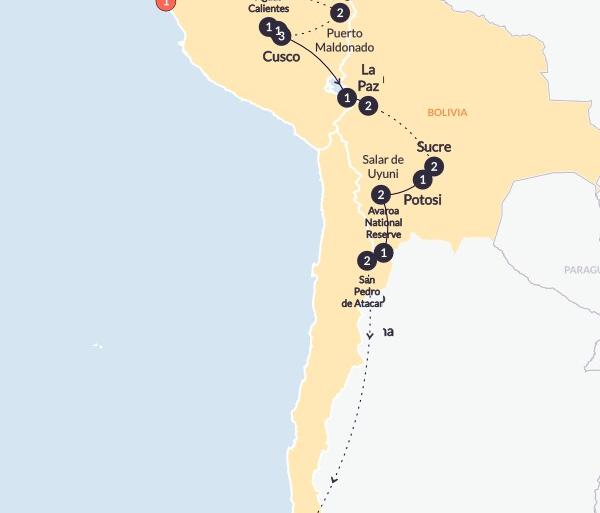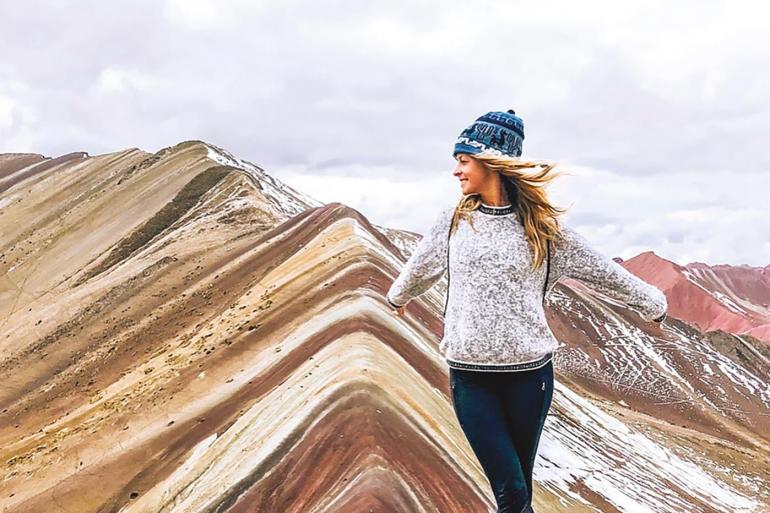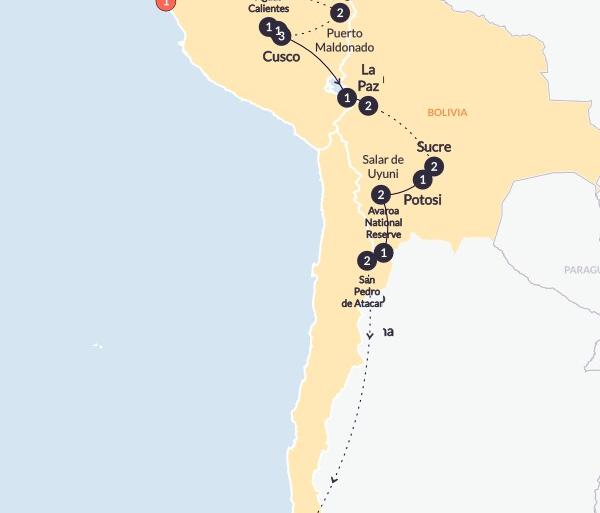 Andean Crossing(Without Inca Trail Trek,Start Lima, End Santiago de Chile)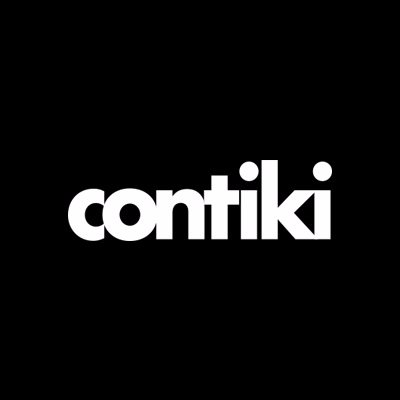 Preferred
Has very high quality customer experiences and demonstrated commitment to responsible travel practices.
read more
98%
Travel Style:
Array
Mixed
Physical Level:
All or most of day hiking or biking, hills included.
Moderate
Lodging Level:
You'll stay in no-frills, but clean and comfortable, hotels or guesthouses. A 'Basic' trip might also involve a few nights of camping.
Basic (2*)
22 days
From:
$ 5,029
$ 229
/ day
Overview
Highlights (Bullets)
Entry into the Sacred Valley and Pisac ruins
Visit Llama Farm
Locally guided walking tour
See San Francisco Church and Metropolitan Cathedral
Visit the Witches' Market, Plaza Murillo & colourful Jaen Street
Short Description
You've got 22 days to spare, so what's next? How about an unforgettable Latin American adventure that includes Peru, Bolivia and Chile? This trip combines buzzing cities, out of this world nature, local experiences, some of the worlds most iconic sights, and of course a whole bunch of new friends to share it all with.
Off the beaten track trips will stretch your comfort zone. They don't always feature tourist highlights, but dive deeper into local life and culture.
Itinerary Focus Off the Beaten Path
You'll stay in no-frills, but clean and comfortable, hotels or guesthouses. A 'Basic' trip might also involve a few nights of camping.
Lodging Level Basic (2*)
Flight & Transport Inclusions Roundtrip air to/from trip start & all internal transport
End City Santiago de Chile
Itinerary
Day 1: Lima
A new day, a new country – let's do this! Steeped in Spanish colonialism yet buzzing with modern metro vibes, Lima is sure to ignite your love for Peru. Spend your morning marvelling at lavishly decorated churches and an underground tunnel cemetery overflowing with bones or catacombs, then hit the Barranco district this afternoon to get a feel for its bohemian ambiance. A stroll over the Bridge of Sighs is also a must. And of course no trip to Lima is complete without devouring at least one portion of ceviche – it's a pretty massive deal in the city. Round off the day watching the sun set over the Pacific, most likely with a pisco sour in hand…
Day 2: Lima to Jungle Lodge via Puerto Maldonado
We'll catch a flight the city of Puerto Maldonado in Peru's southern jungle. We'll have lunch on the river as we travel upstream by a traditional Peruvian boat to our Contiki Special Stay Rainforest Lodge in the mighty Amazon jungle, where we'll try to spot toucans, macaws and capybaras along the way.A quick tour of the city will reveal colourful fruit stalls, open air markets, and locals going about their day. But now we're back underway and we just want to get to the jungle.Our lodge is a special experience in itself! Located in then luscious rainforest and made from wood and clay, its open walls leave you sleeping virtually amongst the rainforest! After you settle in, we'll get a different take on the jungle as we take a hike to the canopy tower. After climbing the 100ft of stairs you will be provided with a birds-eye view of the rainforest! Home to monkeys, birds, bromeliads and other jungle life, this is the ultimate way to see the jungle. After dinner you can experience something really different, heading out to look for caiman, a member of the alligator family native to the Amazon. Scan the shores with flashlights and see if you can catch the red gleam of the light as it reflects off of the caiman's eyes.
Day 3: Jungle Lodge
With another day at the jungle lodge, keep your eyes peeled for a wildlife like the giant otter,monkeys, tropical birds, bromeliads and other jungle life, this is the ultimate way to see the jungle.
Day 4: Jungle Lodge to Cusco
Wave goodbye to your jungle home as we're off back to the capital of Peru!Spend today exploring the beautiful city of Cusco - wander the main plaza, visit the Tread Right support weaving centre or feed your sweet tooth with a visit to the chocolate museum. Then get into Cusco's amazing nightlife & join our Illary (Sunrise) Club!
Day 5: Cusco to Sacred Valley
Heading out of Cusco and bound for the Sacred Valley on our private coach, this is where our journey into the ruins and mystique of this land truly begins. But first, llamas. An iconic symbol of Peru, we'll be stopping off at a llama farm to show some love to these furry favourites up close, and we're talking the whole humpback family – llamas, vicuna and alpacas. #llamaselfie achieved, we'll then stop off to witness the ancient Incan art of weaving in practise by a group of talented local artisans. Throughout the journey, play close attention to your surrounds – there's the chance to spot the Incan farming technique of terracing, as well as the 'salineras' (salt mines). Want to know what the Peruvians do for fun? You'll get the chance to play the traditional game of "Sapo", and exactly what that entails we'll leave to the imagination… Our explorations of the Sacred Valley will begin with a guided tour of the Pisac and Ollantaytambo ruins. Our Local Guide will give you the d-l on both, visiting the circular terraced Pisac ruins first which date back to the 1400's. Moving on to Ollantaytambo, base camp for those taking the trek tomorrow, we'll appease dry mouths with some homemade Chica de Jora brew. This tiny town may be small in geographical terms, but what it lacks in size it makes up for in attitude, with artisan shops and cafes spilling out onto streets, and the roaring Urubamba river providing the perfect natural background noise. For those embarking on the Inca trail tomorrow this is your final chance to stock up on last minute essentials (socks, socks and more socks). For all others, spend your time soaking in the vibes, hanging with other travellers and just getting a feel for this iconic little town.
Day 6: Sacred Valley to Aguas Calientes or Inca Trail Trek
For those embarking on our epic 1 day trek, we'll catch the train to KM104 and the start of a day to remember. With just 3.5 hours on foot and 6-kilometres to cover, the enchanting site that awaits us will make it all worthwhile. Descending into the site we'll take in Wayana Picchu 'Little peak' – the iconic peak you'll have seen in every picture ever – marvelling at the incredible handiwork of the ancient Incas. Satisfaction levels at an all-time high and with a big ol' smile on your tired face, we'll head back to Aguas Calientes and a squishy hotel bed you couldn't be more deserving of. For those not embarking on the Inca Trail,the morning is yours to enjoythe surrounding lush mountains of Aguas Calientes.Can you feel the excitement mounting? Yep – those are pretty much the feels when Machu Picchu is quite literally on the horizon. This afternoon we'll hop on the train to Aguas Calientes, a cute town in its own right complete with roaring river, quaint bridges and local haunts, but most famously known as the gateway town to Machu Picchu. We'll meet up with those who opted for the one day trek, and basically spend the evening hyping each other up for what's to come tomorrow.
Day 7: Machu Picchu to Cusco
Excitement levels at an all-time high, the day we've all been waiting for is finally here – it's Machu Picchu time! Built around 1450 at the height of the Incan Empire, Machu Picchu is a UNESCO World Heritage Site and one of the seven wonders of the new world. We'll be treated to a guided tour of the site taking in such wonders as the Temple of the Three Windows and Wayana Picchu (the peak you'll of seen in every Machu Picchu image ever), and of course you'll have some alone time to explore the area as only you can do. This is one big old tick off the life goals list, so enjoy every single second of it.Back on the train we'll de-brief on our once-in-a-lifetime experience as we head back to Cusco. Last time round was all about getting acquainted with the city, so now you've got you're bearings you can really get lost amongst the market stalls and cobbled streets, maybe even going truly local by trying out a serving of cuy.
Day 8: Cusco
Another day, another incredible Latin American destination to uncover; today it's sun up 'til sun down in Cusco. Shop for artisan jewellery and woodworks, roam the cobble-stone streets or just stroll the Plaza de Armas, eating cacao buds and sipping on coca leaf tea. Today you're in control of your adventures... except for dinner with the crew tonight, on us. Bolivia is on the horizon tomorrow.
Day 9: Cusco to Copacabana
Bolivia, you're in our sights. Filling up on breakfast, it's all eyes to the border as we make our way through Peru's spectacular Altiplano Plateau and over the border to Lake Titicaca, iconically the highest body of water in the world (and said to be the original birthplace of the Incas).Small, bright and enchanting, Copacabana sure as hell turns on the charm. Situated on Lake Titicaca's shores, this is more than just a place with sandy beaches and lakeside cafés. Opt for a cultural walk toward the Basilica of Our Lady Copacabana, or shop for local goods in its famous shopping street.
Day 10: Copacabana to La Paz
Today we'll journey through the pretty Bolivian countryside towards La Paz. Situated a slightly unnerving 12,000 ft above sea level (yeah, for real), this city is big on altitude AND energy.If you're looking for vistas, La Paz is your gal. Sitting in the midst of a narrow canyon and dwarfed by the mighty icecapped peak of Mount Illimani to the South, this is a city of contrasts, where 19th century churches rub shoulders with towering office blocks and pretty, colourful markets. Take your time adjusting to the altitude, then make the most of your afternoon in this hustling, cosmopolitan city.
Day 11: La Paz
Cameras on full charge and free breakfast fully taken advantage of, it's time to hit the streets of La Paz. Your Trip Manager will take you on a guided walking tour where'll get to explore all that the city has to offer. Feel the cultural vibes by the San Francisco Church and Metropolitan Cathedral, before you make your way to the colourful Jaen Street and Plaza Murillo. And for those feeling ultra spiritual, the Witches' Market is only a short walk away.
Day 12: La Paz to Sucre
Adios La Paz, you've taken our breath away (quite literally).Steeped in history with narrow tree lined streets, white stone buildings (some dating back five centuries) and endless blue skies, Sucre is a place where time stands still. Get your bearings on a guided walking tour and let the impressive Convento de San Felip Neri work its magic on your inner architecture nerd. The afternoon is then yours to explore places like Cal Orck'o (did someone say real dinosaur footprints?), wander the cities various museums, or just take it easy before the evenings shenanigans.
Day 13: Sucre
With a full day in Sucre, the choice is yours of how to DIY your time in this cultural melting pot. Maybe the museums, galleries and parks are calling your name, or perhaps your itching for something a bit more physical? If that's the case, our ME Time Optionals are likely to be your jam.
Day 14: Sucre to Potosi
Think you've seen it all in the last few days? We've barely gotten started... Today we big adios to enchanting Sucre and make our way to Potosi, a town rich in history, architecture, and silver.Situated at the foot of Cerro Rico (Rich Mountain), Potosi is a treasure trove of markets, churches and friendly locals. We'll get you adjusted on a locally guided tour around the city, stopping off at the Cathedral Market to check out the local wares and visiting sites like the impressive Iglesia de San Lorenzo de Carangas. Later, head out with your crew for a traditional local dinner, washed down with Chuflay a plenty. Que bueno!
Day 15: Potosi to Uyuni
Another lazy morning in Potosi, before making tracks for Uyuni, and we think you know what comes next...Welcome to Uyuni, the official gateway to the Salar de Uyuni...or the Bolivian salt flats to you and I. Excited much? You should be. To get you in the mood, we'll be heading to the Great Train Graveyard, which is every bit as incredible as it sounds. A place full of deserted steamtrains that were abandoned sometime in the 40s, if you're into deserted theme parks, ghost walks or general creepy stuff, you've found your mecca.
Day 16: Uyuni incl Salar de Uyuni
Wanna know what makes a breathtaking photo? Well, let's just say that in Salar de Uyuni, every angle is picture perfect. We hope you've been researching the best poses and use of props, because this is one experience most only get to enjoy once in a lifetime.
Day 17: Uyuni to Avaroa National Reserve
It's goodbye mini bus and hello 4x4's as we kick start our 2 day expedition across the Eduardo Avaroa Andean Fauna Reserve.Not much can beat yesterdays views, but this sure gives them a run for their money. Hot springs, geysers, volcanoes, mountains, lakes and flocks of flamingos will have your head spinning 360 as you try to take it all on. Nature on steroids is probably the best description.
Day 18: Avaroa National Reserve to San Pedro de Atacama
Can it really get any better? You ain't seen nothing yet. Up with the birds, we'll stop off first for some geyser spotting before journeying on to the Salvador Dali desert. And yes, it's every bit as impressive as the name suggests.Who's ready for a new country? Oh hi there, Chile! From one other worldly landscape to another, we'll venture into the Atacama desert with San Pedro de Atacama in our sights, our home for the next 2 nights. Feel the dryness in the air? That's because this land is the driest non-polar desert in the world. Don't say we don't try to impress you.
Day 19: San Pedro de Atacama
After two days of crossing the Avaroa reserve, it's time to chill, and that poolside seat has your name all over it. But then again with sandboarding on offer, maybe the lure of the desert will be too hard to resist? As the afternoon rolls in we'll head out to Valle de la Luna. Literally translated as the Valley of the Moon, this lunar like landscape was carved by wind and water and is the probably the closest you'll ever get to a space travel experience. Seriously, can this trip get any better?
Day 20: San Pedro de Atacama to Santiago de Chile
This morning we leave the desert behind and jump on flight to Santiago de Chile. Upon arrival we'll get acquainted with this bustling place on a city tour. The afternoon is yours to explore and this evening we'll wrap up our 3-week adventure with a farewell dinner.
Day 21: Santiago de Chile
The day is yours. Choose to visit the colorful, hillside city of Valparaiso or spend a day exploring Chile's wineries.
Day 22: Santiago de Chile
This morning your trip ends. Not ready to say goodbye to South America? Why not join us on another Contiki tour with your new mates?
Availability
Price Per Day:
$ 229
per day
3,060 Contiki Travel Reviews & Ratings
98%
Andean Crossing(Without Inca Trail Trek,Start Lima, End Santiago de Chile)
Company Reviews
Details
Flight & Transport Inclusions
Roundtrip air to/from trip start & all internal transport
Group Size
Intimate Group - 12 max
Accommodations
Trip ID#:
contiki-LISAN14
Meals Included
Refuel on hearty breakfasts, plus a few local lunches and a few cherry picked and munch worthy dinners, on us. Then, the rest of your Latin American food safari is entirely up to you to DIY as you please. Enjoy!
0
https://tripsaver.travelstride.com/?utm_source=Travelstride.com&utm_medium=Native&utm_campaign=Product%20Details%20-%20Reserve%20CTA%2F%22Flexitrip%20Reserve%20Popup%22
1
TripSaver