9085
Top Brochure of Central America Revealed
Please note the tour price reflected on the brochure is subject to change. Due to seasonality, and taxes prices of the tour are subject to change without due notice. Please consult with the operator directly for the recent price.
No longer available. See new versions below.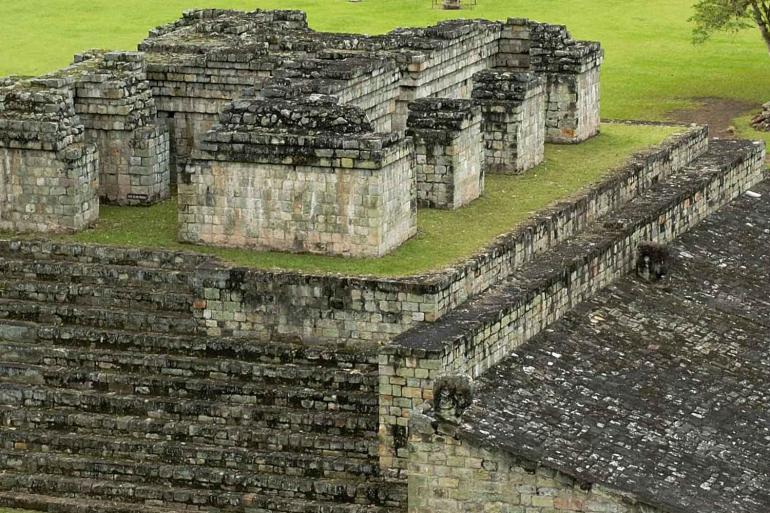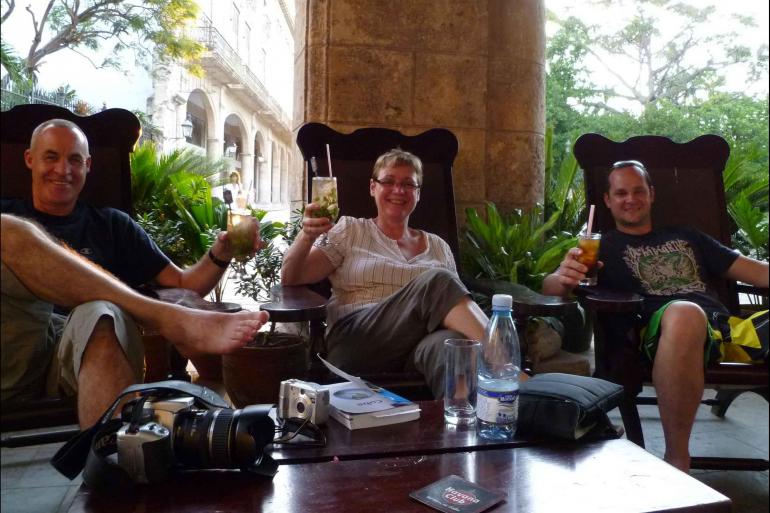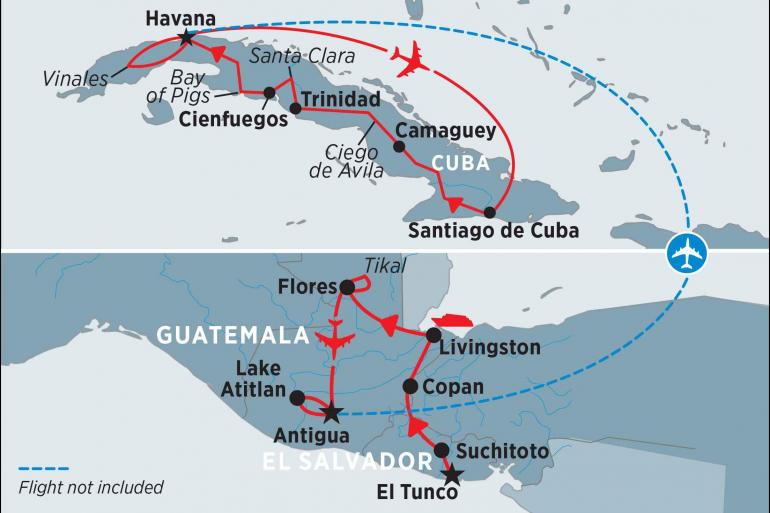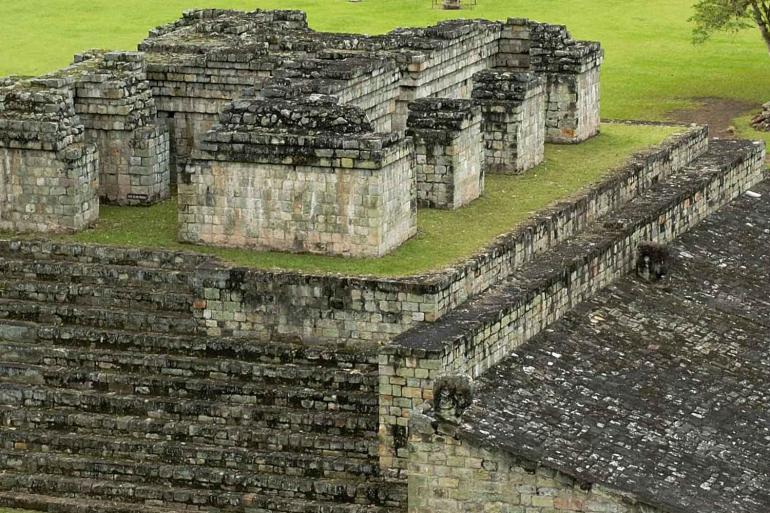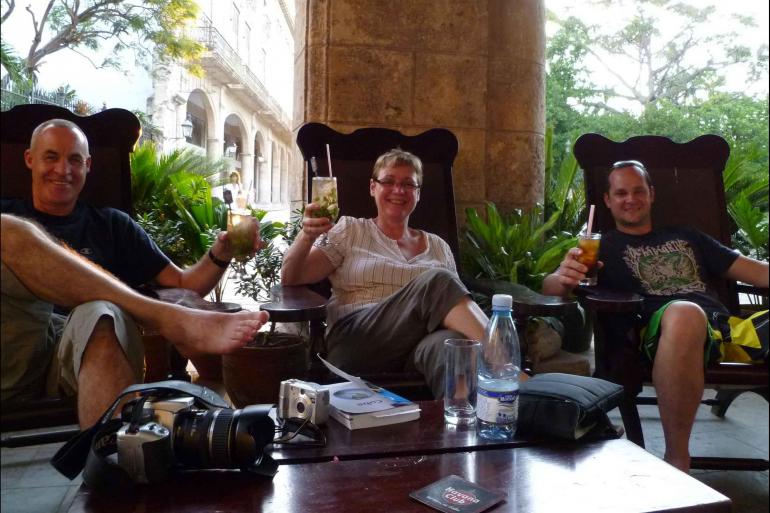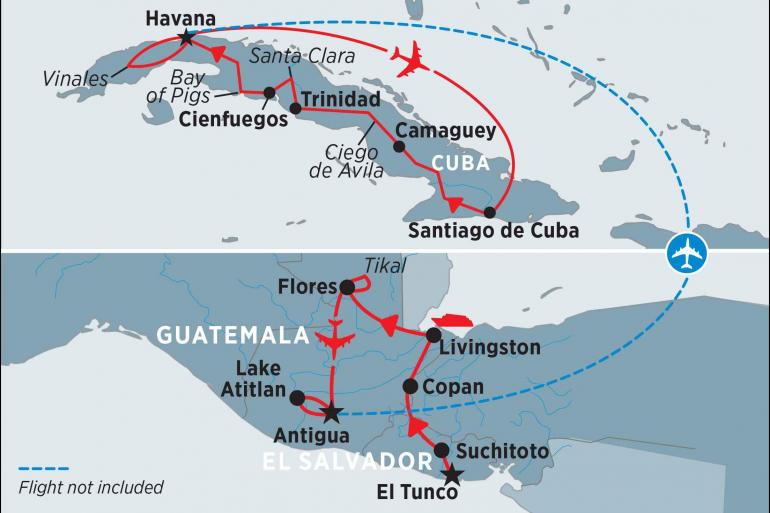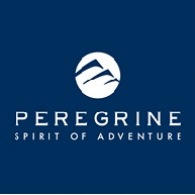 Preferred
Has very high quality customer experiences and demonstrated commitment to responsible travel practices.
read more
4.7 . Excellent
92%
Physical Level:
Walking or physical activity half to most of day - no carrying equipment.
Easy
Lodging Level:
Mid-range budget with accommodations ranging from comfortable lodges, guesthouses, and homestays to three star hotels.
Value (3*)
27 days
From:
$ 8,750
$ 324
/ day
Overview
Highlights (Bullets)
The history of the fascinating local culture of lake atitlan can be traced in the movements of the brush that paints the mystical maya nahual. pick up a brush in a local artist's studio and with it discover your life energy, soul companions, and your destiny

The brightly painted houses of flores are a reflection of the radiant colours that stretch across the town at sunset. enjoy memorable lakeside drinks while the sun sinks below the horizon

Journey into the jungles of guatemala and uncover the magnificent remains of the lost maya civilisation in tikal

Overlooked by the majestic volcan de agua, antigua is a cobblestoned maze of colourful buildings, leafy town squares and ornate churches, and the undisputed urban jewel in guatemala's crown

History enthusiasts will not be disappointed. visit che guevara mausoleum and museum in santa clara, and learn about the bay of pigs invasion at the gion museum

See why trinidad is a favourite among so many peregrine travellers. your time in this old-world cuban town includes a salsa dance lesson and plenty of time for seaside leisure

Conclude your journey by riding through the streets of havana in a vintage american convertible
Short Description
Journey into the very heart of the Americas and discover a rich local culture that fascinatingly mixes the modern world, influences of Spanish colonialism, and traditions that stretch right back to the ancient Maya. Begin in El Salvador, the region's best-kept secret, speculate about the disappearance of a great civilisation with the Copan ruins on the Honduran border, then experience the Caribbean touch that makes Amatique Bay unique. Combining leisure, culture, coast and country, discover the depth of Cuba's most fascinating traditions. Look behind the legend of Che Guevara, witness daily life in Vinales' verdant tobacco fields, peel back the curtain on Santiago de Cuba's ballet culture, wander the French-infused waterfront of Cienfuegos and go snorkelling in the Bay of Pigs. Finish it off with a cruise through Havana's grand old streets in a classic American convertible. TRIP CHANGES FOR 2018 To constantly improve our itineraries we take on all feedback from our previous travellers and local teams. From 01st January 2018 this combination itinerary will be discontinued. The first part will change dramatically including a change to starting/ending locations so this combination of trips is no longer viable. Instead Peregrine will offer a new itinerary through Central America detailed below. The new itinerary and the changed Cuba itinerary can be purchased separately, and it is recommended to book Cuba first with a couple days break in Playa del Carmen before starting the new itinerary. The Cuba itinerary will be the same length however we are replacing one night in Trinidad with Havana so that there is more time to enjoy all of the activities, slow down the pace, and also so that the final day is not spent on a bus returning from Vinales. There may also be some minor changes to inclusions. More details will be published in coming months, with the new itinerary outlined below: HAVANA HAVANA SANTIAGO SANTIAGO CAMAGUEY CAMAGUEY TRINIDAD TRINIDAD CIENFUEGOS HAVANA HAVANA HAVANA HAVANA PLAYA DEL CARMEN CROOKED TREE SANCTUARY SAN IGNACIO SAN IGNACIO FLORES FLORES SUCHITOTO SUCHITOTO SUCHITOTO ANTIGUA ANTIGUA LAKE ATITLAN LAKE ATITLAN ANTIGUA ANTIGUA
Array
Itinerary Focus N/A
Mid-range budget with accommodations ranging from comfortable lodges, guesthouses, and homestays to three star hotels.
Lodging Level Value (3*)
Flight & Transport Inclusions N/A
Itinerary
Day 1 El Tunco
Begin this journey with a transfer from the international airport in San Salvador to your accommodation in the laid back village of El Tunco (approximately 1 hour). A complimentary transfer is included with your trip. Please ensure you provide your flight details to your booking agent at least 14 days prior to travel so the transfer can be organised. There will be a welcome meeting at 6pm this evening. Please look for a note in the hotel lobby or ask reception where it will take place. We'll be collecting your passport details, insurance details and next of kin information at this meeting, so please have these on hand. If you can't arrange a flight that will arrive in time, you may wish to arrive a day early so you're able to attend. We'll be happy to book additional accommodation for you (subject to availability). While El Tunco remains relatively unknown to international travellers, it's a preferred holiday destination for Salvadorians (particularly on weekends), and has gathered quite a reputation in the surfer circles for its waves and beaches. Unless you want to spend some time surfing, fishing or just relaxing at the beach, we recommend not to spend extra time at this location.
Day 2 Ruta de los Flores/Suchitoto
You will depart at approximately 8am and drive for 2 hours along a section of the famous Ruta de las Flores (Flower's route). Ruta de las Flores is one of the country's foremost attractions. Named for the wildflowers that grow along it, the route is scattered with quaint, artsy, brightly-coloured colonial towns, idyllic coffee farms and other natural wonders. You will arrive to Juayua in time for lunch (not included)  – choose from the many Sunday food stalls that offer some of the country's finest produce. After lunch and a further 2hr drive you'll visit Joya de Ceren Museum, a UNESCO world heritage site that features pre-Columbian Maya farming village preserved remarkably well under layers of volcanic ash. A final 2hr drive brings you to Suchitoto. Not much happens in this delightful lakeside town of pastel-painted houses and cobbled streets – which is precisely its charm. This really is a place suited to just pulling up a stool at a pupusa stand and watching life meander by.
Day 3 Suchitoto
With its shaded plazas and lack of traffic, Suchitoto serves as a reminder of El Salvador's past. The town overlooks the Embalse Cerron Grande (also known as Lago Suchitlan), which is a haven for migrating birds – particularly falcons and hawks. In the morning you will take a half day boat tour of the lake, sailing out to some of its islands in search for the avian life that thrives here. In the afternoon, learn more about local history on a guided walking tour of the city. During the civil war, Suchitoto became virtually a ghost town, the battles at nearby Guazapa compelling most of its inhabitants to flee for safety. Grim times that they were, this abandonment actually helped to preserve the city's colonial architecture that you'll be admiring today. Later in the evening you will learn about the traditional art of indigo dyeing. Indigo supported the city's economic and population growth up until the 19th century when synthetic dyes collapsed in the local market. However the art of indigo dyeing is still well alive in Suchitoto. You will meet Irma Guadron, a recognised local indigo artist for a demonstration of this art. While the demonstration takes place, you will also be subjected to a culinary experience like no other! Try an endless variety of local specialties including vegetable stuffed corn dough pastries, loroco flowers, cheese pastries, pork chicharron, fried kassava and the list goes on and on and on...
Day 4 Copan
Leaving El Salvador, travel across the border into Honduras (approximately 6hrs). Immigration procedures typically run quite smoothly here, but your trip leader will be on hand to guide you through the process. Your destination is the town of Copan Ruinas, which lies not far from the Guatemalan border. Copan is a major gateway for tourists visiting the Pre-Columbian ruins of Copan, which was once one of the great centres of Maya civilisation. Today it's a charming town set amid lush, hilly surrounds. On arrival, perhaps take a stroll through the town's cobbled streets, colourful houses and quaint central plaza. Finish a long travel day at the soothing and relaxing waters of Copan natural hot springs - located just an hour drive away from town.
Day 5 Copan
Today at 8am you'll be taken on a guided half day tour of the ancient ruins of Copan, the southernmost of Central America's great Maya sites. This particular region, which acquired World Heritage-listing in 1980, is full of impressive pre-Colombian art. Its major differentiator from other Maya sites is its 21 stelae (columns), which are intricately carved with reliefs and hieroglyphics depicting the passage of time and lives of the royal families. Spread around the site are also a number of small pyramid-shaped temples and excavated vaults. Walking through the grassy plazas, past the site's magnificent monuments, statues and staircases, you'll feel the gaze of huge carved faces peering down on you from ancient walls. It's hard not to wonder at the mysterious disappearance of such a creative civilization. Enjoy a free afternoon to relax at your hotel. Or perhaps visit the Macaw Mountain Bird Park, located 2.5km outside Copan. This private reserve is aimed at preserving Central American macaws. Following our responsible travel convictions we largely recommend against visiting projects hosting caged wildlife. However, most birds in this park are confiscated from smugglers or donated by locals unable to care for them and are kept in very humane conditions.
Day 6 Livingston
From Honduras, cross the border into Guatemala and drive north to Puerto Barrios (approximately 5 hours). Your destination is Livingston, a fascinating Garifuna town perched on the Caribbean coast. No roads reach here, so you'll take a 30min boat ride across Amatique Bay. This port town is an interesting mix of Guatemalan and Caribbean influences, a relaxed place that feels more reminiscent of Jamaica than it does the rest of Guatemala. Expect to arrive to Livingston at around 4pm. Explore Livingston's ramshackle town of colourful wooden houses built on stilts, browse its shops for handicrafts, slurp up a bowl of tapado (a seafood soup that's the local delicacy) or sip on a Coco Loco (coconut water and rum) to the mellow beats of reggae drifting by.
Day 7 Livingston
This morning you'll take a cruise through the spectacular, thickly-forested gorges of Rio Dulce, many of which are more than 100 metres high and overflowing with birdlife. The Spaniards built forts along this stretch of river; you'll likely spot locals sitting in their shadow and casting fishing nets into the water. If you're lucky, you might also even spot a manatee or crocodile during the journey. Lunch will be included while on this boat tour and you will be back in town by 3pm.
Day 8 Flores
Travel by boat from Livingston back to Puerto Barrios and continue on to Flores, your base for exploring the ruins of Tikal (approximately 5 hours). Though officially founded by the Spanish in 1700, Flores had in fact existed in various forms long before. As an island, it has long remained isolated, with locals relying on the subsistence farming of corn and beans, and the gathering of chicle from nearby trees for the production of gum. Many of the locals here still get about in the traditional way of dugout canoe. After settling in, you will visit Yaxha, an archaeological site scenically situated on the shores of Yaxha Lagoon in the Maya Biosphere Reserve. Surrounded by dense jungle, Yaxha is home to more than 500 buildings, including the impressive Twin Pyramids. Perhaps climb temple 216 for views across the lagoons, forest and other temples. Afterwards, let your tour leader treat you to a memorable sunset. Sit back at a picture perfect spot by the lake and farewell that same sun the Mayas worshiped hundreds of years ago. Pop open a wine or two and cheer to another wonderful day in Central America.
Day 9 Tikal/Flores
Today you'll start early (about 7am) to take a leader led tour of Tikal. Home to some of the world's most magnificent Maya ruins, Tikal's five major temples rise above the jungle canopy while an array of smaller structures remain hidden in the undergrowth. More than 3,000 structures make up the site, which, before being abandoned a millennia ago, once housed over 100,000 people. You'll explore the highlights of the area, including Temple I, which is perhaps the iconic image of Guatemala. This area is a repository of Maya wisdom, containing traditional insights into medicine, astrology, agronomy and architecture. The jungles thrum with life, with toucans and macaws swooping between trees and monkeys crashing through the canopy. For those interested, climbing to the top of the ruins offers unsurpassed vistas over the forest. You will return to Flores early in the afternoon (approximately 2pm) and enjoy free time to stroll the cobblestone streets, shop for locally-made souvenirs or enjoy a dip in Lake Peten Itza.
Day 10 Lake Atitlan
Today is a long travel day. Leave your hotel by 6am for a morning flight to Guatemala City (approximately 1 hour). Upon arrival, drive west along the Interamerican highway to Lake Atitlán (approximately 4 hours). Encircled by emerald mountains and misty volcanoes, Lake Atitlán has often been ranked one of the world's most beautiful lakes. In arriving here you'll be transferred by boat to our night's accommodation, a hotel that boasts spectacular views across Atitlan's reflective waters and surrounding peaks.
Day 11 Lake Atitlan
Spend the day exploring Lake Atitlán and its picturesque surrounds. Life in many of the villages around the lake has changed very little over the past few centuries. In some you'll see locals still getting around in traditional garb that incorporate designs passed down through generations and the atmosphere is peaceful and unpretentious. Cruising around the lake by boat, stop in at local villages – San Juan La Laguna included – and visit local artist workshops. Meet local artists Antonio and Angelina Coche and learn from them about your Maya "Nahual", a local equivalent of the zodiac that assigns animal spirits based on birth date. You might even want to try painting your own symbol.
Day 12 Lake Atitlan
Today you'll visit Santiago Atitlán, a peaceful town located on the southern shores of the lake between the volcanoes Tolimán and San Pedro. This is the largest town on the lake, but, more importantly, home of the Maya god, Maximon. As a town with a strong indigenous identity, Santiago Atitlán hosts a Holy Week each year in sees Maximon's effigy moved from one house to another. While in Santiago Atitlán you'll visit a local church to learn about the local customs and history of this traditional town, also stopping in at a local market to watch the day's business being carried out. You will arrive back to your hotel at approximately 3pm.
Day 13 Chichicastenango/Antigua
Start the day travelling by private minibus to the famous market in Chichicastenango (approximately 1.5 hours). Locally known as 'Chichi', this sedate mountain town transforms each Thursday and Sunday into the country's most colourful market with rural-living Guatemalans arriving en masse to sell their wares and produce. If you're in the market for brightly-coloured textiles and handicrafts, this is the place to be. After some time in Chichi, continue to your final destination, Antigua (approximately 2.5 hours). At one time the most important city in all Central America, Antigua was decimated by an earthquake in 1773, though many of its colonial buildings have since been carefully restored. Today, its cobbled streets, lovely architecture, cosy bars and ubiquitous marimba music makes Antigua a favourite for many travellers to Guatemala.
Day 14 Antigua
As you'll today come to appreciate, Guatemala's volcanic soils and altitudinous valleys offer just the right conditions for coffee cultivation. In visiting a local farming cooperative, you'll get to know this all-important export better during a plantation tour led by a local farmer. Dig into the history of the plant with a hands-on coffee culture experience, then learn all about the crop-to-cup process back at the farmer's house where you'll see how the bright red berries are processed, dried, roasted and ground by hand into the perfect blend. This is your chance to try coffee straight from the source! You'll start this tour at approximately 9am and be back in town my midday. How you spend the rest of your time in Antigua is up to you. Due to its historical relics, pleasant ambience and friendly locals, the town is a popular one among travellers. There are a number of interesting markets to peruse, plus no shortage of restaurants and cafes to check out – be sure to sample the country's other important bean: chocolate! If you're feeling adventurous, perhaps finish off this journey to the tune of some salsa at one of the local dance spots. Unfortunately, more than half the population of this beautiful Guatemala you have come to know so well lives under the poverty line, which may explain why Guatemala has also the lowest literacy rate in Central America. With this in mind, the Intrepid Foundation is proud supporter of CasaSito, an outstanding not for profit organization dedicated to assist youth to reach their academic, personal and professional potential. If you have 2' to spare (2'41'' to be exact!) take a look at this short video about CasaSito – it's inspiring: https://youtu.be/v62Ou9czWyE If you want to help CasaSito and Guatemalan's youth, you can donate through the Intrepid Foundation, which means that your donation will be match dollar for dollar by Peregrine too. No donation is too small. $5, $10, $50 it all goes a long way to help this fantastic organization. Simply visit our website: www.theintrepidfoundation.org/projects/casasito/
Day 15 Havana
Today you will be transferred to La Aura International Airport in time to catch your international flight to Havana. This international flight from Guatemala City to Havana is not included in the price of this trip and you must purchase it separately. Please contact us if you need assistance booking this flight. Welcome to Cuba! Bienvenido a Cuba! Arrive at Havana's Jose Marti International airport, where you'll be transferred to your hotel. There will be a welcome meeting at approximately 6pm this evening. If your group is staying at Hotel Riviera, please ask reception staff to view the welcome letter for Peregrine Adventures.  If your group is staying at Hotel Nacional, after checking in please look for a collection of folders opposite reception where companies can leave communication for their travellers. The folder should be named "Peregrine Adventures" and inside there will be a copy of the welcome letter for you to read. The welcome letter will detail where the pre-tour briefing will take place. If by 5pm you cannot locate this letter then please ask reception, or ask to call our assistance line listed in the "Problems and emergency contact information" section of this document. Please come to this meeting with your passport, travel insurance and next of kin information. The briefing is followed by a group welcome dinner. If you arrive earlier in the day, please note most activities in Cuba can only be booked through the tourist desk in the lobbies of the larger hotels or direct with the venue. Otherwise, there are plenty of good museums to check out, including the Museo de la Revolucion and the Museo Nacional de Bellas Artes.
Day 16 Havana
Today is a full day and you will get to know all of the well known suburbs of Havana. Firstly, around 8:30am your leader will take you to the neighbourhood of Jaimanitas, also known as Fusterlandia. The artist Jose Fuster has brightened up the area by rebuilding and decorating over 80 houses (including his own) with ornate murals and domes. The project includes a park with giant chess boards and an Artists' Wall, which has been compared to Antonio Gaudi's mosaic wall in Barcelona. Unfortunately there isn't time to enter Fuster's house but the area is still well worth a visit. Next, head on a walking tour of the lovely Old Havana (approximately 2.5 hours). You'll go to the cathedral, Plaza de Armas, San Francisco de Asis, Plaza Vieja and Central Park. Your entry fee to the Camera Obscura lookout at Plaza Vieja is included. Time for lunch will be slotted in. Next, jump in classic american style cars for a Havana city tour (1 hour urban adventure) that cruises via points of intrerest such as the Malecon, Revolucion Square and ending in the suburb of Vedado to drop you at the infamous Hotel Nacional. Your leader will take you around the historic grounds and the photo wall of fame.
Day 17 Santiago de Cuba
Take a flight to the opposite end of the island. Santiago de Cuba is the hottest place in Cuba – both with respect to the temperature and the atmosphere! In the evening get a slice of real Cuban life with dinner in a very humble average Cuban home. Here you will sample local food on the beautifully decorated patio of a simple family home far from the touristic centre of town and a place where foreigners generally do not visit. Perhaps you will listen to a local Cuban band, dance to the energetic rhythms, or just sit in the rocking chairs watching the neighbours go about their business as evening falls.
Day 18 Santiago de Cuba
Today your leader will take you on a three-hour city tour of Santiago. You'll visit El Morro Castle, Ifigenia cemetery and the Moncada barracks. For nearly a century, the city was the island's seat of power. As well as being the 'cradle' of the revolution, Santiago has a large Afro-Cuban population and a vibrant music scene. It is the home of son music, which is a mix of Spanish guitar and African percussion. This is great place for even the shyest dancer to learn some salsa moves. Santiago's half million residents are proud of their cultural traditions, so you'll find many museums and cultural clubs around the city. The city is also famous for its energetic Carnaval celebrations and its lively Festival of Caribbean Culture.
Day 19 Camaguey
Today, head west along the Carretera Central to Camaguey. Today is the longest travel day of the trip. Depending on how many stops are made, this usually takes six to seven hours but it will be broken up with a walk around Bayamo, plus your leader may utilise the bus time for your informal Spanish lesson. Despite its size, Cuba's third largest city Camaguey has managed to retain much of its colonial heritage. Exploring the city's winding streets is half the fun. The city was planned in a deliberately confusing pattern to disorient any would-be assailants. As you walk through the city you may still see tinajones – large clay pots used for collecting water. On your explorations, stop by the Iglesia de Nuestra Senora de la Soledad to see its baroque frescoes. Camaguey has a rich tradition of cultural and technological leadership within Cuba. It is the birthplace of poet laureate Nicolas Guillen and home of the Ballet de Camaguey. Cuba's first radio and television emissions were broadcast from Camaguey, and the country's first airport and commercial flights were planned and executed here.
Day 20 Camaguey
Today you'll take a tour of Camaguey by bicycle taxi. Cycling is a popular form of transport in Cuba, and bicycle taxis are very common. In the confusing streets of Camaguey, it's a particularly good way to get around. On the tour, you'll visit a local market, parks, plazas and an art gallery. Each taxi carries two passengers and the tour is led by an English-speaking local guide. Your leader may suggest visiting a local farmers' market, where you'll get a fascinating insight into daily Cuban life and the local economy. This is where farmers can sell their produce after meeting the quota they have to sell to the state. There are separate areas for produce sold by the state and produce sold by farmers directly to the public. There are plenty of interesting tropical fruits, vegetables and herbs available. This is where the locals come to buy their food once their monthly food ration runs out. Then you will take a a marvellous tour of the famous ballet school in Camaguey, the precursor to the National Scool of Ballet. From here the majority of dancers go onto the National Ballet company or other large national and international dance companies. Meet some of the important people who keep this school running: the directors, the dancers (we can sit in on a rehearsal) the seamstresses, the shoe makers, the costume designers – it takes a large team of people to keep the ballet school operating. As it is not possible to purchase things such as ballet shoes in Cuba, everything for the ballet school is made on the premises. This is a truly fascinating experience.
Day 21 Ciego de Avila / Trinidad
Today travel through the centre of the country to Trinidad (approximately 5-6 hours), which sits on the scenic Caribbean coast. Stop on the way at Ciego de Avila to visit a well-known local gallery. The Pauyet group was founded by Víctor Rafael Blanco Montaño in 1998 and showcases sculptures made with silver cutlery peices. Enjoy a guided tour of the gallery with one of the artists. You will be encouraged to ask questions about their own art and Cuban art in general. Continue on to Trinidad – for many visitors to Cuba, this is a standout destination. No other colonial city in Cuba is as well preserved, and the local residents are extremely friendly and festive. Trinidad is steeped in religion, including the Afro-Cuban religion of Santeria, which has connections to Voodoo. You'll have over two days to explore the area and soak up the atmosphere.
Day 22 Trinidad
There's no doubt Trinidad is one of Cuba's most alluring destinations – a great place to wander around, with almost every scene offering a photo opportunity. Watch as locals casually smoke their huge cigars on the doorsteps of their homes, and hear the old Chevrolets rumbling by. Start with an orientation walk today, see the former wealth generated by the sugar industry in the town's once-grand mansions, colourful public buildings, wrought iron grill-work and cobble-stoned streets. In the afternoon, dive into the sultry rhythms of Trinidad with an informal salsa class.
Day 23 Trinidad
Take a final day to explore Trinidad and the surrounding area. Spend it snorkelling and swimming at Playa Ancon (just watch carefully for sea urchins, which can be a problem here), or simply wandering the cobblestoned streets in town and photograph some of the colourful buildings. No other colonial city in Cuba is so well preserved, and the local residents are very friendly. At some point while you're here, why not take in a folklore show at one of the town's numerous open-air venues. Cuba has a hugely rich and varied dance and musical tradition that draws its roots from Africa and France. Many styles that have greatly influenced music worldwide originated in Cuba, such as Mambo, Cha-cha-cha, son and rumba.
Day 24 Cienfuegos
It's a short drive south (approximately 1 hour) to Cienfuegos, known affectionately as 'The Pearl of the South'. Have a short orientation of this port town who's unique culture is attributed its ancestry as a French enclave. The final stop for the day is the Palacio del Valle where you will hopefully get to rest with a drink while watching the sunset descend into the ocean from the rooftop bar, before checking in to your accommodation for the night. If there's time, perhaps walk along the promenade or stroll alongside the broad colonnaded avenues.
Day 25 Santa Clara / Bay of Pigs / Havana
Start early to drive north to the final resting place of Cuba's most famous son. In Santa Clara (approximately 1.5 hours), you'll visit the Che Guevara mausoleum and memorial. Che's remains were brought here after they were found in a remote corner of Bolivia in 1997, where he was assassinated by the CIA-backed Bolivian army. Here you'll get a rare insight into the legacy of the revolutionary leader, with some interesting ephemera and artefacts on display – letters, firearms, even medical devices. Next you'll stop at the peaceful sandy arc of either Playa Giron or Playa Larga (approximately 2.5 hours), which sits on the eastern side of the Bahia de Cochinos, better known as the Bay of Pigs. It was famously here that the CIA sponsored a failed invasion by exile forces in 1961. You'll discover the story of the Cuban victory at the Museo Giron, which holds displays of various military equipment and photos of the men who fought here. It's not just the history that's the attraction here – with crystal clear Caribbean waters, a deep underwater wall, and an outstanding variety of coral and fish, it's a lovely place for a swim. There are beach-side restaurants that provide a perfect opportunity to reflect on the history that took place here while enjoying an included lunch. Return to Havana for the evening.
Day 26 Havana / Vinales / Havana
Take a day trip to another province, beautiful Pinar del Rio. Vinales is where tobacco and agricultural fields lie side by side and limestone outcrops dot the landscape. This is some of Cuba's best scenery. Enjoy a walking tour of the verdant farmlands for an insight into rural life and see the tobacco destined for the most expensive cigars. Dine at an organic eco-farm for lunch with sweeping views over the valley. Spend the afternoon here before returning to Havana.
Day 27 Havana
Today is departure day, there are no activities planned for today. Check-out time from the hotel is by 10am.
Availability
Price Per Day:
$ 324
per day
113 Peregrine Adventures Travel Reviews & Ratings
92%
Central America Revealed
Company Reviews
Details
Accommodations
Hotel (21 nights),Premium Guesthouse (5 nights)
Guides
All Peregrine Adventures group trips are accompanied by one of our group leaders. The aim of the group leader is to take the hassle out of your travels and to help you have the best trip possible. Peregrine Adventures endeavours to provide the services of an experienced leader however, due to the seasonality of travel, rare situations may arise where your leader is new to a particular region or training other group leaders. Your leader will provide information on the places you are travelling through, offer suggestions for things to do and see, recommend great local eating venues and introduce you to our local friends. While not being guides in the traditional sense you can expect them to have a broad general knowledge of the places visited on the trip, including historical, cultural, religious and social aspects. At Peregrine Adventures we aim to support local guides who have specialised knowledge of the regions we visit. If you were interested in delving deeper into the local culture at a specific site or location then your leader can recommend a local guide service in most of the main destinations of your trip.
Additional Information
Finish point
Hotel Nacional de Cuba

Intersection of Street 21 & Street O

Vedado

Havana

CUBA

Phone: +53 (7)8363564
Trip ID#:
peregrine-PSMEC
0
https://tripsaver.travelstride.com/?utm_source=Travelstride.com&utm_medium=Native&utm_campaign=Product%20Details%20-%20Reserve%20CTA%2F%22Flexitrip%20Reserve%20Popup%22
1
TripSaver