Best time to visit Ireland
So you're thinking about traveling to Ireland this year? Make the best of your Ireland trip with our handy weather guide and learn the best time of year to visit!
And to find out more about what to see and do, see the full Stride Ireland Guide.
Warm, smiling Irish faces happily welcome visitors all year long. Since the running joke about the weather on the Emerald Isle is that you can experience all four seasons in one day, it's safe to say that, at best, the weather in Ireland is predictably unpredictable. Being prepared for anything is the safest bet.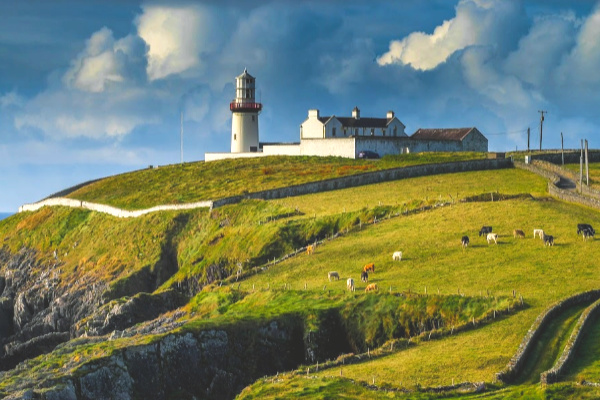 Ireland in April: If you're thinking of visiting in the next few months, note that in this magical Celtic land, April showers do not bring May flowers. April is the driest month of the year in Ireland, and it falls outside of the regular tourist season, which makes it the perfect time to embark on your journey. If you plan your visit for this month, be sure to include lots of time outdoors.
Now is the best time to revel in the beauty and wonder of places like the Giant's Causeway, the Cliffs of Moher, the Ring of Kerry, or the Dingle Peninsula. Think city walking tours, national park nature hikes, or even biking along the country's gorgeous coastlines.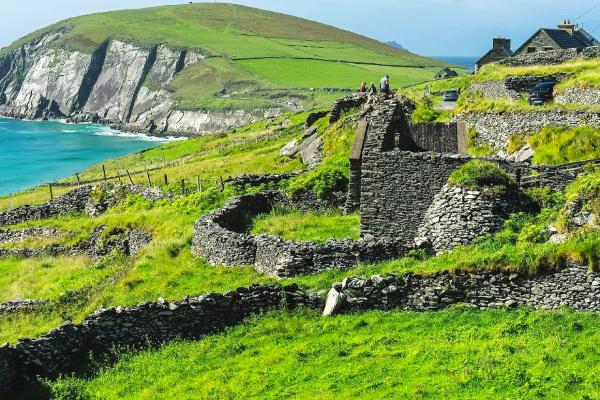 Moreover, you'll get to enjoy the scenery for longer stints because, during April, the Irish sun doesn't set until around 8 p.m. So plan to partake in fun-loving Irish shenanigans well into the night.
Ireland's Humidity
Humidity doesn't pose the same health dangers in Ireland as it does in warmer-climate destinations. Since the temperatures are never exactly hot, no matter the time of year, visitors don't have to contend with the significant health risks often feared when excessive heat accompanies high humidity.
When temperatures reach 92º with 60% humidity, the human body reacts as if the temperature were 105º. Ireland's Cooler temperatures paired with humid air merely make you wish you'd brought a sweater.
Ireland's Average Humidity
Early Morning and Evening: 90%
Mid-Day
April – August: 65% to 70%
October – February: 75% to 85%
Ireland's Seasons
Misty showers, moody skies, and cooler temperatures cultivated the beautifully rich rolling green landscapes of Hibernia, which travelers come in droves to see. So really, this temperamental climate continues to play a crucial role in drawing more than 11 million visitors to the region each year.
Spring in Ireland
March-May
Springtime is the perfect season for exploring the Celtic coast from Dublin to Cork

Saint Patricks Day Celebrations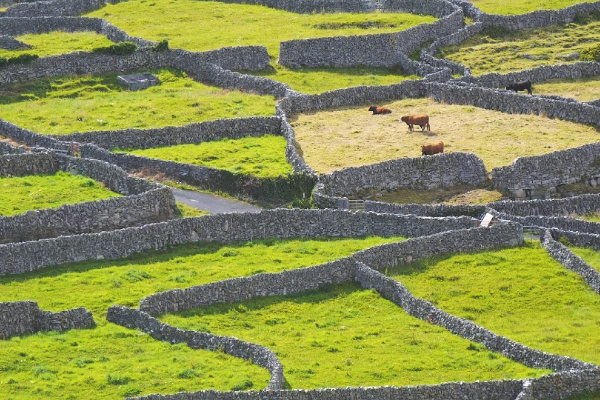 The tourist count is low, so crowds will be thin. Irish schools are still in session, so even the locals will be preoccupied with daily life on the island.
Even though temperatures are still cool, a good coat will keep you warm and cozy. Now would be a great time to hike the mountains of Wicklow National Park, or stroll through a few of the many lush Irish gardens.
Spring

Sunset

Temperatures

Rainfall

Beginning of the month

End of the month

Average

High

Average Low

(Northern Coast) Monthly

Average

March

6 p.m.

8 p.m.

39º F

48º F

2.4 inches

April

8 p.m.

9 p.m.

43º F

52º F

2.2 inches

May

9 p.m.

9:45 p.m

46º F

55º F

2.2 inches
A note about Saint Patrick's Day
Although Spring is mostly quiet, one loud and raucous week will be had during this season. Dubin's streets fill to the brim with locals and tourists alike on St. Patrick's Day, March 17th, when Irish heritage and culture are heartily celebrated. If you're not a fan of crowds, head to one of the smaller cities.
It's no surprise that this world-wide beer-drinking, green-wearing phenomenon is particularly special on the Emerald Isle. The 26 counties and the North hold this holiday dear to their hearts.
On Lá Fhéile Pádraig, "the Day of the Festival of Patrick" or St. Patrick's Day, as we know it, cheerful debauchery is plentiful, but so, too, is the family-friendly fun. After all, for hundreds of years this religious holiday has been considered a day of spiritual renewal and celebrated as such by young and old alike.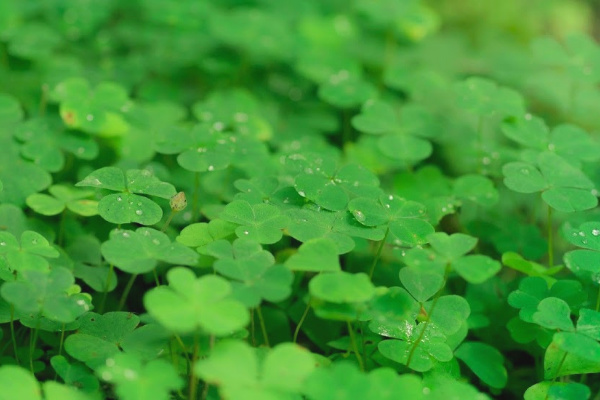 Around the country, a myriad of festivals, parties, performances, fairs, special events, and theatrical parades begin days in advance. Then, momentarily, they are put on hold as the country offers patronage to their beloved saint. Before the light-hearted celebrations explode with full force, Irish locals can be found in cathedrals throughout the country offering up prayers for Catholic missionaries worldwide.
Quickly, the celebration resumes. Festive music riverdances it's way through the air from all directions and blends together in a joyful haze of celtic pride. Without question, the shamrocks come out and the céilís begins. Wear green attire, but don't expect your Guiness to be tinted!
It should be noted that pinching non-green wearing party-goers is also an American tradition that should certainly not be tried in Ireland. For any must-do-once travel bucket list to be complete, it must include this Springtime trip to Éire for an authentic Paddy's Day experience.
---
Summer in Ireland
June-August
Shorter rains

18 hours of daylight

Bigger crowds
It's easy to see why Irish summers attract so many tourists. Rain falls in short spurts, and you'll enjoy 18 hours of daylight, with the sun setting around 9:45 p.m. in June.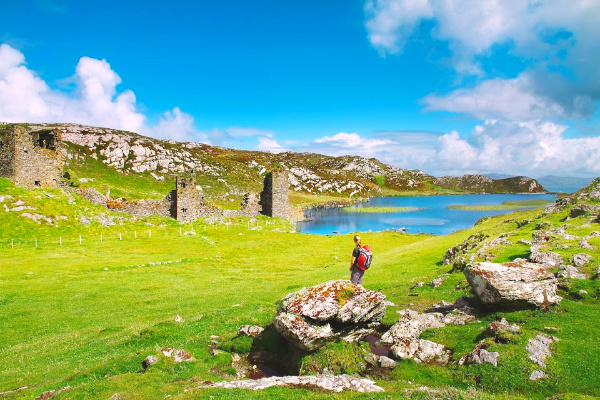 Crowds are thick, so waiting in long lines tends to consume precious time. If you're visiting popular sites, purchasing tickets in advance or opting-in for a scheduled tour is a good idea this time of year.
Visitors should consider pre arranging their personal must-sees to be sure they don't miss a thing. Or leave the planning and booking to the experts and use a tour
Summer

Sunset

Temperatures

Rainfall

Beginning of the month

End of the month

Average

High

Average Low

(Northern Coast) Monthly

Average

June

9:45 p.m.

10 p.m.

50º F

59º F

2.8 inches

July

10 p.m.

9:15 p.m.

54º F

63º F

3.7 inches

August

9:20 p.m.

8:15 p.m

54º F

63º F

3.1inches
---
Autumn in Ireland
September-November
Cooler temperatures

Fewer crowds
With temperatures dropping, so does the influx of visitors. Autumn is a great time to plan your trip with a focus on the many indoor marvels sprinkled throughout the country.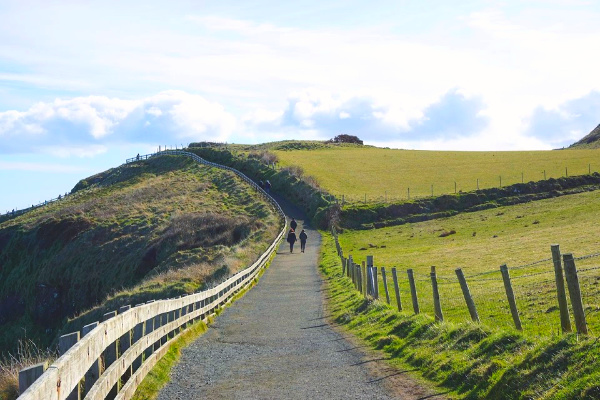 See the Titanic Museum, visit the Guinness Storehouse, spy The Book of Kells at Trinity College, or bar-crawl your way through charming towns while chatting it up with the friendly locals. Indeed, taking the touring outside is still an option, albeit a chillier one.
Autumn

Sunset

Temperatures

Rainfall

Beginning of the month

End of the month

Average

High

Average Low

(Northern Coast) Monthly

Average

September

6 p.m.

8 p.m.

52º F

61º F

3.9 inches

October

8 p.m.

9 p.m.

46º F

55º F

3.9 inches

November

5 p.m.

4 p.m

43º F

50º F

3.7 inches
---
---
Winter in Ireland
December-February
Snowy and cold weather

Shorter days

Christmas festivities
Frostier temperatures may not be suitable for wandering the paths of the Wicklow Mountains. However, they're great for enjoying a traditional dinner at an iconic castle. And, staying in feels like going out when visitors spend an evening dancing to foot-stomping, raucous Irish music.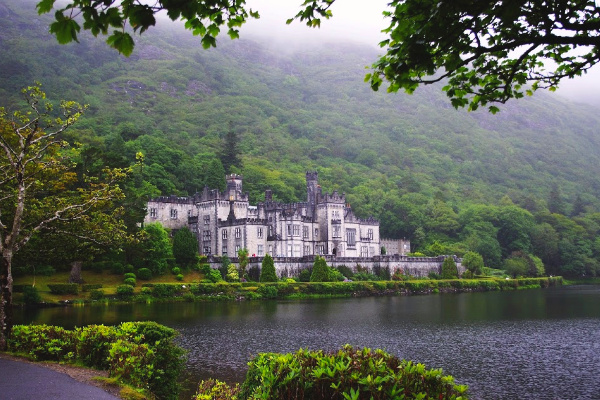 Most travelers wouldn't mind an evening spent enjoying a pint while wrapped up in captivating stories and rhythmic wooden-flute songs. Moreover, Christmas time in Ireland comes with a special kind of magic, which one must experience first-hand to understand.
Winter

Sunset

Temperatures

Rainfall

Beginning of the month

End of the month

Average

High

Average Low

(Northern Coast) Monthly

Average

December

4 p.m.

4 p.m.

39º F

48º F

4.1 inches

January

4 p.m.

5 p.m.

39º F

46º F

3.9 inches

February

5 p.m.

6 p.m

39º F

46º F

2.6 inches
---
Facts About Rainfall in Ireland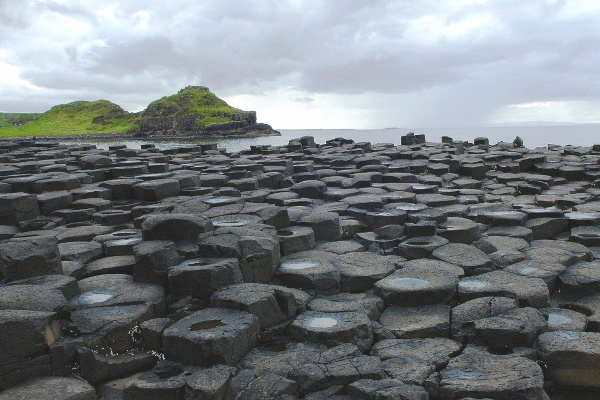 In general, April is the driest month, however, in parts of southern Ireland, June is the driest month.

Rainfall in Ireland may be frequent, but, it's important to remember that you'll find it occurs as a light misting rather than heavy, persistent downpours.

December and January are the wettest months of the year throughout the country. The Eastern half of the country sees approximately 750-1000 mm (30-40 in) of rainfall per year, with about 150 rainy days per year in the south and southeast.

In the Western half of the island, 1000-1250 mm of rainfall can be expected per year, with about 225 rainy days.
(To give us some perspective: Seattle, Washington gets approximately 960 mm or 38 in of rain annually with an average of 150 rainy days per year.)
The average hourly rainfall in Ireland is quite low, ranging from 1mm to 2mm. Although, it is not uncommon to see 10 mm (3/8 in.) of sprinkled drops in an hour. It's rare to see as much as 15-20 mm (.59 -.78 in) in an hour, and heavy rains (more than 25 mm), are incredibly rare.
---
Ready to visit Ireland?
See over 30 Small Group tours in Ireland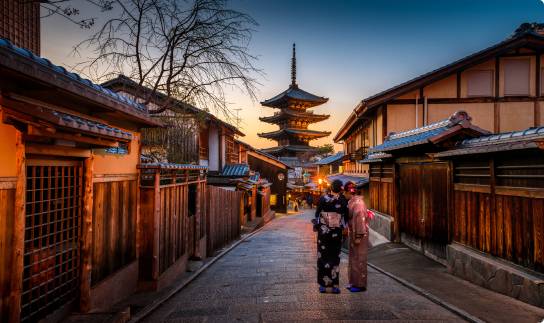 Continues below
How well do you know the world?
Play the game
Compare your travel trivia knowledge with friends. How many can you get right in 1 minute?
Unlock Community Benefits
Travel better together
Save favorite trips and itineraries
Get insider insights
Receive personalized recommendations
...and much more
Save up to 32% off trips to every continent on earth
Redeem anytime before 2023. Last minute changes OK.
Get a full refund.
×
Sign in or create an account
To Save Trip, sign in or sign up (it's free)
For savings, sign in or sign up (it's free)
Access member savings & community.
or
What's your email address?
Something went wrong
Click to send a new magic link to your inbox.
×
Sign in to Save Trips
Bookmark trips you like
Share with your travel companions
Track price changes
Access private discounts on trips you save
×
Sign in to see your results
TripFinder is a member-only feature. Don't worry, it's free!
With a membership you:
Save up to $700 per person!*
Access private deals and offers
See personalized trip recommendations
Save favorite trips
*See Member Savings Program details
×
Activate your free Travelstride membership
Just use the email address and password provided in the email we sent.
With your free membership you:
Save up to $700 per person!*
Access private deals and offers
See personalized trip recommendations
Save favorite trips
*See Member Savings Program details