Trip prices
$ 1,549
-
$ 10,599
Member Savings
Save up to $700!
Sign in to see which companies give additional savings to Travelstride Members (it's free )
Discovery Tours by Gate 1 Reviews & Ratings
100% Recommend
The fact that they have excellent tours
A friend of mine suggested I post this on Gate 1's site (from my wall), so here goes:

I was able to call Gate 1 and transfer the credit from our canceled Greece trip toward the unpaid balance of our Galapagos trip which is scheduled for September of next year. Once the refund comes in from Austrian Airlines for the airfare, I'll be able to transfer that, as well. This sort of ease of customer service is one of the many things I love about Gate 1 Travel.

The first trip we took with them, the one to Turkey in 2010, we were deciding whether or not to book it, and we missed the advertised discount ($400 per person) by one day. I decided to call them, and see if they might still honor it one day late, as it would make a difference as to whether we would book the trip or not. They accommodated us and gave us the discount. First impressions matter, and this made a good one. They continue to impress and, ultimately, it was a wise business move on their part, since we've booked many other trips since then, as well as had friends book with them due to our recommendation.

Of course, the fact that they have excellent tours which are affordable on a budget, along with top notch tour guides, is the premier reason why the Galapagos was going to be our 14th trip using Gate 1.

What a coincidence that the Greece trip which got canceled (due to Covid) was our 13th booking with them. Still, I like the number 13, so no triskaidekaphobia here.
Show more
I trust Gate 1 with the safety of my clients.
When you book your air travel through Gate 1, they care for you from the time you land until the time you take off. As a travel agent, I trust Gate 1 with the safety of my clients.
Show more
have never been disappointed
The best value for your money and the hotels and excursions are the most interesting. We have booked almost 9 trips with Gate one and have never been disappointed . Their tour guides are impeccable.
Show more
The trip was excellent in every way
The trip was excellent in every way. The itinerary was wonderful. Very nice hotels, good meals and Richard was a fantastic guide.
Show more
The Namibia trip was very enjoyable!
The Namibia trip was very enjoyable! Lots of beautiful scenery, both inland in the deserts and along the coast. We saw lots of wildlife in Etosha National Park and I took some amazing pictures of both the animals and the desert scenery. All in all, a great trip.
Show more
We had a wonderful trip in Japan
We had a wonderful trip in Japan. Our trip leader Makiko was sooo awesome. She was very well organized and filled with knowledge. We enjoyed every aspect of the trip all because of Makiko's professionalism and organizational skills. The program covered so many aspects of Japan cultures and history provided us with wealth of information!
Show more
Save up to 32% off trips to every continent on earth
Redeem anytime before 2023. Last minute changes OK.
Get a full refund.
Editorial review of Discovery Tours by Gate 1
A section of Gate 1 tours, Discovery Tours provides immersive cultural experiences for budget minded travelers.
What Makes Discovery Tours Gate 1 Stand Out?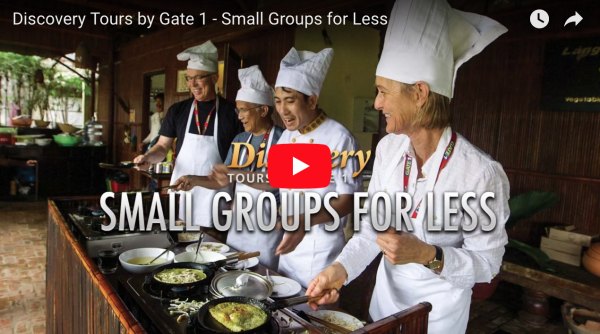 They are dedicated to keeping their travel groups small (max 22) in order to provide a culturally rich experience that everyone on the tour can enjoy to the fullest. They stress the intimate and immersive nature of their itineraries which visit unique destinations around the globe.
Their focus on small groups allows them to offer interesting and off the beaten path activities and accommodations, as well as a high level of personalized attention from the guides.
Who Will Enjoy Traveling with Discovery Tours Gate 1?
Groups are international, typically attended by the 35-50+ age range. This is quintessential small group travel. You'll have a dedicated professional guide - often a local - and an expert in the country.
If you enjoy a well rounded tour that focuses just as much on meeting locals and visiting off the beaten path spots as on the tourist highlights, then a Discovery Gate 1 tour would suit you nicely.
The balance of sightseeing to more unique experiences means their a great option for first time travelers or a repeat visit to a country you want to see again.
Tours are budget conscious - many activities are included with some optional excursions available for an extra fee allowing you to somewhat cater your own experience.
Top Destinations
Discovery Tours travel to multiple countries around the world in the Americas, Europe, Asia & the South Pacific, the Mediterranean, and Africa.
Discovery Tours Gate 1 Travel Style
Gate 1's Discovery Tours brand, combines the budget mindfulness of Gate 1 with the exclusivity of their Signature Collection to provide an immersive, culturally rich small group travel experience.
Group size is no larger than 22, and typically the average is more like 12-15 people. This allows for much more intimate and unique experiences when it comes to meals, accommodations, and activities.
It also means there is more room for spontaneity, such as stopping the bus to hop out and enjoy a local market before continuing on to your next destination.
Many activities and excursions are already included in the itinerary, which is relatively unusual for these more budget minded travel options. That said, not all excursions are included - which gives you the flexibility to pick and choose how you'd like to spend your time.
A lot of activities during the tour are designed to be hands on, providing a real glimpse into the culture. Ample free time is provided as well, where you can spend some time exploring on your own.
While you will hit the major sites, the balance is definitely more heavily weighted on off the beaten path experiences - meeting locals and enjoying a more authentic view of the destination.
Why Choose a Tour with Discovery Tours Gate 1?
This is a group tour experience for people who have an adventurous spirit but are looking for a nice balance of being taken care of and independence. Each trip offers a number of optional sightseeing tours for purchase, to further provide context to your destination.
Or you can choose to explore on your own. If a small group tour experience almost anywhere in the world is what you're looking for, give their extensive list of itineraries a browse.
Unlock Community Benefits
Travel better together
Save favorite trips and itineraries
Get insider insights
Receive personalized recommendations
...and much more
Travelstride featured in






About the company From
From Discovery Tours by Gate 1
Want a tailor-made trip instead?
Your trip, your way, planned by an expert:
You choose budget, destinations, activities, transport & lodging type
Expert designs the itinerary for you, and once approved, takes care of logistics
Discovery Tours by Gate 1 Company Ranking by Category
Why Travelstride
Find your perfect trip
A vast selection of trips on every continent, for every style. Thousands of itineraries from hundreds of trusted travel companies.
Save time
Use simple search and comparison tools to easily find the best trip. Don't sweat the logistics -- travel providers plan for you.
Save money
Book directly with the operator. Find inclusive packages for the best value and get access to amazing deals.
Travel confidently
Read unbiased user reviews, pick the company that fits your style, and connect with them directly. No worries, just memories.
×
Sign in to Save Trips
Bookmark trips you like
Share with your travel companions
Track price changes
Access private discounts on trips you save
×
Sign in to see your results
TripFinder is a member-only feature. Don't worry, it's free!
With a membership you:
Save up to $700 per person!*
Access private deals and offers
See personalized trip recommendations
Save favorite trips
*See Member Savings Program details
×
Activate your free Travelstride membership
Just use the email address and password provided in the email we sent.
With your free membership you:
Save up to $700 per person!*
Access private deals and offers
See personalized trip recommendations
Save favorite trips
*See Member Savings Program details