Trip prices
$ 1,447
-
$ 1,447
Member Savings
Member Savings!
Travelstride members can save up to $700 per person with this tour operator.
Read more
Member Savings
Save up to $700!
Sign in to see which companies give additional savings to Travelstride Members (it's free )
CroisiEurope Reviews & Ratings
83% Recommend
Janine Desmulliez
·
2020-05-01
An unforgettable experience
Une expérience inoubliable à la fois sur le plan culinaire sur les animations et les visites lors de la croisière j'en suis à ma septième !!!


An unforgettable experience at the same time on the culinary plan of activities and visits during the cruise I'm on my seventh!!!
Show more
Toinette Brutto
·
2020-01-25
Ideal for a weekend in Paris
tres beau bâteau. chambre magnifique. accueil parfait. ideal pour un week end à Paris.


Very nice boat. beautiful room. a perfect welcome. ideal for a weekend in Paris.
Show more
Jenőné Dallos
·
2020-01-08
This is a beautiful ship
Csodás hajó. Barátaim a Silveradó zenekar ott játszott.
Wonderful tour
We sailed on the Po River in Italy and on the Seine from Paris to Normandy. Wonderful! Now we are looking forward to Germany and the Danube!
Show more
Amazing Trip
Amazing Ship, Crew, Decor, Food & Spacious Rooms! MS Dulce France ❤️⭐️
Amazing Ship
Amazing Ship, Crew, Decor, Food & Spacious Rooms! MS Dulce France ❤️⭐️
Save up to 32% off trips to every continent on earth
Redeem anytime before 2023. Last minute changes OK.
Get a full refund.
Editorial review of CroisiEurope
CroisiEurope is an independent, family owned business that specializes in providing river cruises throughout Europe. The Company sets itself apart from other river cruise lines by including French cuisine aboard created by Michelin-starred chefs.
Unlock Community Benefits
Travel better together
Save favorite trips and itineraries
Get insider insights
Receive personalized recommendations
...and much more
Travelstride featured in





About the company
From CroisiEurope
Since 1976 CroisiEurope has pioneered river cruising on the most beautiful waterways in Europe, and we are Europe's largest and most experienced river cruise line. When you sail with us, you can relax and know that you will be well taken care of.
We have been privileged to take more than 200,000 passengers to the lands of their dreams, for the times of their lives. Our fleet of 30 ships will take you to your choice of dazzling riverside cities in France, Italy, Spain, Germany and Belgium — to the romantic Rhine Valley, the Rhône and Saône, the Seine, the beautiful blue Danube, the Douro Valley, Venice, and more — where you can explore and enjoy local food, wine, history, art and culture. We have a dedicated and knowledgeable staff of almost 1,000 people, whose conviviality, attentiveness and professionalism ensures that your voyage will be comfortable and pleasurable. Our staff and crews speak English, and many of them speak other major European languages as well. So you'll be in the heart of European culture and charm, but you'll always be able to find someone who understands you.
All our vessels are fully inspected on a regular basis, and are consistently renovated and upgraded to keep pace with safety standards as well as the needs of our customers. Our entire fleet is certified compliant with VERITAS global standards, a guarantee of safety and quality.
CroisiEurope's headquarters is situated at the crossroads of Europe, in Strasbourg, France, near the banks of the Rhine. This historic, forward-thinking city is the perfect home us: we're grounded in the past, and excited about the future. We're an independent, family-owned business — so even though we're the biggest and most experienced, we're still small and friendly. We understand the personal touch.
Come aboard! We can't wait to show you the sights of Europe.
River Cruising: The Difference
Imagine gliding past quaint villages, ancient hillside castles and stone forts; past sun-drenched olive groves and vineyards, snow-capped mountains and thundering gorges; under glittering night-lit bridges in exotic cities. Imagine eating first-class French cuisine while floating on a sparkling river, watching the gorgeous landscape pass by.
Envision your ship docking in the heart of a beautiful, historic European city: its treasures of art, music, food, culture, and history await your leisurely exploration.
Our trips offer you the opportunity to intimately experience the culture of a region or a country, and to visit some of Europe's most dazzling cities and towns — in France, Spain, Italy, Germany or Belgium — in ease and comfort.
Our ship will be your floating hotel: small enough to moor at a town or city port, but large enough to provide you every amenity. The capacity of just 100 to 200 passengers allows a warm and convivial atmosphere on board, as well as the opportunity for quiet privacy and independence. The pace of our river cruises is relaxed and tranquil; the scenery is gorgeous and changes moment to moment.
And river cruising is smooth, so there's no need to worry about seasickness. Unpack your bags, and relax and enjoy the trip.
Come sail with CroisiEurope, and discover why river cruising is the new way to travel.
French Cuisine, European Flair
The heart and soul of CroisiEurope is European and international.
Other cruise lines may offer good food. With CroisiEurope, you'll cruise the rivers of Europe aboard your own French restaurant.
We carefully design and plan our cuisine and menus in the exacting tradition of fine French gastronomy. Each meal on your cruise will give you a delightful experience of French haute cuisine. Our chefs have worked alongside such Michelin-starred greats as Paul Bocuse and Marc Haeberlin; CroisiEurope's head chef, Alain Bohn, was recently nominated as a member of the Maîtres Cuisiniers de France. This esteemed French association, created 50 years ago, includes only 250 chefs worldwide.
A large number of our crew and staff speak many major European languages, so you may find yourself able to chat in Spanish, Italian, or Hungarian as well as French and English.
Eco-Friendliness
European countries have long been in the forefront of eco-friendly practices, and CroisiEurope is proud to have been a pioneer in this field since well before these practices became standard. Our commitment to the environment goes far beyond legal requirements.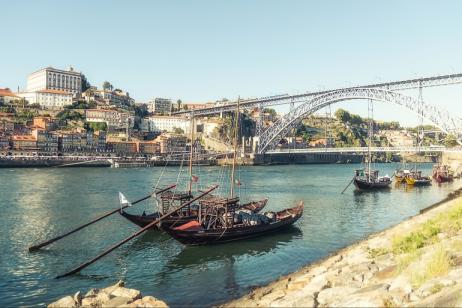 Want a tailor-made trip instead?
Your trip, your way, planned by an expert:
You choose budget, destinations, activities, transport & lodging type
Expert designs the itinerary for you, and once approved, takes care of logistics
Top CroisiEurope Trip Categories
CroisiEurope Company Ranking by Category
Awards
Associations
Cruise Lines International Association
Why Travelstride
Find your perfect trip
A vast selection of trips on every continent, for every style. Thousands of itineraries from hundreds of trusted travel companies.
Save time
Use simple search and comparison tools to easily find the best trip. Don't sweat the logistics -- travel providers plan for you.
Save money
Book directly with the operator. Find inclusive packages for the best value and get access to amazing deals.
Travel confidently
Read unbiased user reviews, pick the company that fits your style, and connect with them directly. No worries, just memories.
×
Sign in to Save Trips
Bookmark trips you like
Share with your travel companions
Track price changes
Access private discounts on trips you save
×
Sign in to see your results
TripFinder is a member-only feature. Don't worry, it's free!
With a membership you:
Save up to $700 per person!*
Access private deals and offers
See personalized trip recommendations
Save favorite trips
*See Member Savings Program details
×
Activate your free Travelstride membership
Just use the email address and password provided in the email we sent.
With your free membership you:
Save up to $700 per person!*
Access private deals and offers
See personalized trip recommendations
Save favorite trips
*See Member Savings Program details