569

Gate 1 Travel Reviews & Ratings

77% Recommend

Excellent

411

Great

15

Average

12

Disappointing

14

Terrible

117

Value:

4.0

Guide:

4.0

Activities:

4.0

Lodging:

4.0

Transportation:

4.0

Meals:

4.0
My wife and I have traveled on several…
July 2022
Value

5.0

Guide

5.0

Activities

5.0

Lodging

5.0

Transportation

5.0

Meals

5.0
My wife and I have traveled on several Gate1 tours throughout the years. Gate1 has provided accurate descriptions of each tour. Their guides have been extremely knowledgeable and helpful at all times. We just returned from Moracco and had the best time. Are flights always on time? Do tours sometimes have minor deviations? Does stuff happen? Of course. But the experiences and memories have been incredible and we are looking forward to our trip to Italy in a few weeks.
Read more
Booked via phone (and had a super experience)
July 2022
Value

5.0

Guide

5.0

Activities

5.0

Lodging

5.0

Transportation

5.0

Meals

5.0
My parents have been on previous Gate 1 trips and really enjoyed their experience — so, for their Christmas present this year, my husband and I will be taking them on a Christmas markets tour of Budapest, Ljubljana, and Vienna. I was going to book it online as the online process looks pretty straightforward, but my father INSISTED that I call and book with Javier because he was so impressed with him. And he was right: Javier definitely is an expert! He made the booking process exceptionally easy and clear and answered our dozen+ questions with confidence. Excited about our trip!!
Read more
Exceptional Customer Service
July 2022
Value

5.0

Guide

5.0

Activities

5.0

Lodging

5.0

Transportation

5.0

Meals

5.0
I had a great experience with customer service. Initially booked escorted trip to Ireland. Two other family members wanted to go on trip as well on different dates. So I would have to rebook my tickets to coordinate with other family's dates. The wait times for customer service can be long, but they always call back. At first I had trouble getting the answers I needed. I didn't want to cancel trip which involved steep fees. My brother-in-law called, got us on a 3 way call to Ivanna. Ivanna was very thorough and carefully researched the matter. She double-checked everything and made sure everything was changed properly and in order. Plus, it was very late in the day, and she worked until it was complete. She wouldn't end the call until she was sure of everything. I am most appreciative to her and she was so respectful. Thank you. I only hope the actual trip goes as well.
Read more
We were on a Gate 1 tour from June 26…
July 2022
Value

5.0

Guide

5.0

Activities

5.0

Lodging

5.0

Transportation

5.0

Meals

5.0
We were on a Gate 1 tour from June 26 thru July 3..
It was the Classic Tour of Ireland…Our tour director was Cristianne. Our driver was John….Unfortunately I did not get her last name…
Please make sure this review goes to her management team and to her….

Our holiday would have been half as fun and interesting if we did not have Cristianne…she is absolutely indispensable because of her knowledge of Ireland..her presence made the already beautiful places many more times interesting..we have never come across such a beautiful, pleasant, and friendly guide in our entire life.
She explained everything beautifully and we came to know about various interesting things as guest in beautiful Ireland…even after returning home we are still
Talking about Cristianne's wonderful story telling which made our bus trip so fun and festive…she made us feel
Like we were one of the Irish..we have never experienced such love and affection in a different country…she was so much more than a tour director it was like we were all,a big family…Cristianne gave us delicious treats….many surprises….that were not included…she is one beautiful young lady inside and outside..I fell in love with Ireland…and I could listen to Cristianne talk forever,,she is an absolutely romantic soul..

John our driver…made us feel safe while driving….made sure we got our luggage…very personable, kind and a wonderful personality…

This is was our first Gate 1 tour…but definitely not our last.

What a fantastic 1st experience we had with Gate 1

With much love,
Barbara & Michael Bartlett
Oviedo, Florida

Please make sure Cristianne and John know how happy
And fun they made our holiday..
Read more
13 Day Essential Israel & Jordan (March…
June 2022
Value

5.0

Guide

5.0

Activities

5.0

Lodging

5.0

Transportation

5.0

Meals

5.0
13 Day Essential Israel & Jordan (March 3-15, 2022)
This is our 8th tour with Gate 1 Travel with 3 other family members joining us. The tour was excellent from beginning to end as we were lucky to have fine weather and lesser crowd to deal with as both Israel and Jordan had just opened its borders to visitors after almost 2 years of lock down because of the pandemic. Hats off both to our Israeli Tour Manager Gai Perez and his driver Boaz and to his Jordanian counterpart Tour Manager Ali Abu Daheh and driver Muhammad. Visiting those biblical and ancient places with the historical narrative of both our very informative and friendly Tour Managers are beyond words. Our visit to the Israel-Jordanian Holy Land is a trip of a lifetime for me and my family members.
Dan G
Read more
Hi travelers
June 2022
Value

5.0

Guide

5.0

Activities

5.0

Lodging

5.0

Transportation

5.0

Meals

5.0
Hi travelers. We did a nice Peruvian 12 days kaleidoscope trip. So happened that at Orlando airport in USA our baggage was delayed and two days were without our comfortable belongings. Our tour manager Mauricio Gomez coped perfectly with the problem and our baggage caught up with us in Cusco after 50 hours delay. Dear Mauricio, will you take our deep gratitude and respect for your care of tourist needs and problem. Mauricio treat tourists as a family, we used to hear from him Coca-Cola and answer Inca-Cola. Gate 1 performed all points of the trip. Definitely we will do other trip with Gate 1.
Yuri and Luda, Russian Canadience
may 2022
Read more
FAQ
Are flights included?
Yes, but there is an option to purchase the tour without the flights.
Do I need Travel Insurance?
It is HIGHLY recommended that you purchase Travel Insurance. You will be provided with insurance options during the booking process.
Note: Travel insurance through Gate 1 cannot be purchased after the final payment has been made.
Can I extend my trip?
No.
What is the Average Group Size?
24-42 people. 22 people max for Small Group Tours.
Pre or post trip accommodation available?
No.
Are kids welcome?
Independent Packages: all ages are welcome. Signature Collection Tours: kids ages 8+ are welcome. Discovery Tours: kids ages 12+ are welcome. Uganda Programs: ages 15+ are welcome.
From Gate 1 Travel
Gate 1 Travel offers escorted tours, European river cruises, independent vacations and customized international vacation packages for less. Our discount travel packages and tour packages to destinations worldwide provide exceptional value, saving our customers time and money. We have taken care of all the details so you don't have to. Find your dream vacation today.
Company Background & Highlights
Mission: To deliver More of the World for Less by developing quality, affordable vacations for North Americans. To provide exemplary service to our customers and to earn their loyalty. To respect our partners. To invest in our employees, providing a safe and comfortable work environment. To know and understand our products and destinations. To constantly innovate and be a leader in technology.
Founded in 1981 with 3 employees; now with over 200 employees worldwide
Headquarters: Fort Washington, PA (Suburban Philadelphia)
Overseas Offices: Hungary, China, Costa Rica, Egypt, Morocco, Argentina, Indonesia, Great Britain, Greece, India, Israel, Italy, Peru, Ecuador, Spain, Switzerland, Thailand, Cambodia & Vietnam
30+ years of providing travel services to clientèle
Product Types
Escorted Tours - Group Tours
Small Group Tours
European River Cruises
Escorted Bus Tour/Sea Cruise Combinations
Independent City Stays
Independent Fly & Drive Packages
Multi-Destination Rail Packages
Customized Vacations (Vacation Builder)
Custom Groups and Individuals
Group Air
Target Consumer Market
Gate 1 Travel's target market is a traveler seeking high quality, affordable travel ranging from a superior tourist class to moderate deluxe class level of accommodations with the highest level of service.
Financial Security
Gate 1 Travel is backed by the largest, most well-respected financial institutions and insurance providers, guaranteeing the greatest level of financial security to every passenger. Gate 1 welcomes your inquiries of any of those independent offices.
Gate 1 Travel's active membership in USTOA (United States Tour Operators Association), a professional organization representing the world's leading tour operators, requires that Gate 1 meet a minimum requirement of $1 million professional liability insurance (Gate 1 maintains a $5 million policy).
Additionally , Gate 1 is required to participate in the USTOA $1 Million Travelers Assistance Program, requiring them to post $1 million in security, held by USTOA, in the unlikely event of bankruptcy or insolvency.
Associations:
United States Tour Operator Association, The International Airlines Travel Agent Network and Pacific Asia Travel Association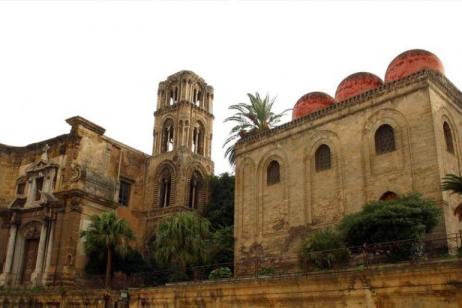 Highlights
Visit the Palatine Chapel in the Norman Palace with its interior of glittering 12th century Byzantine mosaics
Tour the old city of Palermo, featuring an incredible mix of architectural styles
Discover Phoenician Motya with its famous Charioteer by boat
Visit Mazara del Vallo, with its Arabian style quarters and famous dancing Satyr
Make your own classic pizza from fresh ingredients!
Discover Agrigento's Valley of the Temples, the best preserved remains outside of Greece
View the Roman Villa del Casale in Piazza Armerina, a UNESCO World Heritage Site
Visit the trendy resort town of Taormina
Ascend the lava-crusted slopes of Mt. Etna – one of the most active volcanoes in Europe!
Discover the island of Ortigia, the historical center of the city of Siracusa
Visit the Greek Theater and the Ear of Dionysus in the Siracusa Archaeological Park
See the baroque jewels of Noto, Ragusa, and Scicli
Discover the rich history of Valletta, the European Capital of Culture for 2018
Explore the "Three Cities" Vittoriosa, Cospicua, and Senglea areas of Malta
Marvel at the awe-inspiring megalithic Temples of Ggantija in Gozo
Experience Maltese cuisine & hospitality during lunch in a private home
More