Venezuela Tours & Trips 2020
1 trips to Venezuela tours from 14 tour companies. 252 reviews. 4.8/5 avg rating.
Filter to find perfect
DEPARTURE DATES
Trip Type Trip Type

Group Tour

Groups are between 25-60 people, typically ~30-40. Usually there will be many opportunities to split off and enjoy meals and excursions in smaller groups. This is the most economical way to travel, saving up to 40% versus booking the same itinerary yourself.


Small Group Tour

Small groups are usually defined as between 10 and 24 travelers, often less. If you're the kind of person who enjoys more intimate experiences and personal service this is a good choice. All else being equal you will pay a premium for this style vs a larger group tour.


River Cruise

These vessels are smaller than most ocean cruisers, limiting which amenties are available. Passenger counts can vary. One of the biggest advantages of a river cruise is the ability to dock at smaller ports and local villages.


Small Ship Cruise

Small ship cruises usually have a max passenger count of 500. The primary purpose of these trips is to spend time off the vessel in local ports (e.g. Mediterranean) or experiencing nature (e.g Galapagos or Antarctica). Cabins can vary from budget to luxury.


Private Guided

Private tours give you the undivided attention of a guide, and often involve special access to sites and unique experiences not available to larger groups. This is a great option for families, couples, and small friend groups. Expect to pay a bit more for the extra service.


Self Guided / Independent Tour

A travel company plans your itinerary and arranges all the logistics including lodging, local activities, and transportantion. You have the flexibility of a solo trip while still getting the convience and time savings of expert planning. Get 90% of the benefits of a tour, without a guide.


Vacation / Holiday Package

Similar to a self guided tour, this usually involves a home base, such as a hotel or resort, with packaged activities and day tours as a part of the stay.


Large Ship Cruise

This is the "floating city" experience, with multiple ways to enjoy your vacation aboard the ship as much as on land. Ships are multiple floors, provide several activities, culinary, and shopping options. They often make fewer stops and have less time available for shore excursions.

Price
Duration Dropdown
Lodging Level Lodging Level

Camping

Typically involves most nights sleeping in tents (sometimes permanent tented sites) or in rustic cabins and lodges.


Basic - 2 star

You'll stay in no-frills, but clean and comfortable, hotels or guesthouses. A 'Basic' trip might also involve a few nights of camping.


Value - 3 star

Mid-range budget with accommodations ranging from comfortable lodges, guesthouses, and homestays to three star hotels.


Premium - 4 star

3 to 4 star western hotel equivalents. While not all lodging will be 'luxury' they will be quite comfortable by western standards.


Luxury - 5 star

The highest level of comfort and service. All accomodations are in four or five star hotels, boutique lodges or high-end homestays.

Physical Level Physical Level

Very Easy

Minimal walking - motor vehicles available for all major parts of trip.


Easy

Normal generally flat walking in urban or suburban environments.


Moderate

Walking or physical activity half to most of day - no carrying equipment.


Strenuous

All or most of day hiking or biking, hills included.


Extreme

Very challenging all day hiking and backpacking carrying significant equipment.

Travel Theme
Travel Style Travel Style

Relaxed

A lot of free time, with very few inclusions. Ideal for independent and/or low-key travelers and cruisers.


Full on

For those looking to maximize their sight seeing time. You thrive on a packed day's schedule from 8 am to 6pm, with some (but limited) free time. Most activities and meals included.


Mixed

You will have solid amounts of both free time and structured time with some activities and meals included.

Itinerary Focus
Countries Visited
Rivers & Seas Visitied
Attractions & Cities Visited
Activities & Interests
Supplier (Company)
Flight & Transport Inclusions
Continents Visited
Impacted by Climate Change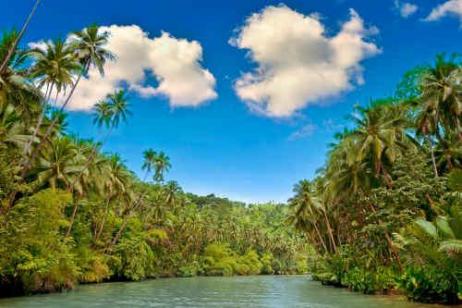 Small Ship Cruise
Popular
This trip visits a destination that is significantly affected by climate change
Travel Style :
A lot of free time, with very few inclusions. Ideal for independent and/or low-key travelers and cruisers.
Relaxed
Physical Level :
Some walking over short or flat distances. Some trips may include cycling options. Some are wheelchair friendly (check for individual trips). Some cruises.
Easy
Lodging Level :
Mid-range budget with accommodations ranging from comfortable lodges, guesthouses, and homestays to three star hotels.
Value (3*)
Highlights
Begin your trip in the thrilling, vibrant city of Rio de Janeiro! Explore where the city meets the sea, mountains and jungle.
Visit two of Rio's iconic sites in one tour: Corcovado (home to Christ the Redeemer) and Sugarloaf Mountain.
Stand in awe as you experience one of the world's most incredible natural wonders - Iguassu Falls!
Board a 4-star cruise ship for a 3-night tour of the Amazon River, the longest and largest river in the world!
Enjoy canoe excursions, jungle hikes, piranha fishing, bird/wildlife spotting and more in the Amazon.
Visits:
Amazon Rainforest, Copacabana, Iguazu National Park, Manaus, Niagara Falls, Rio de Janeiro, Sao Paulo, Victoria Falls, Brazil
1- 1 of 1 Trips Shown
X
Unlock Member Savings
In order to see Travelstride Select deals you must sign in. We've negotiated with many of the world's best travel companies to save you money! Get the best experiences, save up to $700 per person, and be a hero to your travel companions!
We respect your privacy and take great care to protect your information. By joining you agree to our Privacy Policy and Terms of Use.
With FREE membership you:
Save up to $700 per person!*
Access private deals and offers
See personalized trip recommendations
Save favorite trips
See member program details
Top Venezuela Experiences
Visiting Morrocoy National Park
Hiking to Angel Falls
Lounging on a beach in Los Roques Archipelago
Hiking Roraima
Visiting the National Pantheon of Venezuela
Exploring the Museum of Contemporary Art in Caracas
Riding the Teleferico de Caracas
Visiting Valencia's Aquarium
Eating ice cream at Coromoto Ice Cream Shop
Visiting Canaima National Park
view more
Top Venezuela Attractions
Angel Falls
Morrocoy National Park
Mochima National Park
Mount Roraima
Isla Margarita
view more
All Venezuela tours, river cruises, expedition cruises, and adventure trips. Find the best guided trips and expert planned vacation and holiday packages. Average rating of 4.8 for all Venezuela trips.
1 trips from 14 tour companies with 252 reviews
More Venezuela Guided Tours