61108
Top Brochure of Patagonia: Journey to the End of the World with Easter Island
Please note the tour price reflected on the brochure is subject to change. Due to seasonality, and taxes prices of the tour are subject to change without due notice. Please consult with the operator directly for the recent price.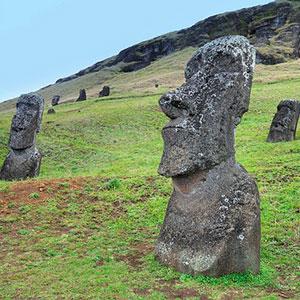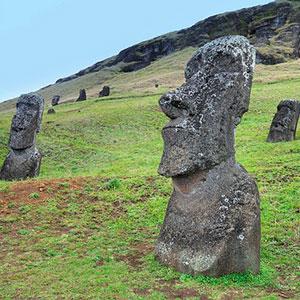 Patagonia: Journey to the End of the World with Easter Island
98%
Physical Level:
Normal generally flat walking in urban or suburban environments.
Very Easy
Lodging Level:
Mid-range budget with accommodations ranging from comfortable lodges, guesthouses, and homestays to three star hotels.
Value (3*)
18 days
From:
$ 7,969
$ 443
/ day
Overview
Short Description
Whereas most fairy tales conclude with "The End," that is exactly where this one begins. In this vast kingdom of jagged peaks, massive fjords, and imposing glaciers stretching across the southernmost tips of Argentina and Chile, you are the sovereign of this dramatic domain affectionately referred to as the "end of the world." Surrounded by the granite pillars of Torres Del Paine National Park, standing tall before the advancing Perito Moreno Glacier, and cruising through the majestic scenery of the Beagle Channel, you will reign before glorious vistas, bask in triumphant scenery, and even prevail over a colony of Magellan penguins on this tour of pristine Patagonia. As no ordinary toast will do for such a colossal experience, you'll rejoin civilization in Buenos Aires to raise your glass to the ornate teatros, the charming tea rooms, and of course, the steamy tango. Leave no stone uncovered on the hunt for archaeological treasures on the world's most isolated inhabited island. Home to the world's largest open-air museum and nearly 1,000 mysterious Moai statues, Chile's Easter Island is an intriguing extension to your South America vacation.
See all the highlights and popular spots on a classic tour.
Itinerary Focus Classic Highlights
Mid-range budget with accommodations ranging from comfortable lodges, guesthouses, and homestays to three star hotels.
Lodging Level Value (3*)
Flight & Transport Inclusions N/A
Start City SANTIAGO, CHILE
Itinerary
Day 1: ARRIVE IN SANTIAGO, CHILE
Welcome to Chile!Be met by a Globus representative.
Day 2: SANTIAGO–EASTER ISLAND
Island Intrigue Fly from Santiago to Easter Island, considered the world's largest open-air museum, boasting over 400 moai, ruins, and temples. (Breakfast)
TOUR HIGHLIGHTHISTORY & MYSTERY Check off this bucket list destination when you travel to the most remote island in the world. Located 2,200 miles off the coast of Chile, this island is a territory of Chile but, feels more like Polynesia. At the time of the arrival of the Europeans in the 18th Century, the island had been completely decimated of all resources, the population was no larger than 700 people, the now famous moai toppled, and history forgotten. Many mysteries endure around the island's history.
Day 3: EASTER ISLAND
Curious QuarriesYour first stop on your private tour will be Ahu Vaihu, where eight large moai lie in ruins. Continue on to Ahu Akahanga. According to legend, this is the burial site of the first king of Easter Island (Hotu Matu'a). Next, at the Rano Raraku quarry, you'll find 394 statues in various stages of completion. It appears that the moai production was abruptly abandoned, leaving us a frozen snapshot that reveals how the moai were carved out of volcanic rocks. At Ahu Tongariki, see 15 beautifully restored moai, and at Ahu Te Pito Kura, see the largest moai ever transported and erected. Last stop is the beach of Anakena, where King Hotu Matu'a first landed on Rapa Nui. (Breakfast,Lunch)
TOUR HIGHLIGHTLEGENDS & LORE Over 600 of these massive volcanic rock sculptures pepper the island and many date back to 700 AD. Each of these structures, some close to 40 feet tall and 80 tons, were carved from one single rock. If an imperfection was found, it was abandoned. It remains an enigma how these massive moai were transported from there quarries. Now you get the opportunity to stand next to one and arrive at your own theory!
Day 4: EASTER ISLAND
Cauldrons & Cryptic CarvingsThis morning, your private tour visits the Rano Kau Volcano, with a caldera that contains one of the island's freshwater lakes. At the nearby ceremonial village of Orongo, see the restored houses and remains of an ancient Ahu. Head to Ana Kai Tagata, an ancient cave with wall paintings on the rock. This afternoon, visit Ahu Akivi, with seven restored moais in the middle of the island. According to legend, the statues represent the seven scouts sent to Easter Island by King Hotu Matu'a. Finally, visit the Puna Pau topknot quarry with its red scoria stone, where the Pukaos on top of the moai were made. (Breakfast)
TOUR HIGHLIGHTHISTORIC SPOT Hear the legend of The Birdman Competition on an excursion to the sacred site of Orongo, where an ancient annual competition began at the sacred site of Orongo and was used to determine the Birdman, a sacred position, for the year. The challenge required contestants (appointed by a sponsor) to descend the steep cliffs from Orongo, swim offshore to an islet, and wait for the first tern egg of the season, and then return it safely to their sponsor at Orongo. Upon delivery of the egg, the sponsor became a leader of the island for the year.
Day 5: EASTER ISLAND–SANTIAGO
Return to Santiago.
Day 6: SANTIAGO
On the Town in SantiagoToday is free for exploring on your own. (Breakfast)
FREE TIME TIPSEXPLORE MORE Stroll the vibrant streets of Santiago to explore art galleries, museums, shops, and restaurants. Browse the Central Market for traditional Chilean cuisine or take in the views with a hike through the surrounding hillsides. Later, enjoy a night out in any one of the city's exciting spots in Barrio Bellavista.
Day 7: SANTIAGO
Toasts of the TownAfter breakfast, embark on a city tour with a Local Guide who will show you the highlights of this great city of colonial and contemporary contrasts. See the famous Government Palace, Plaza de Armas, the Cathedral, and Santa Lucia Hill. After lunch at a local restaurant, visit La Vega Central Market to learn about traditional Chilean food including steaming pots of cazuela and humitas, similar to tamales! Enjoy a terremoto cocktail (meaning 'earthquake' and made of Chilean wine, liqueur, and sorbet) at a local pub before a visit to Cerro San Cristobal for stunning views of Santiago and the Andes. (Breakfast,Lunch)
TOUR HIGHLIGHTLOCAL TASTES Visit La Vega Central Market, the area's largest local market housing more than 2,000 traders selling the most local produce, where. A majority of local restauranteurs source their ingredients. During your visit, discover not only typical Chilean foods but also food from neighbouring countries as well.
Day 8: SANTIAGO–PUNTA ARENAS–PUERTO NATALES
Patagonia PleasuresDepart Santiago and fly to Punta Arenas on the Strait of Magellan, gateway to Chile's Patagonia. Head to Puerto Natales on a scenic drive through the Patagonian steppe passing rivers, forests, mountains, and ranches. Enjoy dinner at the hotel tonight. (Breakfast,Lunch,Dinner)
TOUR HIGHLIGHTEPIC RIDE Your drive today takes you through the Patagonian steppe or desert. Keep an eye out for guanacos (a type of camelid) commonly found in this region, along with condors, fox, chinchilla, and, for the very lucky, the more elusive puma.
Day 9: PUERTO NATALES–TORRES DEL PAINE NATIONAL PARK
Fossils, Flora & Fauna Visit the legendary Milódon Cave, where prehistoric fossils dating back 14,000 years ago, including those of a saber-toothed tiger and a gigantic sloth weighing over a ton, have been found. Venture into Torres del Paine, one of the most spectacularly scenic regions in the world. During your visits to see the famous sites, including Los Cuernos, Lago Pehoe, and Salto Grande, you are guaranteed to get a glimpse of some of the park's fauna, such as herds of guanacos, foxes, swans, and birds. Also stop at Lago Grey to see the imposing Grey Glacier, floating icebergs, and the beautiful views and rugged landscapes! Arrive at your hotel where you will be treated to an organic cocktail demonstration which includes a walk through the garden to pick the ingredients followed by a lesson to learn how to make popular drinks from the region. Dinner is at the hotel this evening. (Breakfast,Lunch,Dinner)
TOUR HIGHLIGHTNATURAL WONDERS Spanning a massive area, this park was named a UNESCO Biosphere Reserve in 1978. Cascading waterfalls, roaring creeks, shimmering lakes, and jagged mountains are just a part of what Paine offers.
Day 10: TORRES DEL PAINE NATIONAL PARK
Peak Perfection Today, enjoy a full day exploring the park. See Los Cuernos, or "the horns," the iconic jagged granite peaks that loom over the windswept plains. Next, view the spectacular waterfall, Salto Grande in the park's lake district. After lunch at the hotel, head to the Laguna Azul where you have a good chance of seeing some of the park's wildlife, including guanacos and condors. End the day at Cascada Paine, a beautiful waterfall surrounded by rugged vistas. (Breakfast,Lunch,Dinner)
TOUR HIGHLIGHTPICTURE PERFECT Discover the breathtaking beauty of Torres del Paine, considered by many who visit to be the world's most spectacular national park. From its dramatic and jagged peaks to the deep blue lakes and vast grasslands, its glacial lakes and rivers will sweep you away into a world unlike any other.
Day 11: TORRES DEL PAINE NATIONAL PARK–EL CALAFATE, ARGENTINA
Earthly TreasuresAfter breakfast, take an easy guided hike to Laguna Ines in search of an array of birds and other wildlife that can be found here. Next, depart for El Calafate, a lovely village on the southern shores of Lake Argentino. Originally a simple sheltering destination for wool traders, today El Calafate serves as the entry point for the UNESCO Natural Heritage Site of Los Glaciares National Park. (Breakfast,Lunch)
TOUR HIGHLIGHTEPIC RIDE Leave Chile today for Argentina and its breathtaking Patagonian landscapes. Sit back and relax today as you cross the border while admiring the rugged landscape, glacial lakes, and maybe even some Patagonian wildlife.
Day 12: EL CALAFATE. GLACIER CRUISE & ESTANCIA CRISTINA
Ice Sculpture & Lake ShoresToday, a cruise on Lago Argentino takes you up close for views of icebergs and Upsala Glacier, one of the longest in South America at over 35 miles long. Disembark at a historic ranch, Estancia Cristina, on the shores of Lago Argentino. Whether you prefer a quiet day of touring and history or more adventurous activities, like trekking or exploring by 4-wheel-drive vehicle—the choice is yours during your ranch visit. (Breakfast,Lunch)
TOUR HIGHLIGHTTIMELESS TRADITION Spend time today at Estancia Cristina, a local ranch dating back to 1914 found deep in remote Patagonia in Los Glaciares National Park. Your time on the ranch can be spent as you please: horseback riding, hiking, 4x4 excursion, or relaxing at the ranch.
Day 13: EL CALAFATE. EXCURSION TO PERITO MORENO GLACIER
Ice Breakers A must for all visitors to Argentina is a visit to Perito Moreno Glacier (a UNESCO World Heritage Site) in Los Glaciares National Park. During your walking tour along the catwalks, marvel at the breathtaking glacier views and, with some luck, see the ice calve and break into the waters below. (Breakfast)
TOUR HIGHLIGHTSPECTACULAR SIGHTS Explore Perito Moreno Glacier, which forms part of the Patagonian Continental Ice Field. From here, 13 glaciers descend on the Atlantic side to flow into the Viedma and Argentino Lakes with one of the few glaciers in the world that is still advancing.
Day 14: EL CALAFATE–USHUAIA
A Wilderness at the End of the WorldAfter breakfast, fly to Ushuaia, Argentina—the end of the world! You'll have the opportunity to see the Andes Mountains from a [LF] cruise along Beagle Channel. Bask in the feeling of being in the southernmost city in the world, and watch for sea lions, albatrosses, skuas, and other interesting Patagonian fauna. Arrive at Martillo Island, where you have the chance to see a colony of Magellan penguins! (Breakfast)
LOCAL FAVORITEWILD WONDERS Visit Martillo Island, home to a colony of Magellanic penguins on an island in Tierra del Fuego. Discover the burrows and nests in the ground and learn about the different types of penguins found in this remote part of the world.
Day 15: USHUAIA. TIERRA DEL FUEGO NATIONAL PARK EXCURSION
A Fragile Land of Fire Today, discover Tierra del Fuego National Park, the southernmost national park in the world. Hike around the park, escorted by an expert Naturalist. With stops at Bahia Lapataia, Lago Roca, and Bahia Ensenada, you'll gain a deeper appreciation for the delicate ecosystems here. (Breakfast,Lunch)
TOUR HIGHLIGHTNATURAL WONDERS Explore the southernmost national park in the world and all its wonders in Tierra del Fuego National Park. Look skyward to spot any of the 50 fascinating bird species who call this paradise home, including Magellanic woodpecker, Andean condor, and austral parakeet. Closer to earth, you'll watch for other inhabitants like red foxes, muskrats, and guanaco.
Day 16: USHUAIA–BUENOS AIRES
The Boulevards of Buenos AiresFly to Buenos Aires today, the "Paris of South America" and capital of Argentina. Fabulous food, shopping, and architecture all converge here to create a distinctly Latin vibe. Tonight, enjoy [LF] Argentinian dinner party with local specialties and wine. (Breakfast,Dinner)
LOCAL FAVORITE LOCAL TASTES Tonight's dinner is an Argentine Experience! Enjoy a five-course dinner of Argentina's most famous food (including steak) paired with a variety of the region's wines. You will also learn how to make your own empanada along with the different folding techniques as well.
Day 17: BUENOS AIRES
Dinner, Dancing & Dazzling Your included sightseeing this morning starts in La Boca, a vibrant district and site of the city's first port. Take a short walking tour of this unique enclave at the mouth of the river and then on to San Telmo, famous for its late-colonial buildings and as a popular gathering spot for artists. At the Plaza de Mayo, see La Casa Rosada (the President's Pink House) and the Metropolitan Cathedral, which houses San Martin's Mausoleum. Drive past the ornate Teatro Colón opera house before reaching Recoleta Cemetery, burial site of Eva Perón. After an afternoon at leisure, top off the evening at a famous Tango club. Start with a [LF] dance lesson, followed by a farewell dinner of Argentine steaks and other local specialties, and end with a show featuring flawless performances of Latin America's most sensuous dance—the Tango! (Breakfast,Dinner)
LOCAL FAVORITECULTURAL GEMS The Tango and Argentina go hand in hand and tonight you will visit a local milonga, or tango house, where professional tango dancers teach the traditional techniques of the Argentine Tango. After learning some of the key dance moves, the professionals will delight you in Tango Show featuring the dance as it has evolved through the ages. Plus, dine on Argentine specialties and wine too!
Day 18: BUENOS AIRES
Safe travels until we meet again!Your vacation ends with breakfast this morning. (Breakfast)
Availability
Price Per Day:
$ 443
per day
See more
Check Current Availability, prices, specials with Globus.

Prices may vary due to local taxes and trip seasonality. Click "Request Info" to inquire directly with the tour operator for the final trip price.
10,827 Globus Travel Reviews & Ratings
98%
Patagonia: Journey to the End of the World with Easter Island
Company Reviews
Details
Local Flights
Participation in this tour requires a purchase of additional local flights.
Group Size
Standard Group - 25 + people
Accommodations
Hyatt Centric Las Condes Santiago
Located in the modern Las Condes neighborhood, Hyatt Centric Las Condes Santiago features an outdoor pool, rooftop bar, restaurant, fitness center, and complimentary Wi-Fi.
Santiago
Chile
Enrique Foster 30, Las Condes
Hotel Taha Tai
This island oasis is ideally located minutes from town and features a fresh ambiance. Each of the 40 rooms is equipped with air-conditioning, direct-dial telephone, and Internet connection. The hotel features a Chilean inspired restaurant and bar, swimming pool, and laundry services.
Easter Island
Chile
Apina Nui S/N PO Box 11
Remota
The Remota Hotel was built in the wild landscape of the Patagonia plains, and offers an environmentally friendly hotel option. Amenities include a restaurant, bar, gift shop, Internet, and spa with indoor pool, sauna, and Jacuzzi. The hotel offers talks on local nature and culture, as well bonfires, music and movie nights.
Puerto Natales/Patagonia
Chile
Ruta 9 Norte, km 1.5, Huerto 279 Magallanes
Hotel Las Torres
In the heart of Chilean Patagonia and mythical Torres del Paine National Park, this charmingly rustic hotel provides a comfortable home base from which to explore the park's towering mountains, turquoise lakes, glaciers, ice fields, and steppes.
Torres Del Paine
Chile
Parque Torres Del Paine
Kosten Aike
Kosten Aike Hotel in El Calafate is on the edge of the extensive and mysterious Patagonian plateau, on the foot of the imposing mountain range of the Andes and in front of the majestic National Park the Glaciers. Amenities include a restaurant, gym, spa, playroom, business center, room service, laundry, and recreated ancestral Tehuelche designs throughout the hotel by prominent Argentine artists.
El Calafate
Argentina
Gobernador Moyano 1243
Cilene del Faro
Cilene del Faro looks out onto the Beagle Channel with the Andes mountains behind, protecting it from the strong Patagonian winds. This hotel offers top-notch style and elegance during your stay in this fascinating part of the world. Located close to Ushuaia's attractions and featuring soft and cozy rooms, you'll have all the comforts of home at your fingertips.
Ushuaia
Argentina
Yaganes 74
Hilton Buenos Aires
Exceptionally located in the riverside Puerto Madero district, Hilton Buenos Aires is within walking distance of the city's top attractions and best restaurants. Guests can enjoy Argentinian cuisine at the on-site restaurant, relax at the rooftop pool, get pampered at the spa, or unwind in one of the hotel's stylish guestrooms.
Buenos Aires
Argentina
Macacha Guemes 351
Trip ID#:
globus-SFQ
0
https://tripsaver.travelstride.com/?utm_source=Travelstride.com&utm_medium=Native&utm_campaign=Product%20Details%20-%20Reserve%20CTA%2F%22Flexitrip%20Reserve%20Popup%22
0
TripSaver