54732
Top Brochure of Classic Egypt and Jordan
Please note the tour price reflected on the brochure is subject to change. Due to seasonality, and taxes prices of the tour are subject to change without due notice. Please consult with the operator directly for the recent price.
No longer available. See new versions below.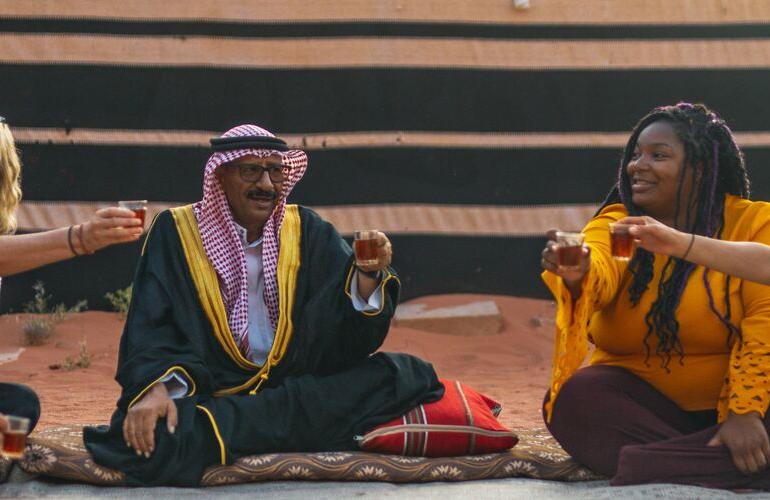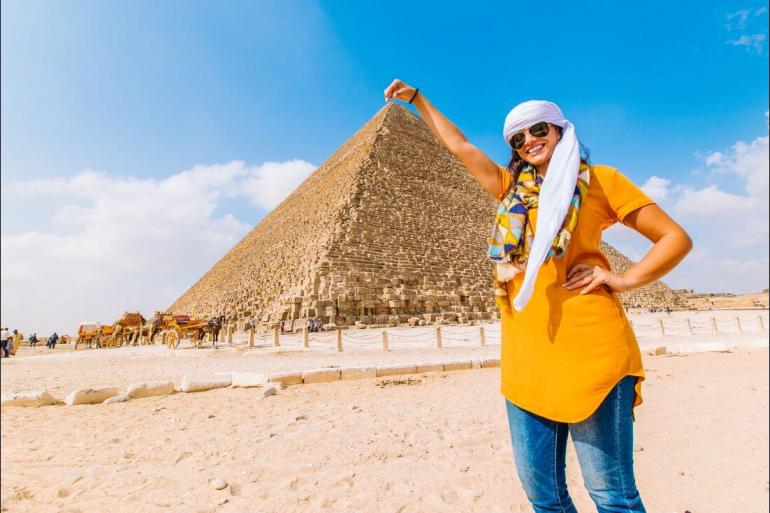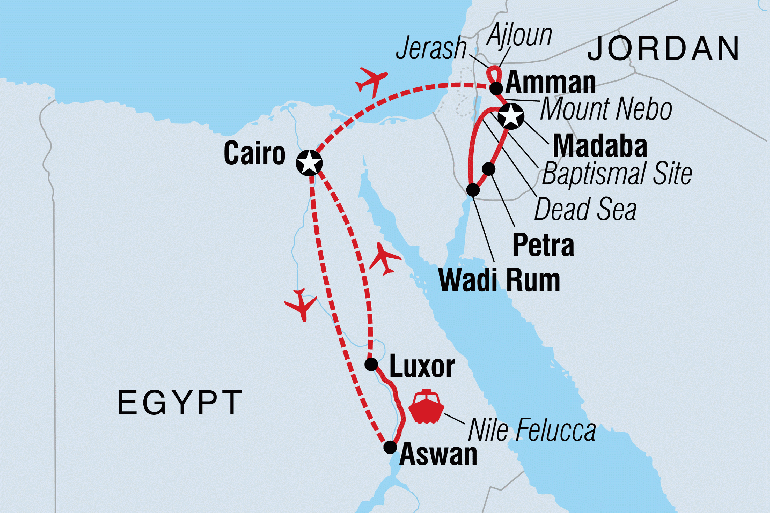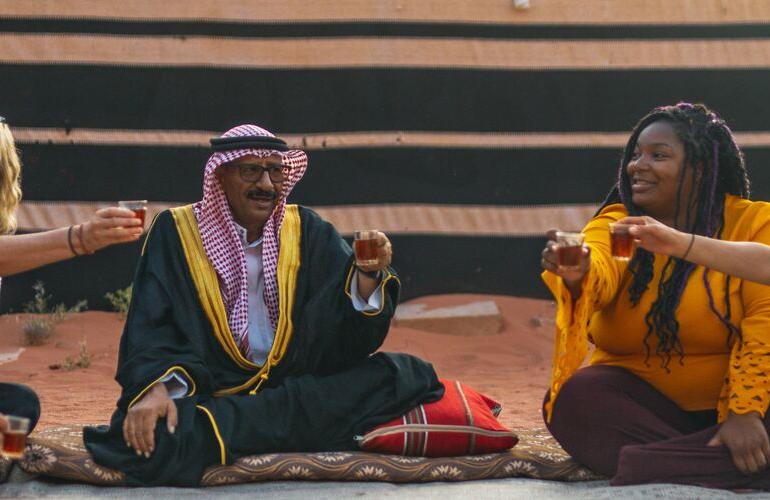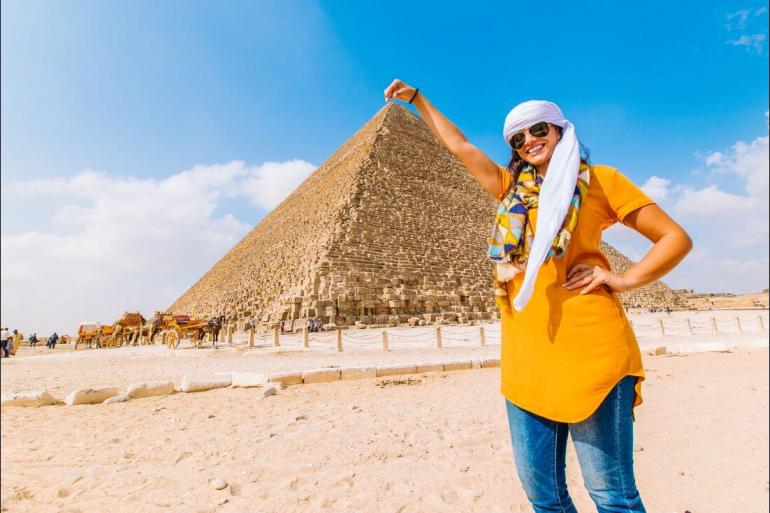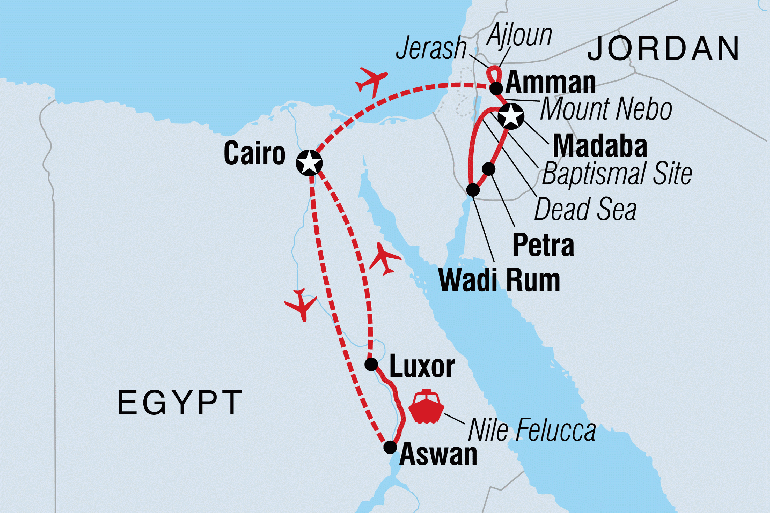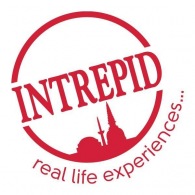 Preferred
Has very high quality customer experiences and demonstrated commitment to responsible travel practices.
read more
4.6 . Excellent
95%
Physical Level:
Some walking over short or flat distances. Some trips may include cycling options. Some are wheelchair friendly (check for individual trips). Some cruises.
Easy
Lodging Level:
3 to 4 star western hotel equivalents. While not all lodging will be 'luxury' they will be quite comfortable by western standards.
Comfort (4*)
16 days
From:
$ 4,175
$ 261
/ day
Overview
Highlights (Bullets)
Tick off all the iconic sites of ancient Egypt with an experienced local leader on-hand to bring pharaonic Egypt back to life.

Enjoy three nights on board a Nile River Cruise Boat, relax on deck with a cool drink in hand as you watch the life of Upper Egypt unfold in front of you.

Discover Amman on a walking tour with your local leader, visiting the Pillars of Hercules, the Roman Theatre and Odeon – be sure to stop at a souq for a snack!

Discover the ancient city of Petra with more than enough time to explore the highlights on a guided tour, and spending some time for self-discovery around the region.

Walk in the footsteps of the Bedouin in Wadi Rum – exploring the desert colours on a 4WD safari and appreciating the traditional hospitality on a small-group camping experience.
Short Description
Capture the best of Egypt and Jordan on this 16-day ancient adventure to fascinating cities and historical sites. Get up close to the mighty pyramids of Giza, share a delicious local meal in a Nubian village, discover the fascinating tombs of ancient pharaohs and watch daily life flow by as you cruise in style along the River Nile. Explore Jordan's vibrant capital, Amman, the vast Wadi Rum, bustling Madaba and the extraordinary Dead Sea. Be dwarfed by the carved Treasury of Petra, learn of the city of mosaics at St Georges church, and eat as many falafels as you can handle. Feel inspired by times past exploring the oh so enthralling present.
Small groups are usually defined as between 10 and 24 travelers, often less. If you're the kind of person who enjoys more intimate experiences and personal service this is a good choice. All else being equal you will pay a premium for this style vs a larger group tour.
Trip Type Small Group Tour
Array
Itinerary Focus N/A
3 to 4 star western hotel equivalents. While not all lodging will be 'luxury' they will be quite comfortable by western standards.
Lodging Level Comfort (4*)
Flight & Transport Inclusions N/A
Itinerary
Day 1 Cairo
Salaam Aleikum! Welcome to Egypt. You'll be met on arrival at Cairo airport and transferred to your hotel. Your adventure begins with a welcome meeting at 6 pm. Cairo is one of the great cities of antiquity and its history can be symbolised by two imposing landmarks – the Pyramids of Giza and the Mosque of Mohammed Ali. In free time perhaps get out and explore the busy streets of this city of contrasts, where you can see donkey carts and expensive cars, medieval slums and modern shopping malls. If you have time, perhaps travel along the river by felucca (a traditional wooden boat with broad canvas sails) or head out to explore the markets.
Day 2 Cairo
This morning after breakfast you'll see some of the world's most iconic sights – the Pyramids of Giza and the Sphinx. Instantly familiar yet retaining a mystique and power, getting up close to these incredible pharaonic tombs is amazing. Explore these structures that have stood tall for 4,500 years, and for an additional charge you may be able to go inside the Great Pyramid of Khufu, (although occasionally it may be closed to visitors). The inside thoroughfares of the Pyramids are very small and very warm, so for those suffering from claustrophobia it is not recommended. Please note that you'll be required to walk around the Pyramids complex. It can be very hot in the summer months, so be prepared for little shade and pack appropriate clothing, sun protection, and carry lots of water. Afterwards, our adventures continue to the Egyptian Museum, home to one of the world's great collections of antiquities. Wander the treasure-filled halls of the museum, and make sure to check out the Mummies Hall (optional) for a close encounter with some of the country's most important queens and pharaohs. The masses of gleaming artefacts recovered from the tomb of Tutankhamun are an impressive sight to behold. From gold jewellery to the famous golden death mask and his gilded sarcophagi, this pharaoh was certainly prepared for the afterlife.
Day 3 Aswan
This morning, take an included flight to Aswan, Egypt's southernmost city. Its easy-going charm is due in no small part to its large Nubian population. The city is Egypt's southern gateway to Africa and an important market town, so take time here to check out one of the country's best bazaars. When you arrive, you'll explore the beautiful Temple of Isis (the Goddess of health, marriage and wisdom), which was rescued from the rising waters of the Nile and relocated on Philae Island. It's a marvel of decorative pylons featuring some of Egypt's finest carvings – one of the real gems of Upper Egypt. In the afternoon, board a felucca and set sail along the Nile as you watch rural Egyptian daily life play out on the banks. Stop for a guided walk around Elephantine Island, the original border town between Egypt and the Nubian lands to the south, which in ancient times was a strategic position for the defence of the border and the trading route. This evening you'll experience modern Nubian culture first-hand with a visit to a nearby village. You'll join a local Nubian family for dinner and get an unforgettable insight into the daily life of the local people. This is a rare and memorable experience, giving you the chance to become fully immersed in the local culture.
Day 4 Nile Cruise
Today perhaps head out of Aswan and visit stunning Abu Simbel this morning. With the four gargantuan statues of Ramses guarding the Great Temple, carved directly out of the mountain on the west bank of the Nile, this is one of Egypt's most memorable sights. Please note this optional activity has a very early start (but it's worthwhile). You can get there by a 40-minute flight, or by the cheaper option of renting a minivan with a group and leaving very early.  The journey by land is 3 hours each way, with an early departure from Aswan between 5 am and 6 am. Alternatively, you could take a sailboat ride around the islands in a traditional felucca, stopping off at the botanical gardens on Kitchener's Island. Or perhaps opt for a camel ride to the Monastery of St Simeon, an abandoned 7th-century fortress monastery located in the desert on the Nile's west bank. Your tour leader will be on hand to help you arrange any excursions.  You may also wish to consider taking a relaxing day  and take in the beauty of the Nile or do some shopping in the friendly bazaar. For the next three nights you'll sleep aboard your comfortable cruise ship as you embark on adventure along the Nile.
Day 5 Nile Cruise
Take a leisurely cruise down the Nile, today's stop is Kom Ombo Temple, north of Aswan. Built on a high dune overlooking the Nile, the complex sits picturesquely ruined on the river's edge and dates back to the early 2nd century BC. The complex is unique because it has a mirror-image design, divided down the middle, with either side dedicated to a different set of Gods. One half is known as the Temple of Sobek (the crocodile-headed god of fertility), and it includes details on the Ancient Egyptian's relationship with crocodiles, whom they revered and feared in equal measure. The other half is dedicated to Haroeris (also known as Horus the falcon god), and the whole temple is full of fascinating reliefs. Return to the cruise boat where you'll continue travelling upriver, with free time to relax on the sundeck and taking in the surrounding sights – desert hills forming a backdrop to lush riverbanks, fishermen casting their nets and farmers working their land.
Day 6 Nile Cruise
Today finds you moored near Edfu, a beautifully preserved temple also dedicated to Horus, the falcon-headed god. Disembark to discover the lively streets of Edfu and get acquainted the bustling town centre and the bazaar, it's also possible to visit the Temple of Edfu today, however you may want to read our notes below before you decide. Back on board, continue towards Luxor passing through the Esna Locks. It is not uncommon to have to queue to proceed through the locks, however this is a great opportunity to check out the process from deck with a cool drink in hand, and listen to the shouts of the many captains as they navigate their way through the various small boats of merchants selling their wares to a captive audience. Settle back into the comforts of your cruise ship and make the most of the incredible views across one of the world's greatest rivers and your last night onboard.
Day 7 Luxor
Your Nile cruise comes to an end in the open-air museum of Luxor – from the spectacular temple complex of Karnak to the Valley of the Kings, Luxor is full of wonderfully preserved reminders of the Pharaohs. After disembarking, you'll hop in a private minivan and discover some the many wonders of ancient Thebes. Your first stop is the Colossi of Memnon, two 17 metre-high statues on Luxor's west bank. Carved from granite blocks, they represent the Pharaoh Amenhotep III and were once part of an impressive colonnade. Continue on to the spectacular royal burial site of the Valley of the Kings. Buried under the arid hills here are over 60 tombs of pharaohs, many richly decorated with reliefs and paintings. With your leader, explore this sprawling and spectacular place, where the pharaohs of the New Kingdom (16th to 11th century BC) were secretly interred for all eternity, and where discoveries are still being made. Your group leader will explain the history and legends of these remarkable people, their funerary rites, and the significance of the many paintings and hieroglyphics that are still well preserved in the deepest tombs. You will visit three of the most interesting royal tombs and then continue to the Temple of Queen Hatshepsut, a stunning colonnaded building set against high cliffs that create a spectacular natural amphitheatre. One of Egypt's greatest queens, she built this temple to prove her importance among the ancestors. Take a short break before checking out Karnak Temple with your guide and then enjoy your last Egyptian evening strolling the Corniche, or perhaps stay for the Sound and Light Show at Karnak.
Day 8 Amman
This morning, take a short unaccompanied flight via Cairo from Luxor to Amman – a cosmopolitan and contemporary city steeped in biblical history. On arrival you will have some free time before another briefing at 6 pm, where you'll likely meet some new travellers joining you on this stage of your Middle Eastern adventure. Take some time to start doing some sightseeing. Some of the highlights include the Citadel, with its sweeping views of Amman, the Jordan Museum (home to the Dead Sea Scrolls), or the Roman Theatre, right in the middle of downtown Amman.
Day 9 Amman-Jerash- Ajloun-Amman
This morning after breakfast, head north out of the city to the ruins of Jerash – once one of the grandest ancient Roman cities in the world. These are some of the best Greco-Roman ruins around. Take a couple of hours exploring the history of this grand old city before continuing to Ajloun – the fertile crescent of Jordan. Visit the 12th-century Ajloun Castle, built by Saladin's forces against the Crusaders and then visit the Nature Reserve and visitor centre – a striking building made in natural materials. Head to the Biscuit House, currently owned and managed by local community women under a newly adopted community engagement model, where the women are transformed from traditional employees to actual local community entrepreneurs. Enjoy a soft hike on the nature trail with an abundance of fruit trees as well as the more unusual pistachio, carob and strawberry trees in places, terracing on the hillsides, and of course olive trees everywhere. This evening, enjoy dinner in a local village before later returning to Amman.
Day 10 Madaba
Today, take a walking tour of Amman to discover its ancient history and modern influences. You'll begin at the hilltop citadel, then meander your way through the backstreets of the city, passing by the Roman Theatre and Odeon, and the Al Husseiny Mosque. Be sure to stop in at a souq (street market) to snack on some Saudi dates, or Iranian pistachios, then continue towards Al Malek Faisal St and to the centre of the city. After getting yourself some falafel and hummus for lunch, journey to Mount Nebo. This elevated ridge some 710 metres above sea level is mentioned in the Hebrew Bible as the place where Moses was granted a view of the Promised Land. On top of Mt Nebo, the very modest Moses memorial church stands and was built around 4th-century foundations in AD597. It houses some of the best (and best presented) mosaics in Jordan, dating from around AD530. Afterwards, travel to one of Amman's satellite cities, Madaba, for the evening. If you're feeling peckish, why not check out Haret Jdoudna for dinner? It's been a traveller favourite for years.
Day 11 Madaba - Dead Sea - Madaba
Enjoy a leader-led walking tour of Madaba after breakfast. Madaba is known as the city of mosaics, most notably the impressive mosaic map that adorns the floor of the Greek Orthodox Church of St. George. It depicts the Holy Land, with Palestine and Lower Egypt, from around AD550. You'll get the chance to see this artistic marvel on your tour, and afterwards, take an hour or so to explore the city on your own before jumping back on the bus and heading out to Al-Maghtas. Meaning 'baptism' or 'immersion' in Arabic, Al-Maghtas is a World Heritage-listed archaeological site on the east bank of the Jordan River, and is considered to be the location where Jesus was baptised by John the Baptist. Continue on to the salty waters of the Dead Sea. No visit to this region is complete without floating in this salty water – the unique sensation of floating so high in the water has to be felt to be believed! Return to Madaba for a relaxing evening.
Day 12 Wadi Rum
It's time to journey down the Desert Highway to the spellbinding Wadi Rum (approximately 4.5 hours) – a landscape of rugged sandstone mountains standing tall among an ochre desert floor. Meet your Bedouin hosts on arrival, then take a browse around the informative visitor's centre and some free time for lunch before heading into this desolate area. Transport into the rum (valley) is by way of rather rickety jeeps operated by the local Bedouin community, as part of an attempt by the Jordanian Government to bring much-needed income into this region – they are safe, trusted and, best of all, good fun! Journey to your camp and relax into the afternoon, possibly with a sunset hike in the rum. Spend the evening being well entertained (and fed) by your Bedouin hosts.
Day 13 Petra
After an included breakfast, it's back into the jeeps for a desert safari. You'll visit several of Wadi Rum's distinctive rock formations and have an opportunity to soak up the vast desert landscapes and eerie silence of the valley. Continue to Wadi Musa (Petra) this afternoon, arriving late in the day. If time permits, you could ask your leader to head to 'Little Petra' for a sneak preview of what's to come, or instead, just enjoy a local dinner in town – your leader has got friends in all the right places, so ask them where to go.
Day 14 Petra
Today is a day that you won't forget for a long time. The archaeological site of Petra is an ancient jewel of Jordan – a series of structures and formations cut out of desert rock. The Treasury is the iconic view of Petra and probably the most striking sight of the region. Walk your way through a siq (narrow rock clef) towards the Treasury to marvel at the spectacle, with walls soaring up to 180 metres on either side. With your guide, you will see the Treasury and also explore more of the site, including the old Roman road, amphitheatre and several old tombs. Then, it is all up to you! Maybe climb up to the Monastery – carved from a mountain summit and the site's second beautiful facade, where you will have a magnificent view of the entire site. This is a memorable day exploring a truly extraordinary destination and is sure to be one of the highlights of your trip. There is a cafeteria on the site, where you can purchase a light lunch, if you'd like. In the evening, there is the option to explore Petra by night on a tour, giving you another viewing of the site away from most of the crowds. This runs on select days, so speak to your group leader, or enquire at the Visitor Centre if this interests you.
Day 15 Madaba
This morning is free for you to decide your plans. Feel free to head back and admire Petra for one last time (it'll continue to delight you), or alternatively, you can hang back around the village and relax in your hotel. After lunch, bid farewell to the valley and return to Madaba. In the evening, why not get a group of you together for another night of Jordanian feasting – you know you want to.
Day 16 Madaba
With no activities planned for today, you are free to leave the accommodation at any time.
Availability
Price Per Day:
$ 261
per day
See more
Check Current Availability, prices, specials with Intrepid Travel.

Prices may vary due to local taxes and trip seasonality. Click "Request Info" to inquire directly with the tour operator for the final trip price.
3,846 Intrepid Travel Travel Reviews & Ratings
95%
Classic Egypt and Jordan
Company Reviews
Details
Group Size
Small Group - 24 max
Maximum Number of People in Group: 12
Accomodations
Hotel (11 nights),Cruise ship (3 nights),Desert camp (1 night)
Guides
All Intrepid group trips are accompanied by one of our group leaders. The aim of the group leader is to take the hassle out of your travels and to help you have the best trip possible. Intrepid endeavours to provide the services of an experienced leader. However, due to the seasonality of travel, rare situations may arise where your leader is new to a particular region or training other group leaders. Your leader will provide information on the places you are travelling through, offer suggestions for things to do and see, recommend great local eating venues and introduce you to our local friends. Due to the vast historical significance of the region, your Tour Leader in the Middle East will also be a Local Tour Guide and will be licensed, registered and trained in accordance with local authorities to provide full guiding services through out your Middle East Adventure. This trip is made of two smaller trips connected by an international flight. You will be travelling with different Leaders on each trip who are local to their destination. You will  not have an accompanying  Leader during your flight.
Additional Information
Finish point
Madaba 1880 Hotel

K. Talal St.

Madaba

Madaba

JORDAN

Phone: +962 53253250
Trip ID#:
intrepid-XECBC
0
1
https://tripsaver.travelstride.com/?utm_source=Travelstride.com&utm_medium=Native&utm_campaign=Product%20Details%20-%20Reserve%20CTA%2F%22Flexitrip%20Reserve%20Popup%22
1
TripSaver