2546
Top Brochure of Kruger Lodge Experience
Please note the tour price reflected on the brochure is subject to change. Due to seasonality, and taxes prices of the tour are subject to change without due notice. Please consult with the operator directly for the recent price.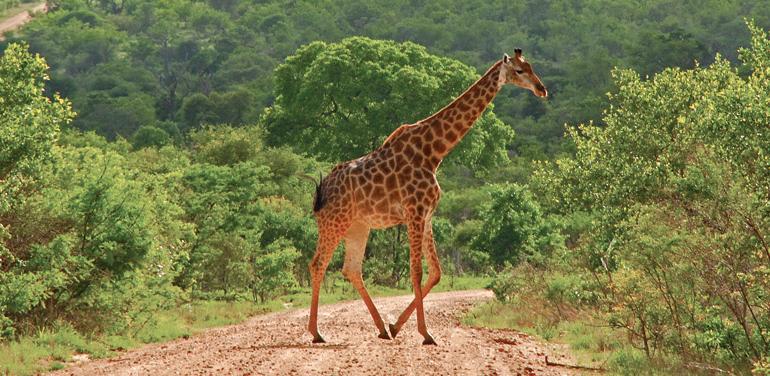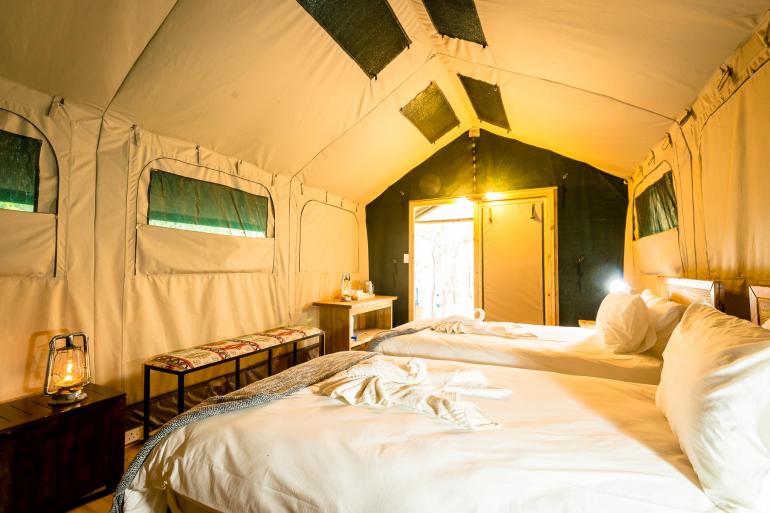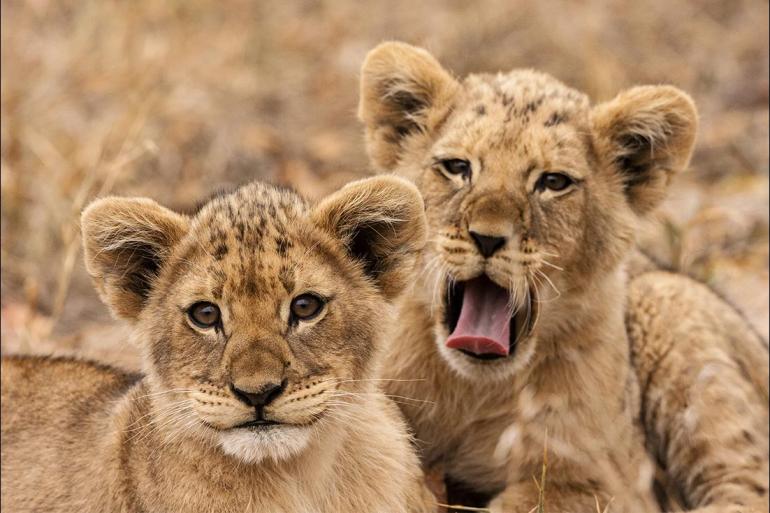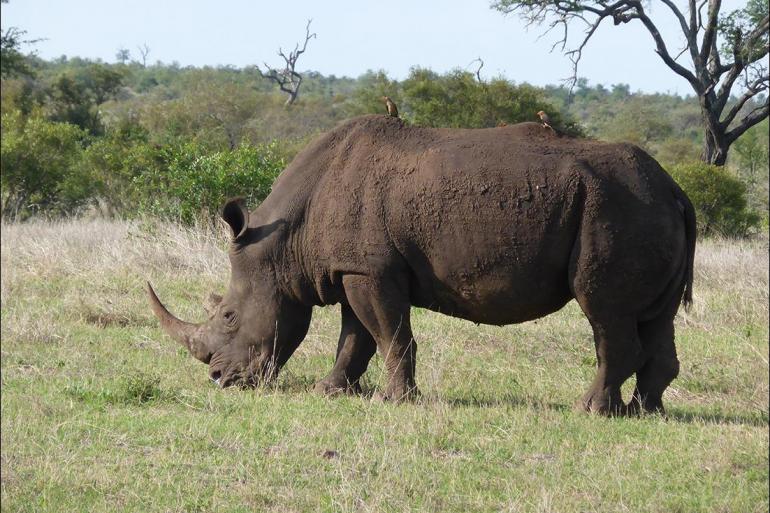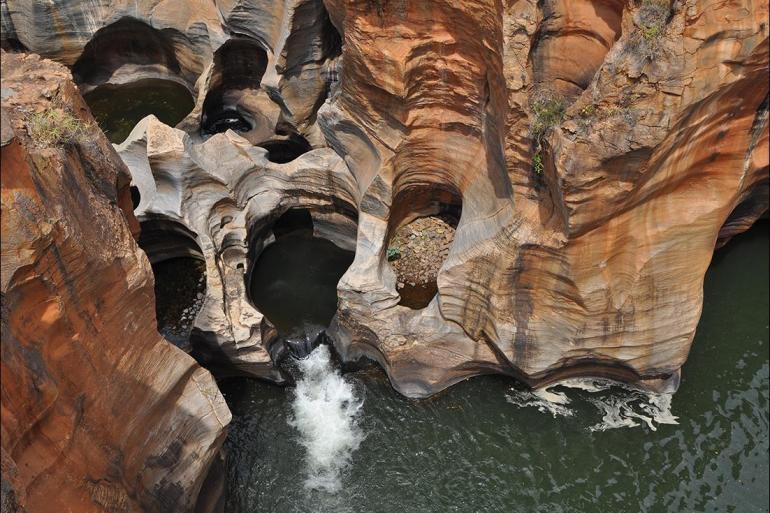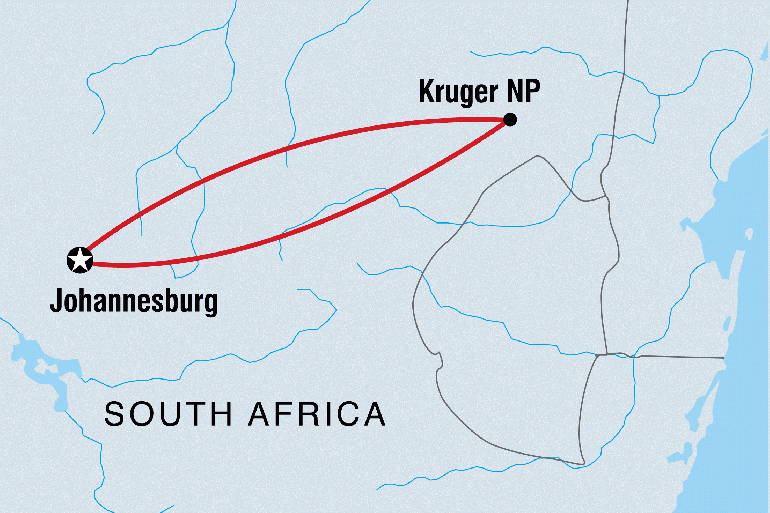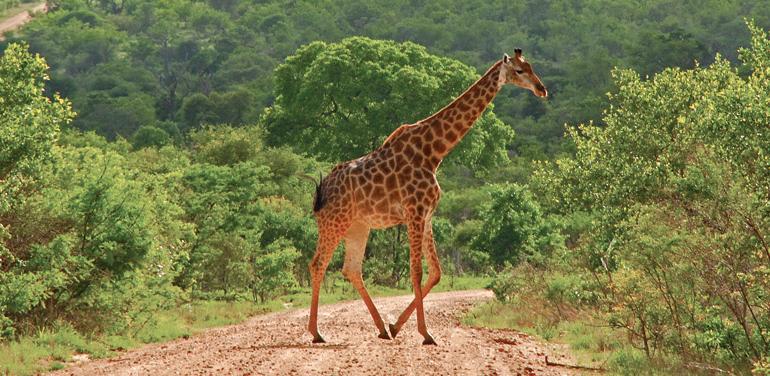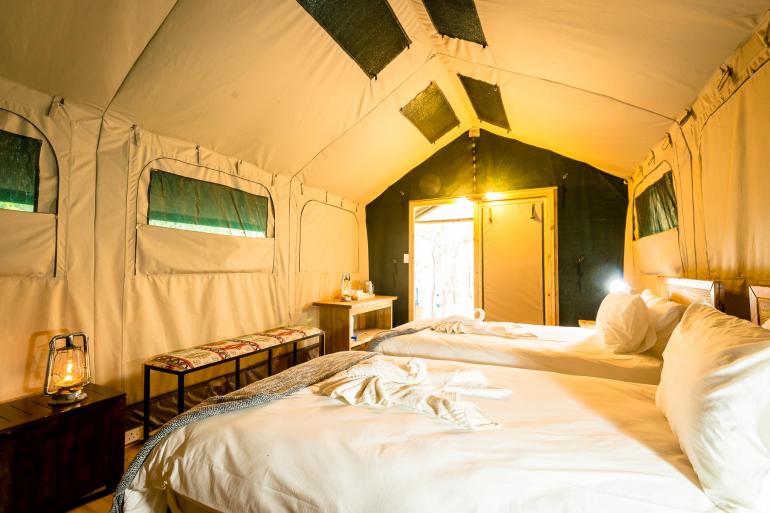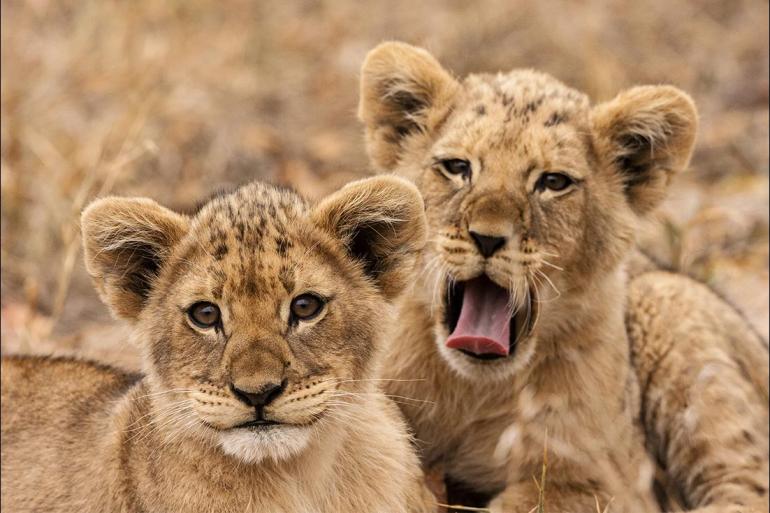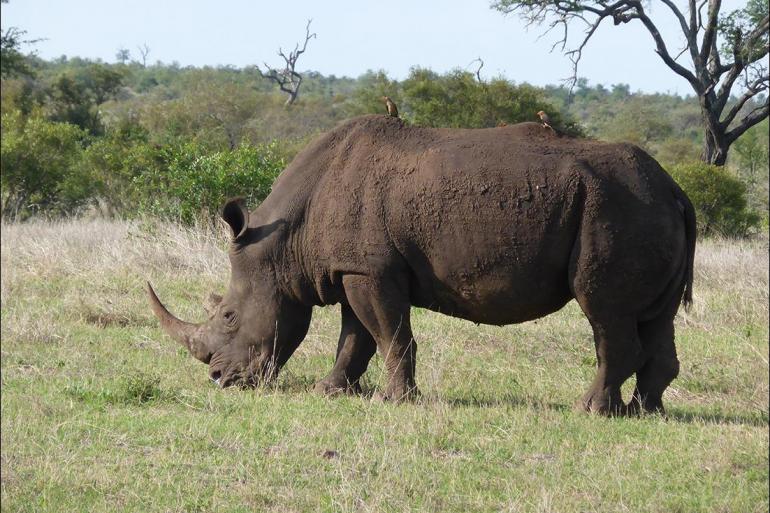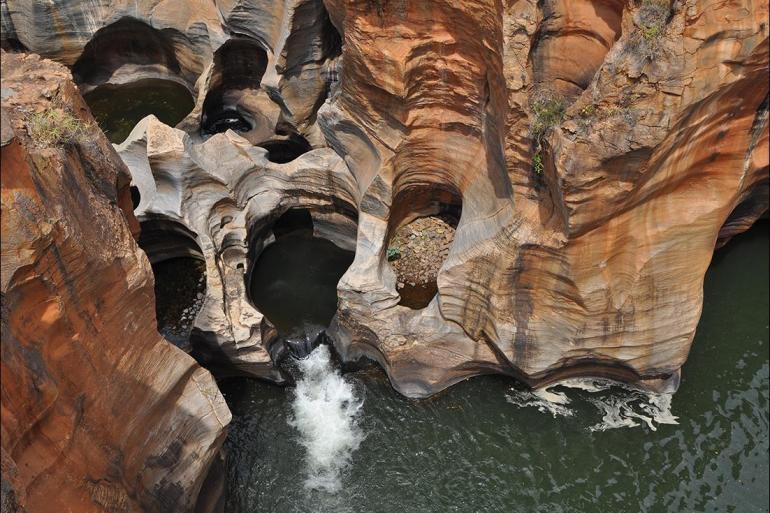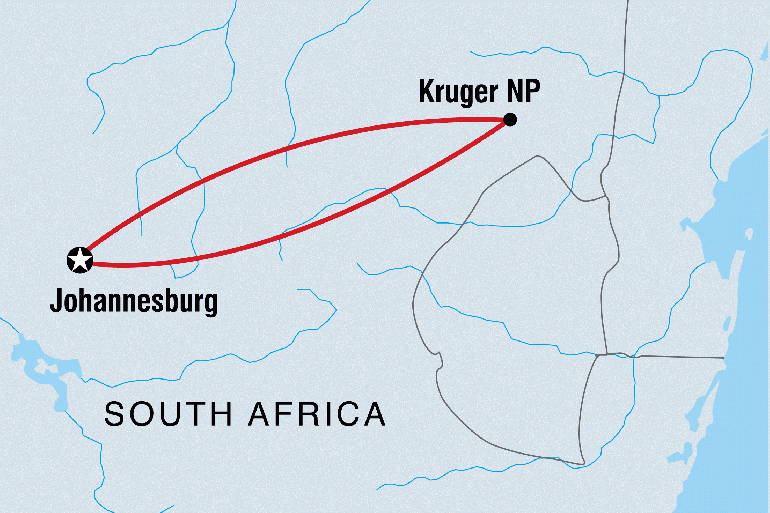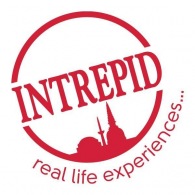 Preferred
Has very high quality customer experiences and demonstrated commitment to responsible travel practices.
read more
95%
Travel Style:
For those looking to maximize their sight seeing time. You thrive on a packed day's schedule from 8 am to 6pm, with some (but limited) free time. Most activities and meals included.
Full on
Physical Level:
Some walking over short or flat distances. Some trips may include cycling options. Some are wheelchair friendly (check for individual trips). Some cruises.
Easy
Lodging Level:
3 to 4 star western hotel equivalents. While not all lodging will be 'luxury' they will be quite comfortable by western standards.
Comfort (4*)
Overview
Highlights (Bullets)
Experience a private game reserve after dark in an open top 4x4 vehicle

Enjoy traditional South African cuisine while dining under the stars

Try to spot the Big Five in Kruger National Park on a full day game drive

Stay in a comfortable safari lodge in a communal setting with friendly hosts

Visit the awesome Blyde River Canyon and view the Three Rondavels on your return trip to Johannesburg
Short Description
Get a taste of one of the most famous game reserves in the world on this 4-day safari in Kruger National Park. Staying in a beautiful lodge just outside of the park, spend days searching out the remarkable animals that make their home here – leopards, lions, giraffe, rhino, hippos, antelope, buffalo are just some of the wild and wonderful creatures to see. After exciting days exploring the open savanna, relax in the evenings eating traditional foods and listening to the nocturnal symphony of this incredible safari destination.
Small groups are usually defined as between 10 and 24 travelers, often less. If you're the kind of person who enjoys more intimate experiences and personal service this is a good choice. All else being equal you will pay a premium for this style vs a larger group tour.
Trip Type Small Group Tour
See all the highlights and popular spots on a classic tour.
Itinerary Focus Classic Highlights
3 to 4 star western hotel equivalents. While not all lodging will be 'luxury' they will be quite comfortable by western standards.
Lodging Level Comfort (4*)
Flight & Transport Inclusions All internal ground transport
Itinerary
Day 1 Johannesburg / Greater Kruger National Park
Sawubona! Welcome to South Africa. Your Kruger Short Break starts very early this morning to get you to Kruger for a late lunch. If staying at the Holiday Inn Rosebank you will be picked up at 6am. If you are staying at alternate hotel (and advised us prior to departure) you will be picked up from 5:30am onwards. The exact time of pick-up for alternate hotels will be communicated to your hotel reception in the afternoon prior to day 1 of your itinerary. Please verify this time with reception the evening prior to your start day. We depart Johannesburg, the 'City of Gold' and head off on an adventure of a lifetime. A truly unique African experience unfolds as we enter the Greater Kruger National Park ecosystem arriving at our Lodge in time for lunch (570 km, approx 8-9 hours travel time including stops along the way). After some time to settle in, head off on a 3 hour afternoon game drive in open 4x4 vehicles in a private game reserve. Enjoy the thrill of spotting a impala, zebra, giraffe or lion, among other animals. Here you're likely to see any of the species that one may encounter in Kruger, since there are no boundary fences between the reserve and Kruger itself. Mid way through the safari stop for drinks at one of the waterholes before continuing the game drive into the early evening. Located in the greater Kruger, your accommodation is wonderfully intimate, with limited permanent safari tented rooms. Rooms are tastefully decorated and comfortably appointed with private ensuite. The lodge also offers a comfortable lounge, perfect for chatting with the other guests over a drink or two. There is also a swimming pool, shaded deck area, dining tent and WiFi.
Day 2 Greater Kruger National Park
One of the largest game reserves in Southern Africa, Kruger National Park is home to over 500 bird species, 100 species of reptile and 150 mammal species, including the Big Five and the endangered African wild dog. An early rise, as we make our way to Kruger National Park Our wildlife experience begins as soon as we enter the park, heading into prime game viewing areas where we hope to catch a glimpse of some of the amazing animals found inside the park, including the Big Five. Enjoy breakfast at one of the picnic spots before continuing through the park. Our entire day will be spent game viewing, bird watching and stopping off at the various waterholes en route. We depart the park in the late afternoon and return to the lodge for an evening of relaxation.
Day 3 Greater Kruger National Park
Spend the day at the lodge at your leisure, or take part in the various optional activities on offer including another full day game drive in Kruger National Park.
Day 4 Greater Kruger National Park / Johannesburg
Rise early and head out on a morning bush walk within the surrounds on the property. Guided by a qualified nature guide, we learn about nature's finer details like bird, tree and spoor identification. Transfer back to Johannesburg (600 km, approx 9-10 hrs). Along the way take in amazing views at the viewpoint over the awesome Blyde River Canyon and view the Three Rondavels. On arrival in Jo'burg you can be dropped at the airport or any nominated Johannesburg or Pretoria hotel. No accommodation is provided for tonight, but we are able to book you additional accommodation in Johannesburg. Please ask at time of booking. Please don't book any international flights until after 10pm this evening.
Availability
Price Per Day:
$ 245
per day
Start Date
Finish Date
Twin Share
Single Share
Availability
Oct-01-2021
Oct-04-2021

$ 875

$ 1,090

100 spots left
Reserve Reserve Reserve
Oct-02-2021
Oct-05-2021

$ 875

$ 1,090

100 spots left
Reserve Reserve Reserve
Oct-03-2021
Oct-06-2021

$ 875

$ 1,090

100 spots left
Reserve Reserve Reserve
Oct-04-2021
Oct-07-2021

$ 875

$ 1,090

100 spots left
Reserve Reserve Reserve
Oct-05-2021
Oct-08-2021

$ 875

$ 1,090

100 spots left
Reserve Reserve Reserve
Oct-06-2021
Oct-09-2021

$ 875

$ 1,090

100 spots left
Reserve Reserve Reserve
Oct-07-2021
Oct-10-2021

$ 875

$ 1,090

100 spots left
Reserve Reserve Reserve
Oct-08-2021
Oct-11-2021

$ 875

$ 1,090

100 spots left
Reserve Reserve Reserve
Oct-09-2021
Oct-12-2021

$ 875

$ 1,090

100 spots left
Reserve Reserve Reserve
Oct-10-2021
Oct-13-2021

$ 875

$ 1,090

100 spots left
Reserve Reserve Reserve
Oct-11-2021
Oct-14-2021

$ 875

$ 1,090

100 spots left
Reserve Reserve Reserve
Oct-12-2021
Oct-15-2021

$ 875

$ 1,090

100 spots left
Reserve Reserve Reserve
Oct-13-2021
Oct-16-2021

$ 875

$ 1,090

100 spots left
Reserve Reserve Reserve
Oct-14-2021
Oct-17-2021

$ 875

$ 1,090

100 spots left
Reserve Reserve Reserve
Oct-15-2021
Oct-18-2021

$ 875

$ 1,090

100 spots left
Reserve Reserve Reserve
Oct-16-2021
Oct-19-2021

$ 875

$ 1,090

100 spots left
Reserve Reserve Reserve
Oct-17-2021
Oct-20-2021

$ 875

$ 1,090

100 spots left
Reserve Reserve Reserve
Oct-18-2021
Oct-21-2021

$ 875

$ 1,090

100 spots left
Reserve Reserve Reserve
Oct-19-2021
Oct-22-2021

$ 875

$ 1,090

100 spots left
Reserve Reserve Reserve
Oct-20-2021
Oct-23-2021

$ 875

$ 1,090

100 spots left
Reserve Reserve Reserve
Oct-21-2021
Oct-24-2021

$ 875

$ 1,090

100 spots left
Reserve Reserve Reserve
Oct-22-2021
Oct-25-2021

$ 875

$ 1,090

100 spots left
Reserve Reserve Reserve
Oct-23-2021
Oct-26-2021

$ 875

$ 1,090

100 spots left
Reserve Reserve Reserve
Oct-24-2021
Oct-27-2021

$ 875

$ 1,090

100 spots left
Reserve Reserve Reserve
Oct-25-2021
Oct-28-2021

$ 875

$ 1,090

100 spots left
Reserve Reserve Reserve
Oct-26-2021
Oct-29-2021

$ 875

$ 1,090

100 spots left
Reserve Reserve Reserve
Oct-27-2021
Oct-30-2021

$ 875

$ 1,090

100 spots left
Reserve Reserve Reserve
Oct-28-2021
Oct-31-2021

$ 875

$ 1,090

100 spots left
Reserve Reserve Reserve
Oct-29-2021
Nov-01-2021

$ 875

$ 1,090

100 spots left
Reserve Reserve Reserve
Oct-30-2021
Nov-02-2021

$ 875

$ 1,090

100 spots left
Reserve Reserve Reserve
Oct-31-2021
Nov-03-2021

$ 875

$ 1,090

100 spots left
Reserve Reserve Reserve
Nov-01-2021
Nov-04-2021

$ 875

$ 1,090

100 spots left
Reserve Reserve Reserve
Nov-02-2021
Nov-05-2021

$ 875

$ 1,090

100 spots left
Reserve Reserve Reserve
Nov-03-2021
Nov-06-2021

$ 875

$ 1,090

100 spots left
Reserve Reserve Reserve
Nov-04-2021
Nov-07-2021

$ 875

$ 1,090

100 spots left
Reserve Reserve Reserve
Nov-05-2021
Nov-08-2021

$ 875

$ 1,090

100 spots left
Reserve Reserve Reserve
Nov-06-2021
Nov-09-2021

$ 875

$ 1,090

98 spots left
Reserve Reserve Reserve
Nov-07-2021
Nov-10-2021

$ 875

$ 1,090

100 spots left
Reserve Reserve Reserve
Nov-08-2021
Nov-11-2021

$ 875

$ 1,090

100 spots left
Reserve Reserve Reserve
Nov-09-2021
Nov-12-2021

$ 875

$ 1,090

100 spots left
Reserve Reserve Reserve
Nov-10-2021
Nov-13-2021

$ 875

$ 1,090

100 spots left
Reserve Reserve Reserve
Nov-11-2021
Nov-14-2021

$ 875

$ 1,090

100 spots left
Reserve Reserve Reserve
Nov-12-2021
Nov-15-2021

$ 875

$ 1,090

100 spots left
Reserve Reserve Reserve
Nov-13-2021
Nov-16-2021

$ 875

$ 1,090

100 spots left
Reserve Reserve Reserve
Nov-14-2021
Nov-17-2021

$ 875

$ 1,090

100 spots left
Reserve Reserve Reserve
Nov-15-2021
Nov-18-2021

$ 875

$ 1,090

100 spots left
Reserve Reserve Reserve
Nov-16-2021
Nov-19-2021

$ 875

$ 1,090

100 spots left
Reserve Reserve Reserve
Nov-17-2021
Nov-20-2021

$ 875

$ 1,090

100 spots left
Reserve Reserve Reserve
Nov-18-2021
Nov-21-2021

$ 875

$ 1,090

100 spots left
Reserve Reserve Reserve
Nov-19-2021
Nov-22-2021

$ 875

$ 1,090

100 spots left
Reserve Reserve Reserve
Nov-20-2021
Nov-23-2021

$ 875

$ 1,090

100 spots left
Reserve Reserve Reserve
Nov-21-2021
Nov-24-2021

$ 875

$ 1,090

100 spots left
Reserve Reserve Reserve
Nov-22-2021
Nov-25-2021

$ 875

$ 1,090

100 spots left
Reserve Reserve Reserve
Nov-23-2021
Nov-26-2021

$ 875

$ 1,090

100 spots left
Reserve Reserve Reserve
Nov-24-2021
Nov-27-2021

$ 875

$ 1,090

100 spots left
Reserve Reserve Reserve
Nov-25-2021
Nov-28-2021

$ 875

$ 1,090

100 spots left
Reserve Reserve Reserve
Nov-26-2021
Nov-29-2021

$ 875

$ 1,090

100 spots left
Reserve Reserve Reserve
Nov-27-2021
Nov-30-2021

$ 875

$ 1,090

100 spots left
Reserve Reserve Reserve
Nov-28-2021
Dec-01-2021

$ 875

$ 1,090

100 spots left
Reserve Reserve Reserve
Nov-29-2021
Dec-02-2021

$ 875

$ 1,090

100 spots left
Reserve Reserve Reserve
Nov-30-2021
Dec-03-2021

$ 875

$ 1,090

100 spots left
Reserve Reserve Reserve
Dec-01-2021
Dec-04-2021

$ 785

$ 980

100 spots left
Reserve Reserve Reserve
Dec-02-2021
Dec-05-2021

$ 785

$ 980

100 spots left
Reserve Reserve Reserve
Dec-03-2021
Dec-06-2021

$ 785

$ 980

100 spots left
Reserve Reserve Reserve
Dec-04-2021
Dec-07-2021

$ 785

$ 980

100 spots left
Reserve Reserve Reserve
Dec-05-2021
Dec-08-2021

$ 785

$ 980

100 spots left
Reserve Reserve Reserve
Dec-06-2021
Dec-09-2021

$ 785

$ 980

100 spots left
Reserve Reserve Reserve
Dec-07-2021
Dec-10-2021

$ 785

$ 980

100 spots left
Reserve Reserve Reserve
Dec-08-2021
Dec-11-2021

$ 785

$ 980

100 spots left
Reserve Reserve Reserve
Dec-09-2021
Dec-12-2021

$ 785

$ 980

100 spots left
Reserve Reserve Reserve
Dec-10-2021
Dec-13-2021

$ 785

$ 980

100 spots left
Reserve Reserve Reserve
Dec-11-2021
Dec-14-2021

$ 785

$ 980

100 spots left
Reserve Reserve Reserve
Dec-12-2021
Dec-15-2021

$ 785

$ 980

100 spots left
Reserve Reserve Reserve
Dec-13-2021
Dec-16-2021

$ 785

$ 980

100 spots left
Reserve Reserve Reserve
Dec-14-2021
Dec-17-2021

$ 785

$ 980

100 spots left
Reserve Reserve Reserve
Dec-15-2021
Dec-18-2021

$ 785

$ 980

100 spots left
Reserve Reserve Reserve
Dec-16-2021
Dec-19-2021

$ 785

$ 980

100 spots left
Reserve Reserve Reserve
Dec-17-2021
Dec-20-2021

$ 785

$ 980

100 spots left
Reserve Reserve Reserve
Dec-18-2021
Dec-21-2021

$ 785

$ 980

100 spots left
Reserve Reserve Reserve
Dec-19-2021
Dec-22-2021

$ 785

$ 980

100 spots left
Reserve Reserve Reserve
Dec-20-2021
Dec-23-2021

$ 785

$ 980

100 spots left
Reserve Reserve Reserve
Dec-21-2021
Dec-24-2021

$ 785

$ 980

100 spots left
Reserve Reserve Reserve
Dec-22-2021
Dec-25-2021

$ 785

$ 980

100 spots left
Reserve Reserve Reserve
Dec-23-2021
Dec-26-2021

$ 785

$ 980

100 spots left
Reserve Reserve Reserve
Dec-24-2021
Dec-27-2021

$ 785

$ 980

100 spots left
Reserve Reserve Reserve
Dec-25-2021
Dec-28-2021

$ 785

$ 980

100 spots left
Reserve Reserve Reserve
Dec-26-2021
Dec-29-2021

$ 785

$ 980

100 spots left
Reserve Reserve Reserve
Dec-27-2021
Dec-30-2021

$ 785

$ 980

100 spots left
Reserve Reserve Reserve
Dec-28-2021
Dec-31-2021

$ 785

$ 980

100 spots left
Reserve Reserve Reserve
Dec-29-2021
Jan-01-2022

$ 785

$ 980

100 spots left
Reserve Reserve Reserve
Dec-30-2021
Jan-02-2022

$ 785

$ 980

100 spots left
Reserve Reserve Reserve
Dec-31-2021
Jan-03-2022

$ 785

$ 980

100 spots left
Reserve Reserve Reserve
Jan-01-2022
Jan-04-2022

$ 863

$ 1,080

16 spots left
Reserve Reserve Reserve
Jan-02-2022
Jan-05-2022

$ 863

$ 1,080

16 spots left
Reserve Reserve Reserve
Jan-03-2022
Jan-06-2022

$ 863

$ 1,080

16 spots left
Reserve Reserve Reserve
Jan-04-2022
Jan-07-2022

$ 825

$ 1,030

16 spots left
Reserve Reserve Reserve
Jan-05-2022
Jan-08-2022

$ 863

$ 1,080

16 spots left
Reserve Reserve Reserve
Jan-06-2022
Jan-09-2022

$ 863

$ 1,080

16 spots left
Reserve Reserve Reserve
Jan-07-2022
Jan-10-2022

$ 825

$ 1,030

16 spots left
Reserve Reserve Reserve
Jan-08-2022
Jan-11-2022

$ 825

$ 1,030

16 spots left
Reserve Reserve Reserve
Jan-09-2022
Jan-12-2022

$ 825

$ 1,030

16 spots left
Reserve Reserve Reserve
Jan-10-2022
Jan-13-2022

$ 825

$ 1,030

16 spots left
Reserve Reserve Reserve
Jan-11-2022
Jan-14-2022

$ 825

$ 1,030

16 spots left
Reserve Reserve Reserve
Jan-12-2022
Jan-15-2022

$ 825

$ 1,030

16 spots left
Reserve Reserve Reserve
Jan-13-2022
Jan-16-2022

$ 825

$ 1,030

16 spots left
Reserve Reserve Reserve
Jan-14-2022
Jan-17-2022

$ 825

$ 1,030

16 spots left
Reserve Reserve Reserve
Jan-15-2022
Jan-18-2022

$ 825

$ 1,030

16 spots left
Reserve Reserve Reserve
Jan-16-2022
Jan-19-2022

$ 825

$ 1,030

16 spots left
Reserve Reserve Reserve
Jan-17-2022
Jan-20-2022

$ 825

$ 1,030

16 spots left
Reserve Reserve Reserve
Jan-18-2022
Jan-21-2022

$ 825

$ 1,030

16 spots left
Reserve Reserve Reserve
Jan-19-2022
Jan-22-2022

$ 825

$ 1,030

16 spots left
Reserve Reserve Reserve
Jan-20-2022
Jan-23-2022

$ 825

$ 1,030

16 spots left
Reserve Reserve Reserve
Jan-21-2022
Jan-24-2022

$ 825

$ 1,030

16 spots left
Reserve Reserve Reserve
Jan-22-2022
Jan-25-2022

$ 825

$ 1,030

16 spots left
Reserve Reserve Reserve
Jan-23-2022
Jan-26-2022

$ 825

$ 1,030

16 spots left
Reserve Reserve Reserve
Jan-24-2022
Jan-27-2022

$ 825

$ 1,030

16 spots left
Reserve Reserve Reserve
Jan-25-2022
Jan-28-2022

$ 825

$ 1,030

16 spots left
Reserve Reserve Reserve
Jan-26-2022
Jan-29-2022

$ 825

$ 1,030

16 spots left
Reserve Reserve Reserve
Jan-27-2022
Jan-30-2022

$ 825

$ 1,030

16 spots left
Reserve Reserve Reserve
Jan-28-2022
Jan-31-2022

$ 825

$ 1,030

16 spots left
Reserve Reserve Reserve
Jan-29-2022
Feb-01-2022

$ 825

$ 1,030

16 spots left
Reserve Reserve Reserve
Jan-30-2022
Feb-02-2022

$ 825

$ 1,030

16 spots left
Reserve Reserve Reserve
Jan-31-2022
Feb-03-2022

$ 825

$ 1,030

16 spots left
Reserve Reserve Reserve
Feb-01-2022
Feb-04-2022

$ 825

$ 1,030

16 spots left
Reserve Reserve Reserve
Feb-02-2022
Feb-05-2022

$ 825

$ 1,030

16 spots left
Reserve Reserve Reserve
Feb-03-2022
Feb-06-2022

$ 825

$ 1,030

16 spots left
Reserve Reserve Reserve
Feb-04-2022
Feb-07-2022

$ 825

$ 1,030

16 spots left
Reserve Reserve Reserve
Feb-05-2022
Feb-08-2022

$ 825

$ 1,030

16 spots left
Reserve Reserve Reserve
Feb-06-2022
Feb-09-2022

$ 825

$ 1,030

16 spots left
Reserve Reserve Reserve
Feb-07-2022
Feb-10-2022

$ 825

$ 1,030

16 spots left
Reserve Reserve Reserve
Feb-08-2022
Feb-11-2022

$ 825

$ 1,030

16 spots left
Reserve Reserve Reserve
Feb-09-2022
Feb-12-2022

$ 825

$ 1,030

16 spots left
Reserve Reserve Reserve
Feb-10-2022
Feb-13-2022

$ 825

$ 1,030

16 spots left
Reserve Reserve Reserve
Feb-11-2022
Feb-14-2022

$ 825

$ 1,030

16 spots left
Reserve Reserve Reserve
Feb-12-2022
Feb-15-2022

$ 825

$ 1,030

16 spots left
Reserve Reserve Reserve
Feb-13-2022
Feb-16-2022

$ 825

$ 1,030

16 spots left
Reserve Reserve Reserve
Feb-14-2022
Feb-17-2022

$ 825

$ 1,030

16 spots left
Reserve Reserve Reserve
Feb-15-2022
Feb-18-2022

$ 825

$ 1,030

16 spots left
Reserve Reserve Reserve
Feb-16-2022
Feb-19-2022

$ 825

$ 1,030

16 spots left
Reserve Reserve Reserve
Feb-17-2022
Feb-20-2022

$ 825

$ 1,030

16 spots left
Reserve Reserve Reserve
Feb-18-2022
Feb-21-2022

$ 825

$ 1,030

16 spots left
Reserve Reserve Reserve
Feb-19-2022
Feb-22-2022

$ 825

$ 1,030

16 spots left
Reserve Reserve Reserve
Feb-20-2022
Feb-23-2022

$ 825

$ 1,030

16 spots left
Reserve Reserve Reserve
Feb-21-2022
Feb-24-2022

$ 825

$ 1,030

16 spots left
Reserve Reserve Reserve
Feb-22-2022
Feb-25-2022

$ 825

$ 1,030

16 spots left
Reserve Reserve Reserve
Feb-23-2022
Feb-26-2022

$ 825

$ 1,030

16 spots left
Reserve Reserve Reserve
Feb-24-2022
Feb-27-2022

$ 825

$ 1,030

16 spots left
Reserve Reserve Reserve
Feb-25-2022
Feb-28-2022

$ 825

$ 1,030

16 spots left
Reserve Reserve Reserve
Feb-26-2022
Mar-01-2022

$ 825

$ 1,030

16 spots left
Reserve Reserve Reserve
Feb-27-2022
Mar-02-2022

$ 825

$ 1,030

16 spots left
Reserve Reserve Reserve
Feb-28-2022
Mar-03-2022

$ 825

$ 1,030

16 spots left
Reserve Reserve Reserve
Mar-01-2022
Mar-04-2022

$ 825

$ 1,030

16 spots left
Reserve Reserve Reserve
Mar-02-2022
Mar-05-2022

$ 825

$ 1,030

16 spots left
Reserve Reserve Reserve
Mar-03-2022
Mar-06-2022

$ 825

$ 1,030

16 spots left
Reserve Reserve Reserve
Mar-04-2022
Mar-07-2022

$ 825

$ 1,030

16 spots left
Reserve Reserve Reserve
Mar-05-2022
Mar-08-2022

$ 825

$ 1,030

16 spots left
Reserve Reserve Reserve
Mar-06-2022
Mar-09-2022

$ 825

$ 1,030

16 spots left
Reserve Reserve Reserve
Mar-07-2022
Mar-10-2022

$ 825

$ 1,030

16 spots left
Reserve Reserve Reserve
Mar-08-2022
Mar-11-2022

$ 825

$ 1,030

16 spots left
Reserve Reserve Reserve
Mar-09-2022
Mar-12-2022

$ 825

$ 1,030

16 spots left
Reserve Reserve Reserve
Mar-10-2022
Mar-13-2022

$ 825

$ 1,030

16 spots left
Reserve Reserve Reserve
Mar-11-2022
Mar-14-2022

$ 825

$ 1,030

16 spots left
Reserve Reserve Reserve
Mar-12-2022
Mar-15-2022

$ 825

$ 1,030

16 spots left
Reserve Reserve Reserve
Mar-13-2022
Mar-16-2022

$ 825

$ 1,030

16 spots left
Reserve Reserve Reserve
Mar-14-2022
Mar-17-2022

$ 825

$ 1,030

16 spots left
Reserve Reserve Reserve
Mar-15-2022
Mar-18-2022

$ 825

$ 1,030

16 spots left
Reserve Reserve Reserve
Mar-16-2022
Mar-19-2022

$ 825

$ 1,030

16 spots left
Reserve Reserve Reserve
Mar-17-2022
Mar-20-2022

$ 825

$ 1,030

16 spots left
Reserve Reserve Reserve
Mar-18-2022
Mar-21-2022

$ 825

$ 1,030

16 spots left
Reserve Reserve Reserve
Mar-19-2022
Mar-22-2022

$ 825

$ 1,030

16 spots left
Reserve Reserve Reserve
Mar-20-2022
Mar-23-2022

$ 825

$ 1,030

16 spots left
Reserve Reserve Reserve
Mar-21-2022
Mar-24-2022

$ 825

$ 1,030

16 spots left
Reserve Reserve Reserve
Mar-22-2022
Mar-25-2022

$ 825

$ 1,030

16 spots left
Reserve Reserve Reserve
Mar-23-2022
Mar-26-2022

$ 825

$ 1,030

16 spots left
Reserve Reserve Reserve
Mar-24-2022
Mar-27-2022

$ 825

$ 1,030

16 spots left
Reserve Reserve Reserve
Mar-25-2022
Mar-28-2022

$ 825

$ 1,030

16 spots left
Reserve Reserve Reserve
Mar-26-2022
Mar-29-2022

$ 825

$ 1,030

16 spots left
Reserve Reserve Reserve
Mar-27-2022
Mar-30-2022

$ 825

$ 1,030

16 spots left
Reserve Reserve Reserve
Mar-28-2022
Mar-31-2022

$ 825

$ 1,030

16 spots left
Reserve Reserve Reserve
Mar-29-2022
Apr-01-2022

$ 825

$ 1,030

16 spots left
Reserve Reserve Reserve
Mar-30-2022
Apr-02-2022

$ 825

$ 1,030

16 spots left
Reserve Reserve Reserve
Mar-31-2022
Apr-03-2022

$ 825

$ 1,030

16 spots left
Reserve Reserve Reserve
Apr-01-2022
Apr-04-2022

$ 825

$ 1,030

16 spots left
Reserve Reserve Reserve
Apr-02-2022
Apr-05-2022

$ 825

$ 1,030

16 spots left
Reserve Reserve Reserve
Apr-03-2022
Apr-06-2022

$ 825

$ 1,030

16 spots left
Reserve Reserve Reserve
Apr-04-2022
Apr-07-2022

$ 825

$ 1,030

16 spots left
Reserve Reserve Reserve
Apr-05-2022
Apr-08-2022

$ 825

$ 1,030

16 spots left
Reserve Reserve Reserve
Apr-06-2022
Apr-09-2022

$ 825

$ 1,030

16 spots left
Reserve Reserve Reserve
Apr-07-2022
Apr-10-2022

$ 825

$ 1,030

16 spots left
Reserve Reserve Reserve
Apr-08-2022
Apr-11-2022

$ 825

$ 1,030

16 spots left
Reserve Reserve Reserve
Apr-09-2022
Apr-12-2022

$ 825

$ 1,030

16 spots left
Reserve Reserve Reserve
Apr-10-2022
Apr-13-2022

$ 825

$ 1,030

16 spots left
Reserve Reserve Reserve
Apr-11-2022
Apr-14-2022

$ 825

$ 1,030

16 spots left
Reserve Reserve Reserve
Apr-12-2022
Apr-15-2022

$ 825

$ 1,030

16 spots left
Reserve Reserve Reserve
Apr-13-2022
Apr-16-2022

$ 825

$ 1,030

16 spots left
Reserve Reserve Reserve
Apr-14-2022
Apr-17-2022

$ 825

$ 1,030

16 spots left
Reserve Reserve Reserve
Apr-15-2022
Apr-18-2022

$ 825

$ 1,030

16 spots left
Reserve Reserve Reserve
Apr-16-2022
Apr-19-2022

$ 825

$ 1,030

16 spots left
Reserve Reserve Reserve
Apr-17-2022
Apr-20-2022

$ 825

$ 1,030

16 spots left
Reserve Reserve Reserve
Apr-18-2022
Apr-21-2022

$ 825

$ 1,030

16 spots left
Reserve Reserve Reserve
Apr-19-2022
Apr-22-2022

$ 825

$ 1,030

16 spots left
Reserve Reserve Reserve
Apr-20-2022
Apr-23-2022

$ 825

$ 1,030

16 spots left
Reserve Reserve Reserve
Apr-21-2022
Apr-24-2022

$ 825

$ 1,030

16 spots left
Reserve Reserve Reserve
Apr-22-2022
Apr-25-2022

$ 825

$ 1,030

16 spots left
Reserve Reserve Reserve
Apr-23-2022
Apr-26-2022

$ 825

$ 1,030

16 spots left
Reserve Reserve Reserve
Apr-24-2022
Apr-27-2022

$ 825

$ 1,030

16 spots left
Reserve Reserve Reserve
Apr-25-2022
Apr-28-2022

$ 825

$ 1,030

16 spots left
Reserve Reserve Reserve
Apr-26-2022
Apr-29-2022

$ 825

$ 1,030

16 spots left
Reserve Reserve Reserve
Apr-27-2022
Apr-30-2022

$ 825

$ 1,030

16 spots left
Reserve Reserve Reserve
Apr-28-2022
May-01-2022

$ 825

$ 1,030

16 spots left
Reserve Reserve Reserve
Apr-29-2022
May-02-2022

$ 825

$ 1,030

16 spots left
Reserve Reserve Reserve
Apr-30-2022
May-03-2022

$ 825

$ 1,030

16 spots left
Reserve Reserve Reserve
May-01-2022
May-04-2022

$ 825

$ 1,030

16 spots left
Reserve Reserve Reserve
May-02-2022
May-05-2022

$ 825

$ 1,030

16 spots left
Reserve Reserve Reserve
May-03-2022
May-06-2022

$ 825

$ 1,030

16 spots left
Reserve Reserve Reserve
May-04-2022
May-07-2022

$ 825

$ 1,030

16 spots left
Reserve Reserve Reserve
May-05-2022
May-08-2022

$ 825

$ 1,030

16 spots left
Reserve Reserve Reserve
May-06-2022
May-09-2022

$ 825

$ 1,030

16 spots left
Reserve Reserve Reserve
May-07-2022
May-10-2022

$ 825

$ 1,030

16 spots left
Reserve Reserve Reserve
May-08-2022
May-11-2022

$ 825

$ 1,030

16 spots left
Reserve Reserve Reserve
May-09-2022
May-12-2022

$ 825

$ 1,030

16 spots left
Reserve Reserve Reserve
May-10-2022
May-13-2022

$ 825

$ 1,030

16 spots left
Reserve Reserve Reserve
May-11-2022
May-14-2022

$ 825

$ 1,030

16 spots left
Reserve Reserve Reserve
May-12-2022
May-15-2022

$ 825

$ 1,030

16 spots left
Reserve Reserve Reserve
May-13-2022
May-16-2022

$ 825

$ 1,030

16 spots left
Reserve Reserve Reserve
May-14-2022
May-17-2022

$ 825

$ 1,030

16 spots left
Reserve Reserve Reserve
May-15-2022
May-18-2022

$ 825

$ 1,030

16 spots left
Reserve Reserve Reserve
May-16-2022
May-19-2022

$ 825

$ 1,030

16 spots left
Reserve Reserve Reserve
May-17-2022
May-20-2022

$ 825

$ 1,030

16 spots left
Reserve Reserve Reserve
May-18-2022
May-21-2022

$ 825

$ 1,030

16 spots left
Reserve Reserve Reserve
May-19-2022
May-22-2022

$ 825

$ 1,030

16 spots left
Reserve Reserve Reserve
May-20-2022
May-23-2022

$ 825

$ 1,030

16 spots left
Reserve Reserve Reserve
May-21-2022
May-24-2022

$ 825

$ 1,030

16 spots left
Reserve Reserve Reserve
May-22-2022
May-25-2022

$ 825

$ 1,030

16 spots left
Reserve Reserve Reserve
May-23-2022
May-26-2022

$ 825

$ 1,030

16 spots left
Reserve Reserve Reserve
May-24-2022
May-27-2022

$ 825

$ 1,030

16 spots left
Reserve Reserve Reserve
May-25-2022
May-28-2022

$ 785

$ 980

16 spots left
Reserve Reserve Reserve
May-26-2022
May-29-2022

$ 825

$ 1,030

16 spots left
Reserve Reserve Reserve
May-27-2022
May-30-2022

$ 825

$ 1,030

16 spots left
Reserve Reserve Reserve
May-28-2022
May-31-2022

$ 825

$ 1,030

16 spots left
Reserve Reserve Reserve
May-29-2022
Jun-01-2022

$ 825

$ 1,030

16 spots left
Reserve Reserve Reserve
May-30-2022
Jun-02-2022

$ 825

$ 1,030

16 spots left
Reserve Reserve Reserve
May-31-2022
Jun-03-2022

$ 825

$ 1,030

16 spots left
Reserve Reserve Reserve
Jun-01-2022
Jun-04-2022

$ 825

$ 1,030

16 spots left
Reserve Reserve Reserve
Jun-02-2022
Jun-05-2022

$ 825

$ 1,030

16 spots left
Reserve Reserve Reserve
Jun-03-2022
Jun-06-2022

$ 825

$ 1,030

16 spots left
Reserve Reserve Reserve
Jun-04-2022
Jun-07-2022

$ 825

$ 1,030

16 spots left
Reserve Reserve Reserve
Jun-05-2022
Jun-08-2022

$ 825

$ 1,030

16 spots left
Reserve Reserve Reserve
Jun-06-2022
Jun-09-2022

$ 825

$ 1,030

16 spots left
Reserve Reserve Reserve
Jun-07-2022
Jun-10-2022

$ 825

$ 1,030

16 spots left
Reserve Reserve Reserve
Jun-08-2022
Jun-11-2022

$ 825

$ 1,030

16 spots left
Reserve Reserve Reserve
Jun-09-2022
Jun-12-2022

$ 825

$ 1,030

16 spots left
Reserve Reserve Reserve
Jun-10-2022
Jun-13-2022

$ 825

$ 1,030

16 spots left
Reserve Reserve Reserve
Jun-11-2022
Jun-14-2022

$ 825

$ 1,030

16 spots left
Reserve Reserve Reserve
Jun-12-2022
Jun-15-2022

$ 825

$ 1,030

16 spots left
Reserve Reserve Reserve
Jun-13-2022
Jun-16-2022

$ 825

$ 1,030

16 spots left
Reserve Reserve Reserve
Jun-14-2022
Jun-17-2022

$ 825

$ 1,030

16 spots left
Reserve Reserve Reserve
Jun-15-2022
Jun-18-2022

$ 825

$ 1,030

16 spots left
Reserve Reserve Reserve
Jun-16-2022
Jun-19-2022

$ 825

$ 1,030

16 spots left
Reserve Reserve Reserve
Jun-17-2022
Jun-20-2022

$ 825

$ 1,030

16 spots left
Reserve Reserve Reserve
Jun-18-2022
Jun-21-2022

$ 825

$ 1,030

16 spots left
Reserve Reserve Reserve
Jun-19-2022
Jun-22-2022

$ 825

$ 1,030

16 spots left
Reserve Reserve Reserve
Jun-20-2022
Jun-23-2022

$ 825

$ 1,030

16 spots left
Reserve Reserve Reserve
Jun-21-2022
Jun-24-2022

$ 825

$ 1,030

16 spots left
Reserve Reserve Reserve
Jun-22-2022
Jun-25-2022

$ 825

$ 1,030

16 spots left
Reserve Reserve Reserve
Jun-23-2022
Jun-26-2022

$ 825

$ 1,030

16 spots left
Reserve Reserve Reserve
Jun-24-2022
Jun-27-2022

$ 825

$ 1,030

16 spots left
Reserve Reserve Reserve
Jun-25-2022
Jun-28-2022

$ 825

$ 1,030

16 spots left
Reserve Reserve Reserve
Jun-26-2022
Jun-29-2022

$ 825

$ 1,030

16 spots left
Reserve Reserve Reserve
Jun-27-2022
Jun-30-2022

$ 825

$ 1,030

16 spots left
Reserve Reserve Reserve
Jun-28-2022
Jul-01-2022

$ 825

$ 1,030

16 spots left
Reserve Reserve Reserve
Jun-29-2022
Jul-02-2022

$ 825

$ 1,030

16 spots left
Reserve Reserve Reserve
Jun-30-2022
Jul-03-2022

$ 825

$ 1,030

16 spots left
Reserve Reserve Reserve
Jul-01-2022
Jul-04-2022

$ 825

$ 1,030

16 spots left
Reserve Reserve Reserve
Jul-02-2022
Jul-05-2022

$ 825

$ 1,030

16 spots left
Reserve Reserve Reserve
Jul-03-2022
Jul-06-2022

$ 825

$ 1,030

16 spots left
Reserve Reserve Reserve
Jul-04-2022
Jul-07-2022

$ 825

$ 1,030

16 spots left
Reserve Reserve Reserve
Jul-05-2022
Jul-08-2022

$ 825

$ 1,030

16 spots left
Reserve Reserve Reserve
Jul-06-2022
Jul-09-2022

$ 825

$ 1,030

16 spots left
Reserve Reserve Reserve
Jul-07-2022
Jul-10-2022

$ 825

$ 1,030

16 spots left
Reserve Reserve Reserve
Jul-08-2022
Jul-11-2022

$ 825

$ 1,030

16 spots left
Reserve Reserve Reserve
Jul-09-2022
Jul-12-2022

$ 825

$ 1,030

16 spots left
Reserve Reserve Reserve
Jul-10-2022
Jul-13-2022

$ 825

$ 1,030

16 spots left
Reserve Reserve Reserve
Jul-11-2022
Jul-14-2022

$ 825

$ 1,030

16 spots left
Reserve Reserve Reserve
Jul-12-2022
Jul-15-2022

$ 825

$ 1,030

16 spots left
Reserve Reserve Reserve
Jul-13-2022
Jul-16-2022

$ 825

$ 1,030

16 spots left
Reserve Reserve Reserve
Jul-14-2022
Jul-17-2022

$ 825

$ 1,030

16 spots left
Reserve Reserve Reserve
Jul-15-2022
Jul-18-2022

$ 825

$ 1,030

16 spots left
Reserve Reserve Reserve
Jul-16-2022
Jul-19-2022

$ 825

$ 1,030

16 spots left
Reserve Reserve Reserve
Jul-17-2022
Jul-20-2022

$ 825

$ 1,030

16 spots left
Reserve Reserve Reserve
Jul-18-2022
Jul-21-2022

$ 825

$ 1,030

16 spots left
Reserve Reserve Reserve
Jul-19-2022
Jul-22-2022

$ 825

$ 1,030

16 spots left
Reserve Reserve Reserve
Jul-20-2022
Jul-23-2022

$ 825

$ 1,030

16 spots left
Reserve Reserve Reserve
Jul-21-2022
Jul-24-2022

$ 825

$ 1,030

16 spots left
Reserve Reserve Reserve
Jul-22-2022
Jul-25-2022

$ 825

$ 1,030

16 spots left
Reserve Reserve Reserve
Jul-23-2022
Jul-26-2022

$ 825

$ 1,030

16 spots left
Reserve Reserve Reserve
Jul-24-2022
Jul-27-2022

$ 825

$ 1,030

16 spots left
Reserve Reserve Reserve
Jul-25-2022
Jul-28-2022

$ 825

$ 1,030

16 spots left
Reserve Reserve Reserve
Jul-26-2022
Jul-29-2022

$ 825

$ 1,030

16 spots left
Reserve Reserve Reserve
Jul-27-2022
Jul-30-2022

$ 825

$ 1,030

16 spots left
Reserve Reserve Reserve
Jul-28-2022
Jul-31-2022

$ 825

$ 1,030

16 spots left
Reserve Reserve Reserve
Jul-29-2022
Aug-01-2022

$ 825

$ 1,030

16 spots left
Reserve Reserve Reserve
Jul-30-2022
Aug-02-2022

$ 825

$ 1,030

16 spots left
Reserve Reserve Reserve
Jul-31-2022
Aug-03-2022

$ 825

$ 1,030

16 spots left
Reserve Reserve Reserve
Aug-01-2022
Aug-04-2022

$ 825

$ 1,030

16 spots left
Reserve Reserve Reserve
Aug-02-2022
Aug-05-2022

$ 825

$ 1,030

16 spots left
Reserve Reserve Reserve
Aug-03-2022
Aug-06-2022

$ 825

$ 1,030

16 spots left
Reserve Reserve Reserve
Aug-04-2022
Aug-07-2022

$ 825

$ 1,030

16 spots left
Reserve Reserve Reserve
Aug-05-2022
Aug-08-2022

$ 825

$ 1,030

16 spots left
Reserve Reserve Reserve
Aug-06-2022
Aug-09-2022

$ 825

$ 1,030

16 spots left
Reserve Reserve Reserve
Aug-07-2022
Aug-10-2022

$ 825

$ 1,030

16 spots left
Reserve Reserve Reserve
Aug-08-2022
Aug-11-2022

$ 825

$ 1,030

16 spots left
Reserve Reserve Reserve
Aug-09-2022
Aug-12-2022

$ 825

$ 1,030

16 spots left
Reserve Reserve Reserve
Aug-10-2022
Aug-13-2022

$ 825

$ 1,030

16 spots left
Reserve Reserve Reserve
Aug-11-2022
Aug-14-2022

$ 825

$ 1,030

16 spots left
Reserve Reserve Reserve
Aug-12-2022
Aug-15-2022

$ 825

$ 1,030

16 spots left
Reserve Reserve Reserve
Aug-13-2022
Aug-16-2022

$ 825

$ 1,030

16 spots left
Reserve Reserve Reserve
Aug-14-2022
Aug-17-2022

$ 825

$ 1,030

16 spots left
Reserve Reserve Reserve
Aug-15-2022
Aug-18-2022

$ 825

$ 1,030

16 spots left
Reserve Reserve Reserve
Aug-16-2022
Aug-19-2022

$ 825

$ 1,030

16 spots left
Reserve Reserve Reserve
Aug-17-2022
Aug-20-2022

$ 825

$ 1,030

16 spots left
Reserve Reserve Reserve
Aug-18-2022
Aug-21-2022

$ 825

$ 1,030

16 spots left
Reserve Reserve Reserve
Aug-19-2022
Aug-22-2022

$ 825

$ 1,030

16 spots left
Reserve Reserve Reserve
Aug-20-2022
Aug-23-2022

$ 825

$ 1,030

16 spots left
Reserve Reserve Reserve
Aug-21-2022
Aug-24-2022

$ 825

$ 1,030

16 spots left
Reserve Reserve Reserve
Aug-22-2022
Aug-25-2022

$ 825

$ 1,030

16 spots left
Reserve Reserve Reserve
Aug-23-2022
Aug-26-2022

$ 825

$ 1,030

16 spots left
Reserve Reserve Reserve
Aug-24-2022
Aug-27-2022

$ 825

$ 1,030

16 spots left
Reserve Reserve Reserve
Aug-25-2022
Aug-28-2022

$ 825

$ 1,030

16 spots left
Reserve Reserve Reserve
Aug-26-2022
Aug-29-2022

$ 825

$ 1,030

16 spots left
Reserve Reserve Reserve
Aug-27-2022
Aug-30-2022

$ 825

$ 1,030

16 spots left
Reserve Reserve Reserve
Aug-28-2022
Aug-31-2022

$ 825

$ 1,030

14 spots left
Reserve Reserve Reserve
Aug-29-2022
Sep-01-2022

$ 825

$ 1,030

16 spots left
Reserve Reserve Reserve
Aug-30-2022
Sep-02-2022

$ 825

$ 1,030

16 spots left
Reserve Reserve Reserve
Aug-31-2022
Sep-03-2022

$ 825

$ 1,030

16 spots left
Reserve Reserve Reserve
Sep-01-2022
Sep-04-2022

$ 825

$ 1,030

16 spots left
Reserve Reserve Reserve
Sep-02-2022
Sep-05-2022

$ 825

$ 1,030

16 spots left
Reserve Reserve Reserve
Sep-03-2022
Sep-06-2022

$ 825

$ 1,030

16 spots left
Reserve Reserve Reserve
Sep-04-2022
Sep-07-2022

$ 825

$ 1,030

16 spots left
Reserve Reserve Reserve
Sep-05-2022
Sep-08-2022

$ 825

$ 1,030

16 spots left
Reserve Reserve Reserve
Sep-06-2022
Sep-09-2022

$ 825

$ 1,030

16 spots left
Reserve Reserve Reserve
Sep-07-2022
Sep-10-2022

$ 825

$ 1,030

16 spots left
Reserve Reserve Reserve
Sep-08-2022
Sep-11-2022

$ 825

$ 1,030

16 spots left
Reserve Reserve Reserve
Sep-09-2022
Sep-12-2022

$ 825

$ 1,030

16 spots left
Reserve Reserve Reserve
Sep-10-2022
Sep-13-2022

$ 825

$ 1,030

16 spots left
Reserve Reserve Reserve
Sep-11-2022
Sep-14-2022

$ 825

$ 1,030

16 spots left
Reserve Reserve Reserve
Sep-12-2022
Sep-15-2022

$ 825

$ 1,030

16 spots left
Reserve Reserve Reserve
Sep-13-2022
Sep-16-2022

$ 825

$ 1,030

16 spots left
Reserve Reserve Reserve
Sep-14-2022
Sep-17-2022

$ 825

$ 1,030

16 spots left
Reserve Reserve Reserve
Sep-15-2022
Sep-18-2022

$ 825

$ 1,030

16 spots left
Reserve Reserve Reserve
Sep-16-2022
Sep-19-2022

$ 825

$ 1,030

16 spots left
Reserve Reserve Reserve
Sep-17-2022
Sep-20-2022

$ 825

$ 1,030

16 spots left
Reserve Reserve Reserve
Sep-18-2022
Sep-21-2022

$ 825

$ 1,030

16 spots left
Reserve Reserve Reserve
Sep-19-2022
Sep-22-2022

$ 825

$ 1,030

16 spots left
Reserve Reserve Reserve
Sep-20-2022
Sep-23-2022

$ 825

$ 1,030

16 spots left
Reserve Reserve Reserve
Sep-21-2022
Sep-24-2022

$ 825

$ 1,030

16 spots left
Reserve Reserve Reserve
Sep-22-2022
Sep-25-2022

$ 825

$ 1,030

16 spots left
Reserve Reserve Reserve
Sep-23-2022
Sep-26-2022

$ 825

$ 1,030

16 spots left
Reserve Reserve Reserve
Sep-24-2022
Sep-27-2022

$ 825

$ 1,030

16 spots left
Reserve Reserve Reserve
Sep-25-2022
Sep-28-2022

$ 825

$ 1,030

16 spots left
Reserve Reserve Reserve
Sep-26-2022
Sep-29-2022

$ 825

$ 1,030

16 spots left
Reserve Reserve Reserve
Sep-27-2022
Sep-30-2022

$ 825

$ 1,030

16 spots left
Reserve Reserve Reserve
Sep-28-2022
Oct-01-2022

$ 825

$ 1,030

16 spots left
Reserve Reserve Reserve
Sep-29-2022
Oct-02-2022

$ 825

$ 1,030

16 spots left
Reserve Reserve Reserve
Sep-30-2022
Oct-03-2022

$ 825

$ 1,030

16 spots left
Reserve Reserve Reserve
Oct-01-2022
Oct-04-2022

$ 825

$ 1,030

16 spots left
Reserve Reserve Reserve
Oct-02-2022
Oct-05-2022

$ 825

$ 1,030

16 spots left
Reserve Reserve Reserve
Oct-03-2022
Oct-06-2022

$ 825

$ 1,030

16 spots left
Reserve Reserve Reserve
Oct-04-2022
Oct-07-2022

$ 825

$ 1,030

16 spots left
Reserve Reserve Reserve
Oct-05-2022
Oct-08-2022

$ 825

$ 1,030

16 spots left
Reserve Reserve Reserve
Oct-06-2022
Oct-09-2022

$ 825

$ 1,030

16 spots left
Reserve Reserve Reserve
Oct-07-2022
Oct-10-2022

$ 825

$ 1,030

16 spots left
Reserve Reserve Reserve
Oct-08-2022
Oct-11-2022

$ 825

$ 1,030

16 spots left
Reserve Reserve Reserve
Oct-09-2022
Oct-12-2022

$ 825

$ 1,030

16 spots left
Reserve Reserve Reserve
Oct-10-2022
Oct-13-2022

$ 825

$ 1,030

16 spots left
Reserve Reserve Reserve
Oct-11-2022
Oct-14-2022

$ 825

$ 1,030

16 spots left
Reserve Reserve Reserve
Oct-12-2022
Oct-15-2022

$ 825

$ 1,030

16 spots left
Reserve Reserve Reserve
Oct-13-2022
Oct-16-2022

$ 825

$ 1,030

16 spots left
Reserve Reserve Reserve
Oct-14-2022
Oct-17-2022

$ 825

$ 1,030

16 spots left
Reserve Reserve Reserve
Oct-15-2022
Oct-18-2022

$ 825

$ 1,030

16 spots left
Reserve Reserve Reserve
Oct-16-2022
Oct-19-2022

$ 825

$ 1,030

16 spots left
Reserve Reserve Reserve
Oct-17-2022
Oct-20-2022

$ 825

$ 1,030

16 spots left
Reserve Reserve Reserve
Oct-18-2022
Oct-21-2022

$ 825

$ 1,030

16 spots left
Reserve Reserve Reserve
Oct-19-2022
Oct-22-2022

$ 825

$ 1,030

16 spots left
Reserve Reserve Reserve
Oct-20-2022
Oct-23-2022

$ 825

$ 1,030

16 spots left
Reserve Reserve Reserve
Oct-21-2022
Oct-24-2022

$ 825

$ 1,030

16 spots left
Reserve Reserve Reserve
Oct-22-2022
Oct-25-2022

$ 825

$ 1,030

16 spots left
Reserve Reserve Reserve
Oct-23-2022
Oct-26-2022

$ 825

$ 1,030

16 spots left
Reserve Reserve Reserve
Oct-24-2022
Oct-27-2022

$ 825

$ 1,030

16 spots left
Reserve Reserve Reserve
Oct-25-2022
Oct-28-2022

$ 825

$ 1,030

16 spots left
Reserve Reserve Reserve
Oct-26-2022
Oct-29-2022

$ 825

$ 1,030

16 spots left
Reserve Reserve Reserve
Oct-27-2022
Oct-30-2022

$ 825

$ 1,030

16 spots left
Reserve Reserve Reserve
Oct-28-2022
Oct-31-2022

$ 825

$ 1,030

16 spots left
Reserve Reserve Reserve
Oct-29-2022
Nov-01-2022

$ 825

$ 1,030

16 spots left
Reserve Reserve Reserve
Oct-30-2022
Nov-02-2022

$ 825

$ 1,030

16 spots left
Reserve Reserve Reserve
Oct-31-2022
Nov-03-2022

$ 825

$ 1,030

16 spots left
Reserve Reserve Reserve
Nov-01-2022
Nov-04-2022

$ 825

$ 1,030

16 spots left
Reserve Reserve Reserve
Nov-02-2022
Nov-05-2022

$ 825

$ 1,030

16 spots left
Reserve Reserve Reserve
Nov-03-2022
Nov-06-2022

$ 825

$ 1,030

16 spots left
Reserve Reserve Reserve
Nov-04-2022
Nov-07-2022

$ 825

$ 1,030

16 spots left
Reserve Reserve Reserve
Nov-05-2022
Nov-08-2022

$ 825

$ 1,030

16 spots left
Reserve Reserve Reserve
Nov-06-2022
Nov-09-2022

$ 825

$ 1,030

16 spots left
Reserve Reserve Reserve
Nov-07-2022
Nov-10-2022

$ 825

$ 1,030

16 spots left
Reserve Reserve Reserve
Nov-08-2022
Nov-11-2022

$ 825

$ 1,030

16 spots left
Reserve Reserve Reserve
Nov-09-2022
Nov-12-2022

$ 825

$ 1,030

16 spots left
Reserve Reserve Reserve
Nov-10-2022
Nov-13-2022

$ 825

$ 1,030

16 spots left
Reserve Reserve Reserve
Nov-11-2022
Nov-14-2022

$ 825

$ 1,030

16 spots left
Reserve Reserve Reserve
Nov-12-2022
Nov-15-2022

$ 825

$ 1,030

16 spots left
Reserve Reserve Reserve
Nov-13-2022
Nov-16-2022

$ 825

$ 1,030

16 spots left
Reserve Reserve Reserve
Nov-14-2022
Nov-17-2022

$ 825

$ 1,030

16 spots left
Reserve Reserve Reserve
Nov-15-2022
Nov-18-2022

$ 825

$ 1,030

16 spots left
Reserve Reserve Reserve
Nov-16-2022
Nov-19-2022

$ 825

$ 1,030

16 spots left
Reserve Reserve Reserve
Nov-17-2022
Nov-20-2022

$ 825

$ 1,030

16 spots left
Reserve Reserve Reserve
Nov-18-2022
Nov-21-2022

$ 825

$ 1,030

16 spots left
Reserve Reserve Reserve
Nov-19-2022
Nov-22-2022

$ 825

$ 1,030

16 spots left
Reserve Reserve Reserve
Nov-20-2022
Nov-23-2022

$ 825

$ 1,030

16 spots left
Reserve Reserve Reserve