Travelers age
12 - 17, 6 - 11, 5 and under
Trip prices
$ 2,499
-
$ 8,119
Member Savings
Save up to $700!
Sign in to see which companies give additional savings to Travelstride Members (it's free )
Adventures by Disney Reviews & Ratings
100% Recommend
Great trip! Kudos to Adventures by Disney for a really well done trip!
I went on this trip with some misgivings, as my only other experience with this type of tour was a winter Tauck Family Bridges tour of Italy, that was not a good experience. Well, I am SO glad I went, as my daughter and I had a marvelous time. Disney did an amazing job of organizing this trip - I still can't believe how much they managed to fit into essentially 8 days. I also can't believe how much fun it all was! The guides were tremendous. First of all, unlike Tauck (where we traveled with one tour manager), here we had two guides with us the entire time - one a licensed guide in Greece (i.e., a native, very knowledgeable about the country and able to really take us through the historical and archaeological sites) and the other an American who has been guiding in Greece for years. The interaction between the guides was very warm, as was their way of relating to the guests. This was a complete contrast with Tauck. Here people really got to know each other, the young people had a great time with each other, and, of course, Greece itself is just magnificent. I will certainly travel with Disney again!
Show more
Save up to 32% off trips to every continent on earth
Redeem anytime before 2023. Last minute changes OK.
Get a full refund.
Editorial review of Adventures by Disney
Family friendly and culturally immersive travel from the imaginative minds at Disney.
What Makes Adventures by Disney Stand Out?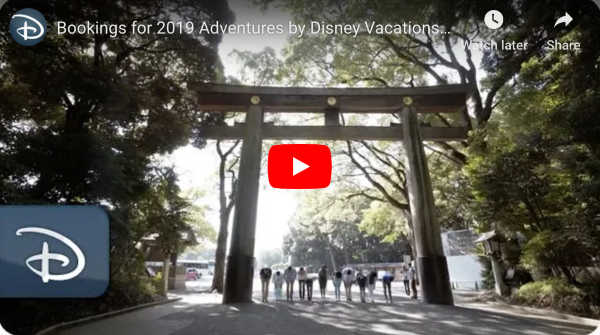 A majority of tour companies cater to young adults and 50+ travelers. Very few are dedicated specifically to families, and those that are often have a minimum age of 12 - with rare exceptions. Adventures by Disney is a perfect option for parents with young children seeking exciting, educational, and culturally rich vacations, with an high level of comfort.
These tours are not heavy on the Disney characters or films either, so if you're dreading an all-Disney all-the-time experience, rest easy. These trips are active, often with an outdoor component, and introduce young minds to the world through interactive cultural presentations, up-close wildlife experiences, and other fun surprises.
Who Will Enjoy Traveling with Adventures by Disney?
It goes without saying that these trips are geared toward young families. You and your young ones will enjoy a trip with Adventures by Disney if learning through travel is a high priority, and a certain amount of physical activity is ok.
Adventures by Disney trips are on the higher end when it comes to price per person. But it's important to note that almost everything is included - freeing you up to enjoy the trip with no stress about where the next activity should be, or finding a restaurant that is suitable for your families needs.
On most trips with Adventures by Disney the minimum age requirement is 4 years old.
Top Destinations
Adventures by Disney operates their specialized family friendly itineraries all around the world. Europe and North America offer the most extensive list of trips. Select Central America and South America tours are available as well as limited tour options in Australia, China, South Africa, and Japan.
Adventures by Disney Travel Style
There are many trip styles to choose from through Adventures by Disney, including river cruises and large ship cruises. The travel approach with Adventures by Disney is very hands on - perfect for young minds learning about the world!
You and your children will also gain exclusive insider access to some of the most incredible sights around the world. Private tours and "backstage access" are a key part of the Adventures by Disney experience.
Most Adventures by Disney tours feature varying degrees of physical activity. Some are more active than others, but you should expect to be outside, enjoying nature in some capacity during your trip. Whether this means a day of kayaking trip along the Gold Coast, a hike through a magical European forest, or cycling along rivers and lakes your trip will provide plenty of time in the fresh air.
All admissions to exhibits, tours, and activities are included in your package. Adventures by Disney is very focused on making sure your trip is hassle free. All transportation and accommodation during the tour are also taken care of.
Why Choose a Tour with Adventures by Disney?
If you've been having a hard time finding a kid-friendly tour that provides a well rounded itinerary and plenty of support, Adventures by Disney is a great place to look.
Don't let the Disney name deter you from exploring these trips - it's not all floating hotel cruises. In fact most itineraries with Adventures by Disney are private - just you and your family, allowing for ample time to explore and learn about the history and culture of each destination.
Every Adventures by Disney trip is accompanied by two professional, and of course kid-friendly, adventure guides and specialists. They are there to enrich your journey as well as make sure everything goes smoothly.
Unlock Community Benefits
Travel better together
Save favorite trips and itineraries
Get insider insights
Receive personalized recommendations
...and much more
Travelstride featured in






About the company From
From Adventures by Disney
Adventures by Disney™ provides immersive Disney-guided family vacation experiences to exciting destinations in Europe, Central and South America, Asia, Africa, Australia and North America. When you travel to worldwide destinations on an Adventures by Disney vacation you do much more than sightsee. You experience firsthand the people and cultures of the places you visit—and you do so with the service, VIP experiences and unique local opportunities you can only expect from Disney.
Adventure Guides
See the world through the eyes of a storyteller—and become part of the story. Wherever you travel with Adventures by Disney, you'll have two Adventure Guides to make sure that every detail is taken care of. Along with local experts, they will ensure that you feel a connection to the people, culture and traditions of the places you visit.
Family Fun
Explore the world as a family in ways that everyone will enjoy. Each Adventures by Disney trip offers unique itinerary items from more sophisticated experiences for adults to special Junior Adventurer activities created just for kids. And of course, there are plenty of special opportunities to create and share unforgettable memories with the whole family.
Authenticity
Immerse yourself in the people and culture of your Adventures by Disney destinations with the help of local experts that will show you more than just the sights. You'll be welcomed with open arms and made to feel like you are one of their own as you take part in customs and rituals of the locations you visit.
Insider Access
Go where visitors are seldom allowed for unique behind-the-scenes glimpses into exotic locales and events around the globe. Adventures by Disney trips offer access to locations and opportunities that would be difficult to experience without Disney.
Want a tailor-made trip instead?
Your trip, your way, planned by an expert:
You choose budget, destinations, activities, transport & lodging type
Expert designs the itinerary for you, and once approved, takes care of logistics
Top Adventures by Disney Trip Categories
Adventures by Disney Company Ranking by Category
Awards
--Travel + Leisure's World's Best Awards: Ranked No 1 among Tour Operators and Safari Outfitters for Families 2011
--World Travel Award: World's Leading Luxury Tour Operator 2012, 2010, 2009
Associations
United States Tour Operators Association
FAQ
Are flights included?
While international flights are not included, Adventures by Disney can help book your air travel. Air transportation can be purchased from Adventures by Disney to and from your home airport in accordance with the scheduled vacation dates and to coordinate with your adventure itinerary. Please note that Adventures by Disney "Vacationistas" (the agent who will assist with your booking) can only make domestic US flight reservations. Contact a "Vacationista" for details. Canadian consumers should book through their local travel agent.
Do I need Travel Insurance?
Yes, you can protect your vacation investment by adding the Adventures by Disney Vacation Protection Plan to your reservation.
Pre or post trip accommodation available?
Adventures by Disney can reserve an extra night either before or after most adventures at the first and last hotel included in your adventure, subject to availability. If available, this allows you to stay in the same room as on your adventure. For early arrivals or extended stays purchased through Adventures by Disney Travel Services, a transfer from/to the specified airports for the adventure will be provided; however, transfers are provided only for extended stays purchased through Adventures by Disney. Please refer to the destination-specific FAQs and Trip Tips for each itinerary or contact a "Vacationista" for more information and exact availability on your adventure's departure date. Special rates for these additional nights are subject to availability and are only available if booked through Adventures by Disney Travel Services in conjunction with a land package and cannot be combined with any other offer.
Are kids welcome?
Absolutely! Vacations by Disney trips are specifically designed to be family friendly. On most trips the minimum age is 4.
What kind of luggage should I bring?
Adventures by Disney recommends that you pack as lightly as possible for your trip. Many guests find they pack too many clothes and personal items. Each guest is restricted to one checked bag and, one personal item plus one small bag per ticketed person, as specified by your air carrier.
Why Travelstride
Find your perfect trip
A vast selection of trips on every continent, for every style. Thousands of itineraries from hundreds of trusted travel companies.
Save time
Use simple search and comparison tools to easily find the best trip. Don't sweat the logistics -- travel providers plan for you.
Save money
Book directly with the operator. Find inclusive packages for the best value and get access to amazing deals.
Travel confidently
Read unbiased user reviews, pick the company that fits your style, and connect with them directly. No worries, just memories.
×
Sign in to Save Trips
Bookmark trips you like
Share with your travel companions
Track price changes
Access private discounts on trips you save
×
Sign in to see your results
TripFinder is a member-only feature. Don't worry, it's free!
With a membership you:
Save up to $700 per person!*
Access private deals and offers
See personalized trip recommendations
Save favorite trips
*See Member Savings Program details
×
Activate your free Travelstride membership
Just use the email address and password provided in the email we sent.
With your free membership you:
Save up to $700 per person!*
Access private deals and offers
See personalized trip recommendations
Save favorite trips
*See Member Savings Program details