8113
Top Brochure of Tibet Uncovered
Please note the tour price reflected on the brochure is subject to change. Due to seasonality, and taxes prices of the tour are subject to change without due notice. Please consult with the operator directly for the recent price.
No longer available. See new versions below.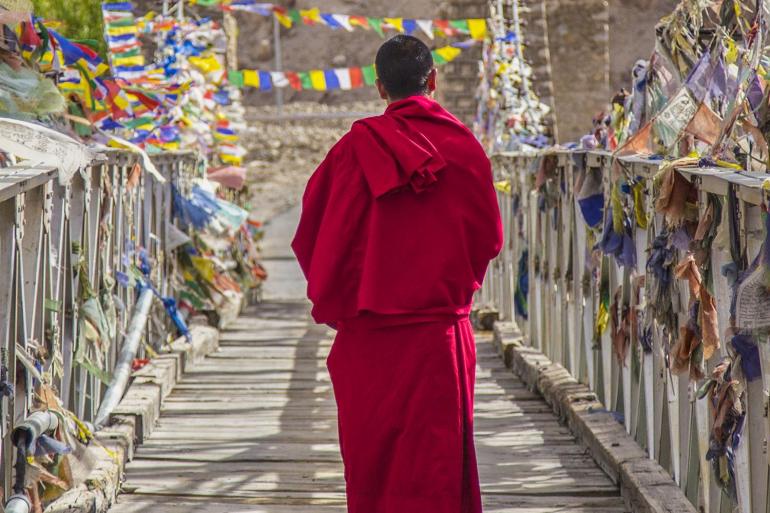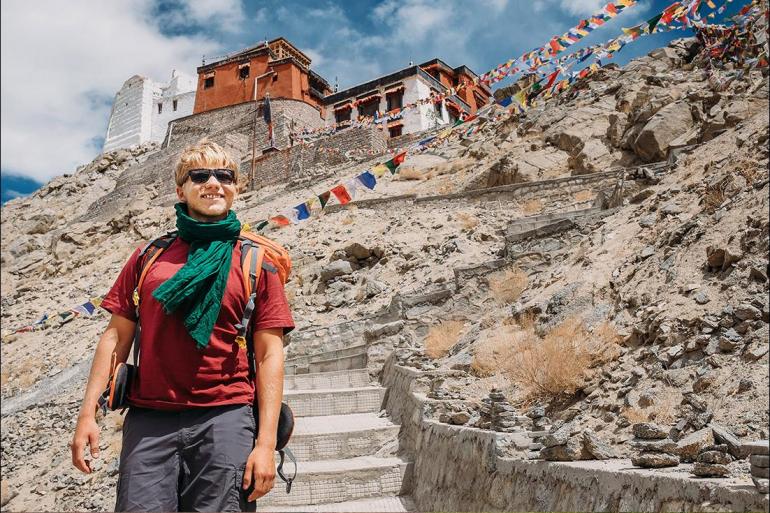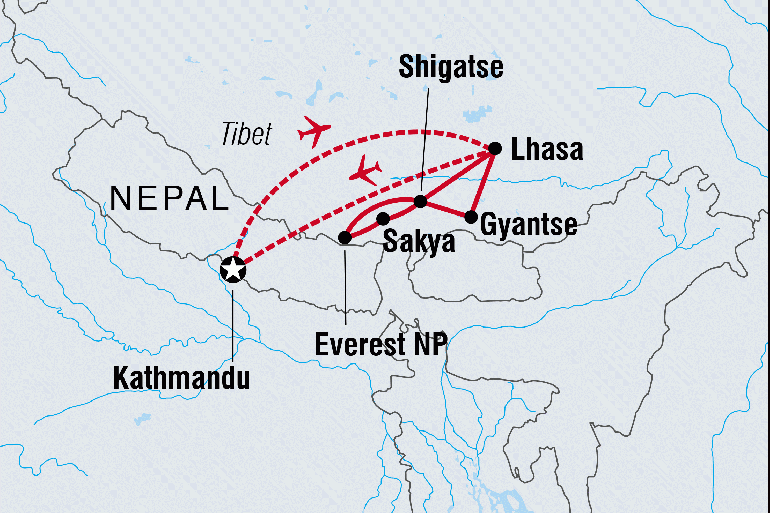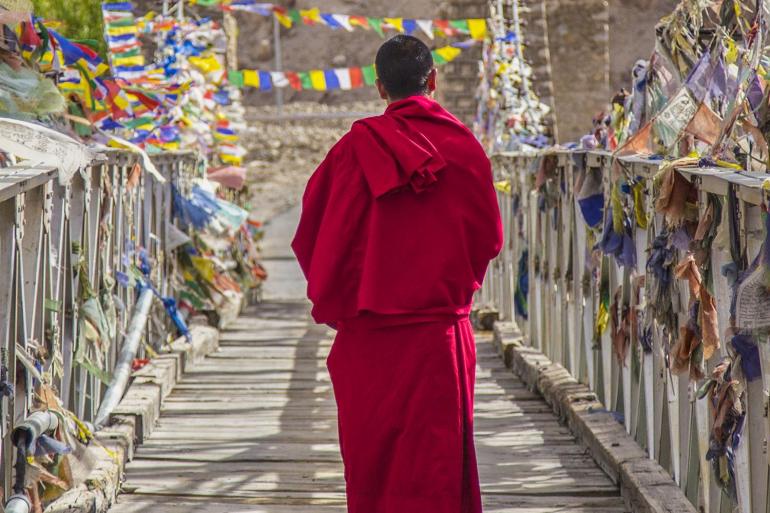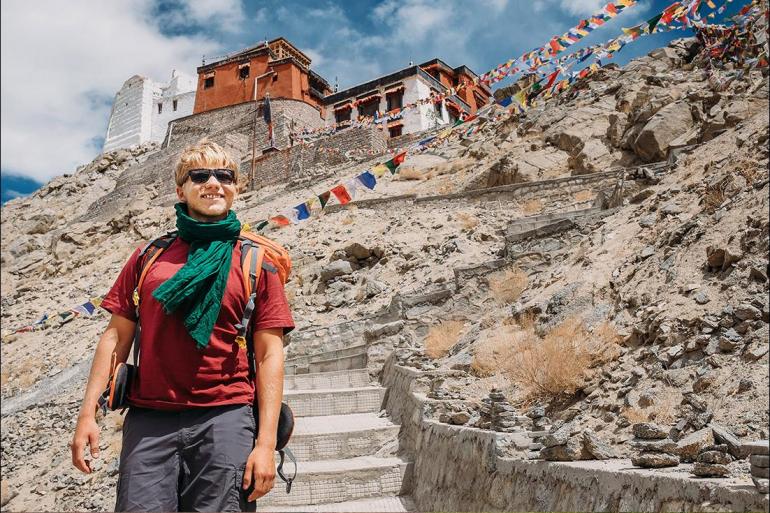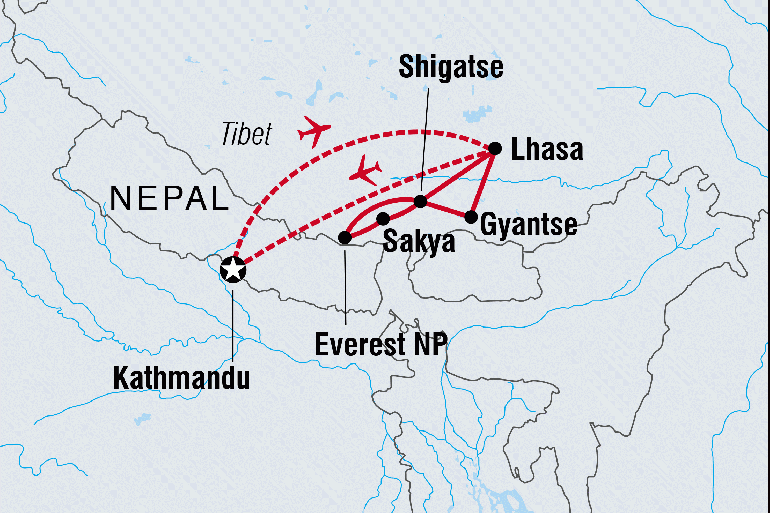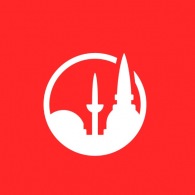 Premier
Has very high quality customer experiences and demonstrated commitment to responsible travel practices.
read more
4.6 . Excellent
94%
Travel Style:
Array
Mixed
Physical Level:
Very challenging all day hiking and backpacking carrying significant equipment.
Hard
Lodging Level:
Mid-range budget with accommodations ranging from comfortable lodges, guesthouses, and homestays to three star hotels.
Value (3*)
15 days
From:
$ 5,040
$ 336
/ day
Overview
Highlights (Bullets)
Flanked by the majestic Himalayan Mountains, Kathmandu is nothing short of a legendary destination. Its bustling alleyways are filled with monks, incense, goats and sacred cows; its temples steeped in symbolism

In Lhasa, discover the dazzling former home of the Dalai Lama and the enchanting atmosphere of the pilgrim-filled Jokhang Temple, the holiest in the Tibetan Buddhist world

Each leg of a Tibetan road trip seems more incredible than the last. Climb stunning passes, drive along the sides of misty mountains, and take in jaw-dropping views of skies and lakes of perfect blue

Accompany devoted pilgrims on their kora (prayer circuit), spinning prayer wheels on a clockwise walk around the perimeter of the vast Tashilhunpo Monastery

An overnight stay at the foot of the Everest in the local tourist yurt, in the midst of the world's tallest peaks, is truly an experience to remember
Short Description
Join an adventure across the top of the world. From the serene former home of the Dalai Lama in Lhasa to the ancient narrow laneways of Kathmandu, traverse the world's highest mountain range and delve into the heart of Tibetan Buddhism. Mingle with locals, rub shoulders with pilgrims and take in spectacular scenery – this is most definitely Tibet and all its treasures uncovered.
Spend most of the time outdoors. Common trip themes and activities include cycling, hiking, kayaking, whitewater rafting.
Itinerary Focus Active
Mid-range budget with accommodations ranging from comfortable lodges, guesthouses, and homestays to three star hotels.
Lodging Level Value (3*)
Flight & Transport Inclusions N/A
Itinerary
Day 1 Kathmandu
Namaste! Welcome to Nepal. Your adventure begins with a welcome meeting at 2 pm. Those who have pre-booked an arrival transfer can meet their driver outside the airport terminal, a few metres from the exit door – look out for the Intrepid signboard. Please look for a note in the hotel lobby or ask reception for the location of this 2pm meeting. We'll be collecting your insurance details, next of kin information, visa application fee and passport photo fee, and you will need to fill in the application forms for the group visa at this meeting. Please ensure you have all these details handy to provide to your leader. If you can't arrange a flight that will arrive in time, we advise you to arrive a day early so you're able to attend and finish the paperwork in time for the visa application. We'll be happy to book additional accommodation for you (subject to availability). If you're going to be late, please call our local emergency number and inform our local team immediately. This group meeting will be longer than your normal Intrepid meeting as there are a fair bit of paperwork to go through for the visa application inc. a 6-page form to fill. Then your tour leader will take you to take the photos needed for the visa application (5 USD per person) to make sure all the photos submitted are in line with the embassy requirement. Afterwards, your evening is free, but your trip leader will usually organise an (optional) evening meal at one of Kathmandu's fine Nepali restaurants. Notes: Remember not to obtain a Chinese visa in advance, as you will use a group visa when entering Tibet from Nepal. Any other valid Chinese visa in your passport will be cancelled if you do obtain one. Please see the 'Visa' section of these trip notes for more information. When you fill in the application form, please do not use any abbreviations. You will be asked to fill in your place of work with detailed address and contact info too. If you are unemployed or still studying, you can fill you your workplace from the past or your school details. Please make sure all the information you have filled in the form is accurate, particularly all matching your passport. Any inaccurate info including spelling mistakes etc may result in denial of China visa from the authorities.
Day 2 Kathmandu
This morning, our local partner will take all the necessary documents to go to China embassy and submit them for the group visa application. In the meantime, you'll have to be ready to be called into the embassy for any further enquiry about the group visa, so your tour leader will take you for short walks near the hotel and sites but please note that we don't advise you to be separate from your group and your tour leader in case that an urgent embassy visit is required. It's possible for you to visit the monkey temple nearby (at your own expense). After 2 pm when the embassy procedures are finished, your tour leader will take you on a walking tour (2-3 hrs) to explore the excitement and allure hidden in the lanes and alleys of Kathmandu. Step out into the streets of Kathmandu, whose mixture of ancient architecture and modern development, and rich artistic and cultural heritage, means it remains the legendary destination it has been for decades. Crowded markets and bazaars are the centre of Nepali life and the narrow streets are home to holy men, monks, bicycles, incense, goats and sacred cows. Experience these all on the walking tour with your tour leader.
Day 3 Bhaktapur - Changu Narayan - Kathmandu
Today, we leave in the morning on a private bus to visit one of the most highly rated ancient town near Kathmandu – Bhaktapur. 14 KM away from Kathmandu, Bhakatapur was one of the 3 royal cities in Kathmandu valley, and remains a living museum with stunning architecture and art, rich history and fascinating religion of Buddhism and Hinduism. Take a stroll with your leader through the zigzagging alleys and learn about the stories of the kings and the saints of the past, say hi to the locals and admire the intricate wood carvings and pottery making. Continue on to Changu Narayan, a hidden gem in Kathmandu's religious scene, being one of the oldest Hindu temple in the region. Enjoy some time of tranquillity and nature here before heading back to the hustle and bustle of Kathmandu.
Day 4 Lhasa (3,650m)
Fly to Tibet's capital, Lhasa (approximately 2 hours) (3,650 m). Colourful and historic, the holy city of Lhasa is situated in a small valley. Unknown to the outside world for years, even the most adventurous and hardy of explorers rarely reached the city without being turned away, either by the treacherous terrain or the fierce warrior monks that protected Tibetan territory from intruders. Nowadays it welcomes tourists, but remains an enchanting city, steeped in culture and mythology. In Lhasa you will stay at a basic but centrally located hotel with twin-share accommodation decorated in traditional Tibetan style.
Day 5 Lhasa
This morning, take it easy to adjust to the altitude. At noon, take a cooking class and learn the fine art of preparing momo, traditional Tibetan dumplings for lunch.Though the dish appears in neighbouring countries Nepal and Bhutan, it's believed to originate in Tibet. In the afternoon, we'll visit Sera Monastery where the fascinating Buddhism debate takes place between the Tibetan monks. We won't understand a thing that they are debating about, but it's purely joy to see how they heatedly discuss the philosophies in a very exaggerated and eye catching manner.
Day 6 Lhasa
In the morning, visit the Potala Palace, the incredible former home of the Dalai Lama that's perched 130 metres above the city. The palace is divided into two parts, the White Palace (secular and used as offices and the like) and the Red Palace (home to chapels, shrines, and tombs of Dalai Lamas). Although you must stick with your guide while exploring Potala Palace, this in no way lessens the impact of seeing what is truly a wonder of the architectural world. Then visit Jokhang Temple, considered the spiritual heart and most sacred temple of Tibet. It always attracts a steady waves of pilgrims. Spend some time exploring this 6-acre World-Heritage listed site and learn a thing or two about its history. According to legend, the temple was built on top of a lake after many failed attempts to build monasteries in other nearby locations. Feast your eyes on golden Buddha which stands in the centre. If you still feel energetic enough, perhaps join the pilgrims walk around the Barkhor Street or around the Potala palace (clockwise direction), both of which are considered sacred Koras by the Tibetan Buddhists.
Day 7 Drak Yerpa (4889m) - Lhasa
Take a private bus to the Drak Yerpa Monastery. Known variously as Brag Yer-pa, Yerpa, Dagyeba, Dayerpa or Trayerpa, this is one of the holiest cave retreats in Tibet, the 'life tree' of Lhasa. It's located in the spectacular limestone cliffs of the Yerpa Valley, with views of prayer flag-covered mountains. Here you can explore some of the caves, including ones where pilgrims sip holy water or slip through a small gap in the rock, and perhaps talk with the few remaining monks that live there. Monks have begun to return to Yerpa, but numbers are strictly controlled by the government, which carries out regular patriotic study sessions.
Day 8 Gyantse (3,977m)
Continue to Gyantse (approximately 8 hours) (3,977m). The drive is long but rewarding, with spectacular views and plenty of photo opportunities, including at Karo La (5,039m). We will stop out at Yamdrok Lake (4,441m), it is one of the three largest sacred lakes in Tibet. Gyantse is a small agricultural town that's famous for its wool carpets. It has a very traditional feel to it, and indeed everyday Tibetan rural life continues here much as it has done for centuries. There are a number of interesting buildings around town, including the Pelkhor Chode Temple complex, a unique structure built in 1414 comprising five stories, each one representing a different stage on the path to enlightenment. The backstreets of Gyantse are a great place to see contemporary Tibetan life, with pilgrims, pop music, cows, 'cowboys' on motorbikes, kids and monks mingling in a lively mixture of cultures.
Day 9 Gyantse - Shigatse (3,840m)
Today start your day with a visit to the Pelkor Chode Monastery and its Kumbum Tower, aka 'Ten Thousand Buddha Pagodas' with an architecture style featuring Han, Tibetan and Nepali. Then enjoy lunch with a local Tibetan family at their home before leaving for Shigatse (approx. 2 hours). Shigatse is home to the massive Tashilhunpo Monastery, traditionally the seat the Panchen Lama. Your leader will take you on a tour through the myriads of the monastery – each building with their own intricate decorations, legends and religious imagery – you can ask for directions to the tranquil Chapel of Jampa and meditate on the world's largest gilded statue. The courtyard outside of the Kelsang Chapel is one of the best places to observe the pilgrims and monks prepare for ceremonies. In the evening, perhaps join the pilgrims on their kora, spinning prayer wheels as you walk around the perimeter of the monastery and take in the lovely views and atmosphere (approximately 1 hour).
Day 10 Sakya (4,300m)
Continue to Sakya (approximately 3 hours) (4,300m). Sakya's monastery and town buildings are quite unique. The monastery is built in medieval 'Mongolian' style. Rather than being whitewashed, the secular buildings are painted in red and white stripes. At first the halls may seem similar to other monasteries you have visited, but after spending some time here you'll see that Sakya has a subtle, ancient beauty unlike any other. You might also like to climb the hill through the Tibetan Village to see what's left of the original monastery complex. Make sure you pick your way through the ruins and remaining buildings in a clockwise direction, as this is a kora route (prayer circuit). You can also hike a little further afield to the nunnery, which sits high on the hill and overlooks the town. For dinner tonight, perhaps try some spicy food at one of the little restaurants run by Sichuanese immigrants. You will stay the night in a basic guesthouse (note that hot water is usually unavailable here).
Day 11 Everest National Park (4,980m)
An exhilarating drive (approximately 5–6 hours) brings you to Everest National Park.The road is winding but the you'll be compensated with great view of world's greatest snow capped mountains standing together afar like giants. Leave your big luggage on our private bus and take an overnight bag with you for the park shuttle bus to Rongbuk Monastery and visit this world 2nd highest monastery. On a clear day you might even get a photo of the monastery's chorten against the backdrop of mighty Everest, or Qomolangma, as it is called in Tibetan. Today, around 50 monks and nuns remain in this relatively modern Tibetan monastery (in the early 1900s, some 500 lived here) Then get settled where you'll stay tonight - the camp ground of the yark hair tents set up by Tibetans to accommodate the travellers who come here for a night close to the Everest. Depending how you feel you can either relax at the tent site or walk to the Everest Base Camp Monument Stone that's about 500 meters away. The monument is the closest you can get to the Base Camp on the Chinese/Tibetan side but standing in front of the Everest will simply leave everyone speechless as it becomes clear why it's a sacred mountain to the Tibetans. For the more energetic, your leader can take you for a hike to the upper Rongbuk Monastery (the highest!) and visit some caves where the monks meditated in the ancient times. Note: In summer months, the group will stay at Rongphu in the tent city that is set up along the road to Everest Base Camp. Accommodation here is in nomad-style tents. Tents sleep up to seven people with basic mattresses and bedding provided, but we recommend using a sleep sheet and preparing some warm clothes, as it can get quite cool in the evenings. There are basic pit toilets nearby. For heating there is a yak dung stove in the central open area of each tent. At such close proximity to the tallest mountains in the world, the surroundings more than make up for the basic sleeping conditions. In colder months, when the tent city is not operational, the accommodation will be a monastery guesthouse, or lodgings in a nearby town. Rooms here are quad-share with very simple, shared facilities. Also note that Everest Base Camp can close without any prior notice because of political issues and/or bad weather. Prior notice will be given where possible. When it's closed, passengers will stay in Old Tingri (4,300m) where a beautiful view of Everest is still possible on a clear day.
Day 12 Shigatse
A full day travelling ahead after breakfast. If you would like to, wake up early and get some last shots of Everest during sunrise time. Afterwards, say goodbye to our hosts and return to Shigatse (approximately 8 hours).
Day 13 Lhasa
Journey back to Lhasa (approximately 6 hours). Though it's a long day of driving, the scenery along the way is spectacular, so sit back, relax and enjoy it. There will be stops for lunch and to take photographs of the mountains.
Day 14 Kathmandu
Head back to the airport to board your flight to Kathmandu (approximately 1.5 hours). Your journey comes to an end where it all began, back in Kathmandu. You'll check back into your hotel, then head out for a final (optional) group dinner. Boasting a delicious array of international and local cuisine, Kathmandu is lovely place to dine, especially after your adventure across the 'Roof of the World'.
Day 15 Kathmandu
Your trip comes to an end. There are no activities planned, and you are free to depart the hotel at any time before 12 noon. If you are departing later, luggage storage can be arranged at the hotel.
Availability
Price Per Day:
$ 336
per day
Check Current Availability, prices, specials with Intrepid Travel.

Prices may vary due to local taxes and trip seasonality. Click "Request Info" to inquire directly with the tour operator for the final trip price.
4,327 Intrepid Travel Travel Reviews & Ratings
94%
Tibet Uncovered
Company Reviews
Details
Group Size
Small Group - 24 max
Maximum Number of People in Group: 12
Accommodations
Hotel/Guesthouse (13 nights),Permanent Tented Camp (1 night)
Guides
All Intrepid group trips are accompanied by one of our group leaders. The aim of the group leader is to take the hassle out of your travels and to help you have the best trip possible. Intrepid endeavours to provide the services of an experienced leader however, due to the seasonality of travel, rare situations may arise where your leader is new to a particular region or training other group leaders. Your leader will provide information on the places you are travelling through, offer suggestions for things to do and see, recommend great local eating venues and introduce you to our local friends. While not being guides in the traditional sense, you can expect them to have a broad general knowledge of the places visited on the trip, including historical, cultural, religious and social aspects. At Intrepid we aim to support local guides who have specialised knowledge of the regions we visit. If you were interested in delving deeper into the local culture at a specific site or location then your leader can recommend a local guide service in most of the main destinations of your trip.
Additional Information
Finish point
Hotel Moonlight

#16, Paknajol, Thamel, Bagmati, Kathmandu

Kathmandu

NEPAL

Phone: 977 14383566
Trip ID#:
intrepid-CBSN
0
https://tripsaver.travelstride.com/?utm_source=Travelstride.com&utm_medium=Native&utm_campaign=Product%20Details%20-%20Reserve%20CTA%2F%22Flexitrip%20Reserve%20Popup%22
1
TripSaver